Remote working is here to stay. The benefits of flexible or remote working are clear. And while the idea isn't a new one, the technology is now available to make it much easier and cheaper to do it successfully. In this article we unpack the powerful Microsoft Surface Pro 7+
The Microsoft Surface Pro 7+ joins the Surface for Business portfolio – offering the versatility, connectivity and security that business and educational institutions need to adapt to the changing landscape.
Covered In This Article
The World Is Your Workstation
Connect And Collaborate With The Surface Pro 7+
No WiFi? No Problem!
Welcome to The Family
Built-In Security You Can Trust
Easy Rollout And Deployment
Why The Surface Pro 7+ is Good For Remote Working

The World Is Your Workstation
What does the future hold for remote workers? And what will post-pandemic workdays look like – back to the office, working from home, or a hybrid of the two? While the light at the end of the tunnel seems within reach, companies across the globe are scrambling to create a future workplace.
Fortunately, Microsoft has been a couple of steps ahead of the curb by providing software and hardware solutions that can transform any living room or corner café into your new office.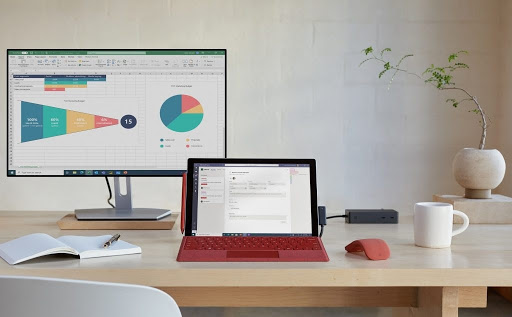 Connect And Collaborate With The Surface Pro 7+
The ultimate hybrid device from Microsoft offers the portability of a tablet with the processing power of a laptop. The Surface pro 7+ stops at nothing to get the job done. It allows users to make lasting connections with colleagues and customers. From laptop to tablet to studio, work your way in video calls, face-to-face meetings, and inking to sketch or annotate.
Virtual Meetings
Hear, be heard, and put your best face forward with Dolby Atmos®, dual far-field Studio Mics and a front-facing 5.0 MP HD camera.
Sketch and Note
Sketch and take notes in Microsoft Whiteboard with the Surface Pen, whether you're brainstorming with a group in real-time or working on your own.
Capture and Scan
Capture whiteboard notes and scan documents to share with colleagues and keep the collaboration going with the rear-facing 8.0 MP HD camera.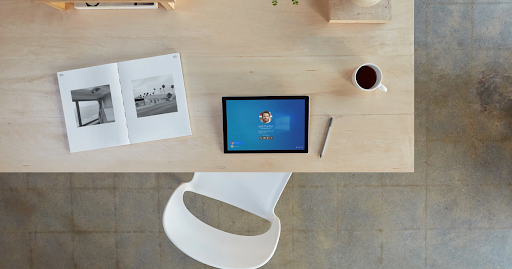 No WiFi? No Problem With The Surface Pro 7+
The biggest new hardware addition to the Surface Pro 7+ is the built-in LTE with eSIM and physical SIM support. Additionally, LTE Advanced can ensure reliable network and internet connections and works in tandem with built-in Wi-Fi 6 capabilities to avoid dropped video calls and to provide resiliency when Wi-Fi connections aren't reliable or available.
eSIM
An eSIM is an embedded or electronic SIM card built into the Surface Pro 7+ and other selected Surface devices. With an eSim you can link multiple profiles to a single device. This means you can have more than one number and switch between them while connecting to the internet seamlessly.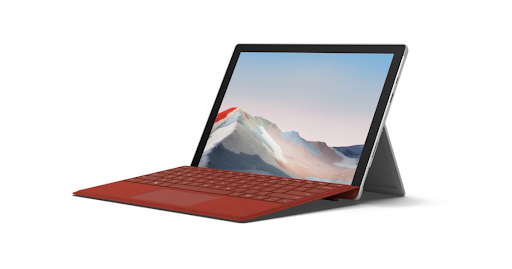 Welcome to The Family
The world is more connected than ever before. This has led to branches of business needing to rely on top technology to get the job done. Microsoft Surface offers a wide range of work solutions, no matter the industry. From crystal-clear video calls to responsive touch screen display for easy and accurate input, Microsoft's ultra-light and versatile 2-in-1 business laptop adapt to the ways you work. Surface devices run all Windows-friendly desktop software including full versions of Microsoft Office plus Windows 10 and 11 apps.
Integration With Windows 10 and Beyond
Save time and money with streamlined deployment, modern device management, and built-in, cloud-powered security with connected experiences from Surface and Microsoft 365.
Cloud-First Deployment and Management: Deploy and manage down to the firmware layer through the cloud with Microsoft Endpoint Manager13 and DFCI.6 Reduce IT complexity with Windows Autopilot.
Windows Virtual Desktop: Meet complex business and security requirements with broad device redirection support, endpoint protection and Microsoft 365 virtualised in Azure.
OneDrive for Business: Access and protect your business and school work with this intelligent files app. Share and collaborate from anywhere, on any device.
Collaborate with Teams: Work better together. New integrations allow you to create shareable links, grant expiring access and follow configured policies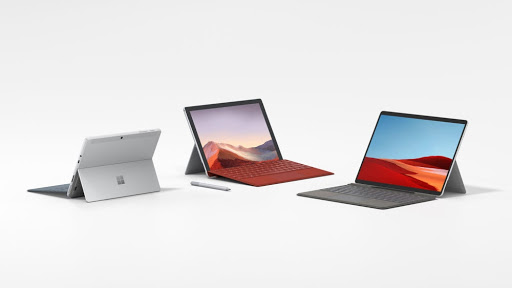 Built-In Security You Can Trust
One of the biggest obstacles to business mobility is the need for a stable high-speed internet connection. If the employee's access to the internet is intermittent or plagued with slow upload/download speeds, it will affect their ability to work efficiently. However, not every employee will have high-speed internet at home – or they may have to work from remote locations, such as a client's office or a construction site (depending on industry and job role).
Without the security protections that office systems afford us – such as firewalls and blacklisted IP addresses – and increased reliance on technology, we are far more vulnerable to cyber-attacks. The most obvious risk is that most of our tasks are conducted online. After all, if something's on the Internet, then there's always the possibility of a cybercriminal compromising it. Your Cloud documents, emails and attachments, instant message clients and third-party services are all vulnerable – and with so much information being shared digitally, your attack surface has grown much wider
Keep data secure from a Surface device's first deployment to its last, no matter how many times and under what circumstances it changes hands.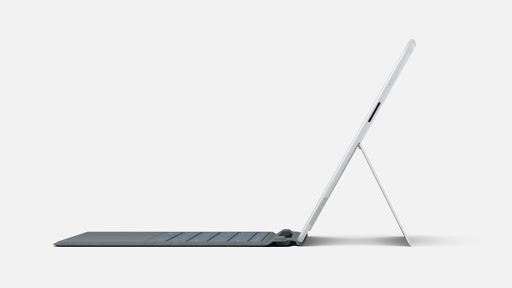 Easy Rollout And Deployment With The Surface Pro 7+
Improve IT efficiency and reduce overhead and support costs with Surface Pro 7+ devices that optimise Microsoft software in the environments your apps are deployed.
Realise cost and time savings with a device portfolio that optimises Microsoft software in the environments your apps are deployed. Businesses that choose Surface and Microsoft 365 E5 see real impact.
Microsoft Autopilot
Windows Autopilot simplifies the way devices get deployed, reset, and repurposed, with an experience that is zero-touch for IT. Windows Autopilot provides setup and pre-configuration services for new devices so they're ready to use right out of the box.
Microsoft Endpoint Manager
Endpoint Manager meets organisations where they are in their cloud journey. Secure, deploy, and manage all users, apps, and devices without disruption to existing processes. Onboard, manage, and report on encryption, antivirus, firewall, and other security technologies to protect work data. Ensure device and app compliance to control data flow outside trusted mobile apps and devices through mobile app management (MAM) and mobile device management (MDM) policies.
Fast device replacement
Maintain a smaller inventory of devices. In addition to the standard hardware warranty, commercial customers get Advanced Exchange – expedited replacement at no additional cost.
Consolidate devices
Manage fewer devices when employees can do it all with one Surface device. Reduce employees' needs for companion tablets, Wi-Fi hotspots, and more.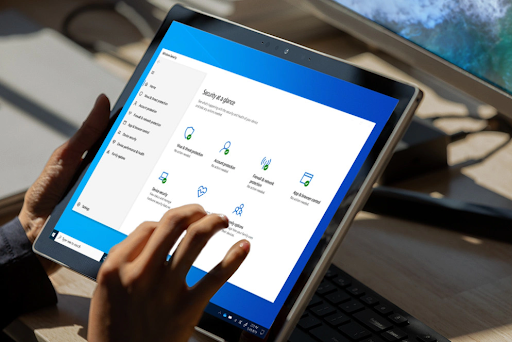 Why The Surface Pro 7+ is Good For Remote Working
When Microsoft first introduced the Surface Pro range, they wanted to challenge the concept that people should have to choose between the portability and convenience of a tablet and the power and productivity of a traditional laptop. In the last seven years, Surface Pro has become known for its versatility, power and performance, brilliant touch screen, pen capabilities and great battery life.
From small and medium-size businesses to the largest organisations, Surface Pro 7+ is purpose-built with the needs of business and C-suite customers in mind. It is lightweight, portable and powerful enough to meet your deadlines no matter where you work from.
The Next Generation Is Here
This next generation of Surface Pro stays true to its ethos – delivering on top customer-requested updates while maintaining the same iconic design so customers can continue to leverage their existing investments.
The classic, ultra-light 2-in-1 for business is faster than ever and keeps you productive:
1 times faster than before with an 11th Gen Intel® Core™ Processor
More battery life to power you all day – up to 15 hours
Data security and control with removable SSD
Can hold up to 32Gb of RAM
Never lose a moment of productivity with optional LTE Advanced
Ports And Connections On The Surface Pro 7+
Surface Pro 7+ offers the versatility people need to work wherever, whenever they want. And with both USB-A and USB-C ports, Surface Pro 7+ offers the adaptability to dock into external displays and leverage the needed peripherals for a full workstation setup. For the human connection that everyone is craving, we have integrated front and rear-facing cameras into Surface Pro 7+ with 1080p full HD video along with Dolby Atmos speakers and dual far-field Studio Microphones so people can be seen and heard.
Surface Pro Signature Type Cover
Sold separately, the Surface Pro Signature Type Cover offers a full keyboard experience that features:
Alcantara® material cover is ultra-soft and smooth like suede, yet incredibly durable and stain-resistant.
Complement your own taste and personal style with a choice of rich colours.
Ultra-slim yet performs like a full, traditional laptop keyboard.
When closed, it protects your Surface Pro screen and powers down the display, preserving battery life.
Clicks easily into place, instantly transforming your Surface Pro device* from tablet to laptop.
No need to detach – it folds back completely to use the device in Tablet Mode.
Enhanced magnetic stability – adjusts to virtually any angle.
Optimal key spacing for fast, fluid typing.
LED backlighting.
Large glass trackpad for precise control and navigation.