Governments are tasked with providing vital services and security for their citizens. Technology plays an increasingly important role in helping modern governments fulfill these responsibilities.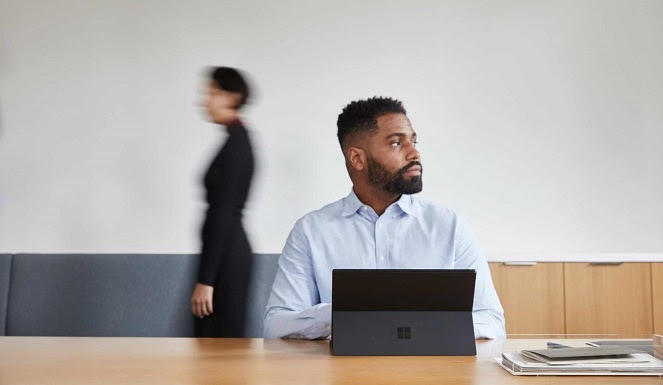 Surface delivers the power of a desktop, the mobility of an ultra-thin laptop, and the convenience of note-taking with paper and pen, helping government employees become more efficient and effective.
Government employees are responsible for making decisions requiring diverse information sources in real time. Surface allows on-the-go inspectors, investigators, and case managers to take shareable notes, authorise and provide services on-location, and run programs wherever their work takes them.
Part Of The Windows Ecosystem
As government and frontline workers increasingly interact with workplace applications using mobile devices, tablets, or other mobile form factors, organisations face higher risks of these devices being lost, stolen, or temporarily misplaced. Earlier this year, Microsoft announced new licensing options for organisations with frontline workers to address these potential risks and other security threats, while also helping improve compliance capabilities.
Surface engineering has long set new standards for innovation by going beyond the keyboard and mouse to imagine more natural ways of interacting with devices, whether by touch, voice, ink, or Surface Dial. And with chip-to-cloud integration of Microsoft 365 and the security and manageability of Windows 10 Pro, Surface delivers connected hardware, software, apps, and services the way they were intended. Although it's possible to run WVD from Windows devices dating back to Windows 7, Microsoft Surface devices provide unique advantages including support for:
Flexible form factors – like 2-in-1 devices such as Surface Pro 7+, Surface Go 2, Surface Pro 7, and Surface Pro X with pen, touch and detachable keyboard. You can even use the new Surface Duo to connect to WVD.
Persistent, on-demand and just-in-time work scenarios – with offline and on-device access for more productive experiences.
Windows 10 modern device security and manageability – providing the flexibility to be productive anywhere.
Not only does running the Windows Desktop Client on Surface devices provide users with a broad set of device redirection capabilities, it lets everyone launch apps in familiar ways – directly from the Start Menu or Search bar.
Microsoft 365 And Government
Empowering government employees to work together securely to improve mission outcomes. Transform coordination and communication within and between agencies.
The stakes are high whether you're tasked with providing public safety, keeping the transportation network flowing, or implementing housing policies. You need to deliver on your public commitments in the context of multi-layered matrices of rules and procedures across agencies and demonstrate your agency's impact against its goals through transparent portfolio reviews.
Government tools should enable faster access to data and secure information-sharing across agencies to improve mission outcomes, increase civic engagement, and accrue public trust in institutions.
Policy makers show citizens how public input is valued and incorporated into initiatives.
Public health officials build relationships across communities to identify obstacles and create best practices.
Social workers begin early intervention immediately, through fast access to case files and streamlined interagency collaborations.
Tax auditors securely balance data protection standards with the financial transparency taxpayers deserve.
Researchers and scientists provide better information more quickly through open data and faster review cycles.
Court personnel get efficient tools to speed case processing and reduce their reliance on paper-based systems.
First responders can maximise limited government resources and minimise their response times through real-time communication and incident knowledge from the field.
Implementing modern collaboration and communications capabilities can streamline how you coordinate efforts within and across agencies – so you can more impactfully deliver against your mission.
Government agencies can be slower to adopt modern technology than other sectors. If you're still doing things the way you were a decade ago, you're missing an opportunity to be more impactful.
Embracing digital transformation helps keep people more connected – to each other and to the information they need. You can improve how your teams work together, with other agencies, and intra-agency. Employees can spend less time searching for data by having improved access to their organisation's knowledge base.
With these offers, government branches using Microsoft Surface devices can better protect their devices and data against attacks or accidents. With security capabilities built into the firmware, operating system, and Microsoft 365, Microsoft has taken a comprehensive chip-to-cloud approach to help organisations deliver more protection for employees using Surface devices with Microsoft 365.
Cloud-To-Chip Protection
Surface with Microsoft 365 provides unique protection at the front line. To provide a few illustrations of how devices may be vulnerable and how this new level of protection can support organisations and frontline workers. Here are a few commonplace examples:
Stolen Device
Data on the hard drive is encrypted. Surface devices ship with BitLocker drive encryption enabled by default, so the data on the hard drive cannot be accessed without credentials or the encryption key. Even if the hard drive is removed from the device and inserted into a new device, it cannot be decrypted.
USB booting is prevented because the organisation used Microsoft Endpoint Manager to proactively turn off the ability to boot from USB through the firmware-level control that the Surface device offers.
There is zero access to data even if the SSD is removed. If a Surface's removable SSD is tampered with, the device will shut off power, erasing any residual data in its memory. Since the device is cloud-managed, the organisation can remote wipe all the machine's contents.
Malicious Intent
A Zero Trust approach means that even if a device is authenticated, the current user profile can only access data and content they have permissions for. The retail establishment assumes that a breach is always possible and maintains strict controls over data access. Conditional access capabilities in Microsoft 365 prevent data leakage from both internal and external actors.
Any unusual behavior on the device is automatically detected and remediated with Microsoft Defender for Endpoint, which analyses signals from the device to recognise any abnormal behavior, like an uncommon executable running on the device. As part of the remediation path, the device is automatically quarantined from the network until the situation is resolved.
Unsecure Network Connection
Instead of worrying about encrypting data that could be shared on a public network, the organisation takes a proactive approach to having a guaranteed secure connection, especially for employees in the field, by equipping frontline workers with LTE-enabled devices. The entire Surface 2-in-1 portfolio (Surface Go 2, Surface Pro 7+, Surface Pro X) has LTE available.
Any websites, cloud resources, or internal networks not explicitly defined as "trusted" are contained with Microsoft Defender Application Guard. These untrusted sites or files are opened in a virtualised container – essentially a separate PC within the existing PC – to isolate those potentially harmful sites or files from the rest of the device.
A Surface For Every Situation
Unshackle government departments from their desks and equip and energise your environment with the elegant range of Surface devices.
The Surface Go, Pro, Book and Laptop are ultrathin, light and versatile, offering the perfect balance of portability and power. Launch your school's creative technology to the next level with the stunning Surface Studio and revolutionise collaboration and group work with Surface Hub 2 – the Surface family has something for everyone.
Surface Go
Ready to roll, the Surface Go 2 is the smallest, lightest Surface yet, weighing just 544 grams. Specially designed for mobility, this ultra versatile PC is ideal for government officials.
Surface Pro 7
Power on the move. Despite its slim frame, the device packs as much power as most desktop computers, allowing it to handle all sorts of collaboration, productivity and project management software. The Surface Pro 7 tablet has all the features government workers need to execute tasks remotely, along with everything they require to create an effective remote working environment.
Surface Book 3
Meet the laptop that can handle your biggest demands. The most powerful Surface laptop yet combines speed, graphics, and immersive gaming with the versatility of a laptop, tablet, and portable studio. Available in 13.5" or 15" sizes, both with a high-resolution touchscreen.
Surface Laptop 4
Style and speed. Microsoft's new Surface Laptop 4 is an evolution of its own, packing improved components into the same slim, lightweight chassis the Surface Laptop product line is known for. Striking the perfect balance between price, performance, portability and design – the Surface Laptop has always attracted attention in government.
Surface Hub
The Digital whiteboard perfect for power meetings, Surface Hub 2S is now available with a 50″ or 85″ display. Spice up any space with synergy, with this next-generation interactive whiteboard.
Effective Collaboration
To help achieve your agency's mission, you need to improve coordination of efforts internally and across agencies. Policies and programs often touch more than one department, agency, or jurisdiction. However, physical and virtual boundaries between these entities can complicate the flow of information and hinder critical decision making.
Legacy tools and procedures impact your missions, often making information-sharing unnecessarily complex and collaboration cumbersome. By using outdated capabilities, you can cause misalignment between reporting and communication, duplicated work, and less secure environments, which can waste time or compromise data.
Challenges can arise from staying connected when working remotely or in the field. Without the right tools, you can experience inefficiencies, including unnecessary travel back and forth to the office to submit reports, audits, or transcribe notes to be saved. This is time better spent with citizens or focused on the task at hand. And the quality of the data can be compromised when the relevant stakeholders can't access or edit it in real time. You need tools that enable you to collaborate with the right people without compromising the security of sensitive information.