The ASUS – Google Meet hardware is the latest smart one-touch video-conferencing solution with HD visuals for Google Meet.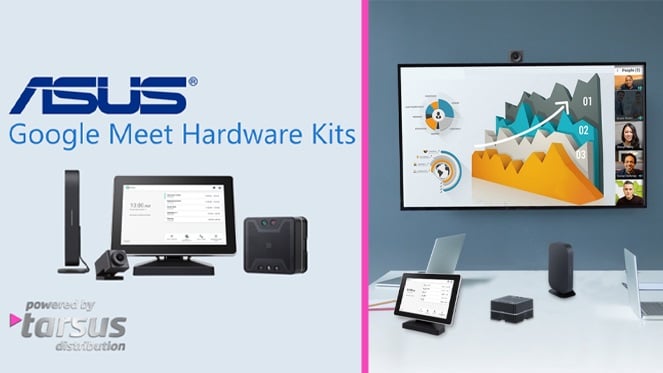 While online meetings and virtual conferencing have been a convenience over the years for many, the Coronavirus outbreak accelerated the need for companies to adapt to the latest technology… and fast. With limitations in air travel, as well as local travel due to restrictions, companies have had to make use of technology to remain connected to their colleagues, teams, and international partners, such as the well-known ASUS Google Meet.
Lockdown levels eased, and people have returned back to work. Communication with outside parties became imperative for getting back on track and understanding the next steps. Following social distancing recommendations, many businesses have shifted their in-person meetings to virtual ones.
Adjusting to this has come rather naturally for some. Others are still struggling to get a grasp on correct online meeting etiquette. To maintain professionalism, even while we adjust to the 'new normal', teams need to understand that the same rules should apply as in-person meetings. For example, if you were in person, you wouldn't check your phone's messages while someone is talking.
Covered In This Article
Online Meeting Etiquette Tips
Google Meet Video Conferencing Solutions
Google Meet Hardware Requirements
Find Out More
Here Are Some Online Meeting Etiquette Tips
Stay Present
Checking and replying to your emails while someone is talking or presenting online is just as rude as doing it in person. Even if the online meeting has shifted focus, you should continue to listen and engage where necessary. This is to add value. People can see when you are not paying attention, and this can look very unprofessional.
Be Prepared
If there are presentations, videos, slideshows, or images to share, they should be ready. Familiarise yourself with how to share your screen with the other party if that's what you're planning to do, set up your sound, and perform a few tests if necessary. Nothing wastes time like being unprepared and scrambling awkwardly while people wait for you to gather your thoughts and present your items.
Be Punctual
It would be incredibly rude to come running into a meeting in person, so it is also something you'd want to avoid doing when meeting online. Your team may wait for you to join before they connect with the other party, but this looks very unprofessional and might cause some annoyance from the other side. Your team will also be unimpressed. Be on time for your meeting, and try avoiding joining your meeting at the last minute.
Be Patient
Your team will need to listen to feedback from the other side, so it's important not to interrupt or jump in while someone else is talking. If anything, online meetings have taught us to listen better, because speaking over the sound that comes from whichever device will drown out any feedback. If necessary, make notes and speak when the person has finished talking.
As much as there is a need to improve online meeting etiquette, companies need to equip their staff with smart solutions that allow a smooth transition to online and to look organised and professional.
Many office environments are shared, and oftentimes, an entire team will need to meet with a client at the same time. A single solution is better than many team members logging in on different devices, in a noisy office where people may be entering and exiting the space. A single solution in a designated room is a much more efficient and effective way for teams to communicate with one another without disruption and distraction.
Challenges that may arise with technology can include poor connections and faulty equipment that can waste a lot of time and create a lot of frustration for all parties involved. This is why companies need to invest in quality internet connectivity, reliable online meeting software, and superior online meeting hardware that won't falter. ASUS has just the solution to meet these needs!
Google Meet Video Conferencing Solutions
ASUS – Google Meet Hardware is the perfect system that complements the advanced Google Meet software that allows teams to meet as a group of people, or individually if necessary. There are different sized kits to suit every requirement. There is a Starter kit, and a Small/Medium Room kit. These can accommodate up to 8 people. The Large Room kit is designed for up to 20 people. Each ASUS – Google Meet kit comes with Speakermic for 360° sound, a touchscreen control panel or remote control and a UHD camera (however, this is not standard in the Large Room kits).
The ASUS – Google Meet computer system is the hub of the ASUS – Google Meet hardware video-conferencing solution. The device is powered by an Intel® Core™ i7 processor and has extensive connectivity that supports multiple 4K UHD displays simultaneously.
The computer system is designed to be slim enough to fit discreetly behind any display and the magnetic chassis, wall mounting kit and stand make it easy to install anywhere. All I/O ports are on one side of the device, simplifying setup and cable management.
To get a better overview of all of the features that the ASUS – Google Meet hardware offers, you can take a look at their video here.
Other Components:
Speakermic
360° voice input and audio output from up to 6 meters away
Advanced active noise suppression and echo cancellation for crystal-clear audio
Daisy chain up to five Speakermics for any meeting room size
Compatible with Google Assistant
Touchscreen Control Panel
Join, record or present with a single tap
Anti-glare 10.1-inch capacitive touchscreen
170° viewing angle
International keyboard support
HDMI input for presenting locally or on a Meet
Easy to assemble with color-coded cables
UHD Camera
Optimised for Google Meet to ensure the best possible video conferencing experience
120° ultra-wide field of view
Balanced wide-angle distortion correction
4K image sensor supporting digital zoom
Aluminium uni-body construction
Embedded mounting hinge and tripod mount
The 4K camera sensor outputs 720p video, allowing for 4X digital zoom without any loss in quality
Google Meet Hardware Requirements
Thanks to a streamlined design and easy installation in just about any space, the ASUS – Google Meet hardware kit is a plug-and-play system that integrates with the Google Meet software. Users will, however, require a license to operate the system which can be found here, along with other versatile, useful Google Workspace options.
Find out more about ASUS – Google Meet Hardware from Tarsus Distribution
Tarsus Distribution provides a wide range of business solutions for all purposes and organisations across South Africa and surrounding countries. We work closely with resellers to source and supply the best server solution for any purpose, drawing on our relationships with the world's leading IT brands.
The ASUS brand has often spearheaded technological innovation and advancement, particularly within the commercial sector. Tarsus is considered to be an industry leader in the global ICT market and continues to create and provide innovative solutions to solve modern problems. ASUS is best-known for its PC components and tablets, but it also crafts products in a broad array of other information technology sectors. Its servers, smartphones, and peripherals are starting to generate plenty of attention amongst experts far and wide. The ASUS – Google Meet hardware is a game-changer for businesses to up their productivity and adapt to ongoing changes.