In this post, we will explore how enabling government service delivery with Microsoft Surface is fast becoming the best-practice standard in the South African government's interface with ICT. Governance is ultimately about accountability, transparency, service provision, citizen engagement, and the maintenance of order in any society, and in South Africa, with the challenges faced in progressively including more and more people into the service provision "grid", the effective and efficient use of resources by government agencies, at all levels, from national to local government, has become critical.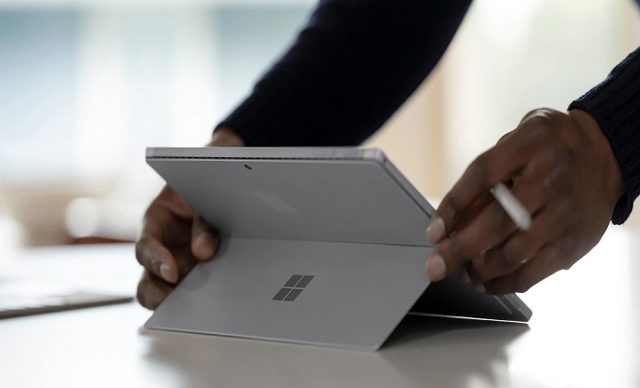 The continuance of essential services such as water, electricity, and medical services proved to be a particular challenge over the past two years with the global pandemic and lockdown conditions being imposed a number of times. Under such emergency conditions, the necessity of services, from those delivered directly into homes – water and electricity – as well as healthcare and education had to be kept stable and dependable, as failures and breakdowns in these services could potentially have massive impacts on the social order as well as the economy.
With the sudden need to radically decentralise work since 2020, government institutions had to adapt – along with all other sectors of our society – to a much different way of functioning, as continuity in functioning was absolutely imperative. The remote connectivity and communication made possible by technology have enabled the maintenance of critical government functions, and these newly adopted ways of working can be retained into the future for remote and hybrid work related to service delivery and effective engagement with citizens.
Covered In This Article
Addressing Critical Needs In Government
Strain On Effective Governance & The Delivery Of Essential Services
The Preferred Devices For Officials & Agencies
Building Trust In Public Institutions
Technology & Governance For A Sustainable Society
Enabling Government Service Delivery with Microsoft Surface Addresses Critical Needs

With the most important public infrastructure in South Africa being provided and maintained by various spheres of government through the program activities of multiple departments, agencies, and State-Owned Enterprises (SOEs), the need for easy communications, access to up-to-date information between remote operations in the field and the offices of decision-makers that is secure from outside interference that enables the government to operate in an integrated and holistic way, is crystal clear.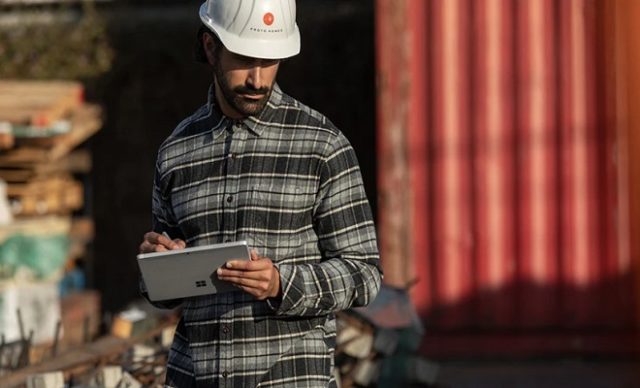 Governing and engaging a population of more than 60 million people (2021 estimates) requires a high level of sophistication, planning, budgeting, appropriate policy formulation, skilled human resources, optimally functioning and reliable equipment, and strong leadership. The role of ICT in linking all of these imperatives is abundantly clear, and the Microsoft Surface range of devices offers unique solutions to the unique requirements of the public sphere in South Africa.
Beginning in 2019, Microsoft has been introducing a rather extensive range of new devices in the Surface family, built for flexibility, portability, connectivity, and ease of group communications to meet the needs of the changing landscape of government functioning and citizen engagement globally. The range consists of the Surface Hub 2S, released in 2019, the Surface Laptop Go, released in October 2020, and the Surface Laptop 4, released in April 2021.
Launched in 2021 was a variety of new devices which can be viewed on Microsoft's website. For the purposes of this post, we will narrow the focus to the Surface Pro 7+, Surface Go 3, Surface Laptop 4, Surface Hub 2S, and Surface Laptop Go.
Apart from the Surface range of devices, powerful and sophisticated applications that empower workers have been a part of the Microsoft product offering for decades. With all Surface devices enabled to run Windows 365, Windows 10, and Windows 11, the government workforce has access to the whole range of well-known Windows applications, as well as innovative new applications such as Microsoft Teams, SharePoint, OneDrive, and Azure.Enabling government service delivery with Microsoft Surface has become a reality, as demonstrated by Microsoft's case study of the Gauteng Provincial Government's online citizen's platform, which currently engages more than 400,000 users.
The Added Strain On Effective Governance & The Delivery Of Essential Services During The Global Pandemic

Apart from the difficulties that came with the sudden need to radically decentralise operations at the start of the global pandemic in 2020, a positive spin-off has been that it created the necessary incentive for governments across the globe to invest in and improve upon their digital capabilities. It furthermore provided the push needed for government-wide adoption of the four key drivers of digital transformation, namely a clear vision for the fulfillment of cross-departmental mandates, enhanced collaboration between leadership, wide-scale organisational buy-in, and a modern mindset to "business as usual".
While it has been possible to restrict and prohibit certain activities during COVID-19 lockdowns, government institutions – especially those overseeing public service delivery, public healthcare, and economic activity – have been expected to fire on all cylinders.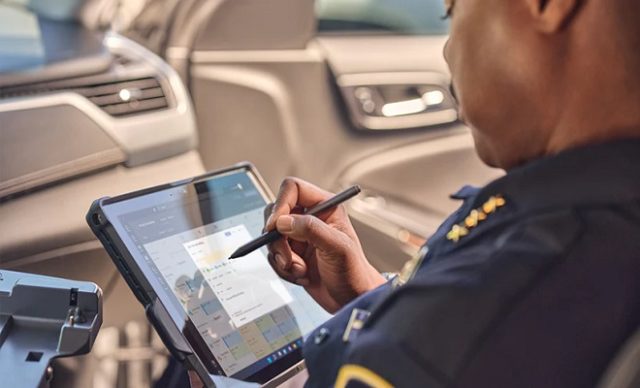 Not only did advanced technology save lives in hospitals during the pandemic, it also provided crucial connectivity between emergency services, infrastructure maintenance teams, and public welfare agencies. Digital technology and the internet were key in spreading information and making public announcements about regulations, restrictions, and developments during lockdown conditions, which proved to be crucial in keeping the population at large up-to-date with the rapid unfoldment of the COVID-19 pandemic.
Enabling Government Service Delivery with Microsoft Surface: The Preferred Devices For Officials & Agencies

While certain government employees do all or most of their work at a central location, many functions need to be carried out remotely by mobile officials who need the portability of the ultra-thin and lightweight Surface devices, combined with their powerful applications and LTE enabled connectivity to effectively engage with the service needs of citizens on the ground.
In this regard, experience has shown that the Surface Go 3, Surface Pro 7+, Surface Laptop 4, and the Surface Hub 2S are among the most favoured devices for use by government employees in the field. Whether it relates to enforcing public order, providing emergency medical services, social interventions in households and communities, or keeping transportation networks flowing smoothly, the range of Surface mobile devices offers secure access to centralised information, long battery life, and LTE connectivity for collaboration and coordination essential to officials working in the field.
Government workers such as police officers, emergency response units, infrastructure maintenance teams, or social service delivery agents benefit from the advanced capabilities offered by Surface devices that enable them to collaborate effectively, securely access vital and highly sensitive information, connect with each other in the field or with centralised operational headquarters and stay in the field for longer periods of time with lightweight, easily portable devices.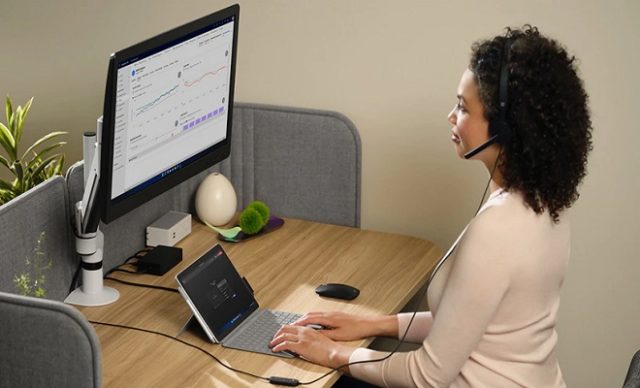 Enabling Government Service Delivery with Microsoft Surface Securely Builds Trust In Public Institutions

Finding the balance between security and productivity is a critical task for government agencies. Proactive security measures help protect various government departments and agencies from outside interference, data theft, or corruption of essential information that relates to high-impact systems and procedures for the public good. At the same time, easy data-sharing and efficient communications within and across agencies keep services and essential work moving forward.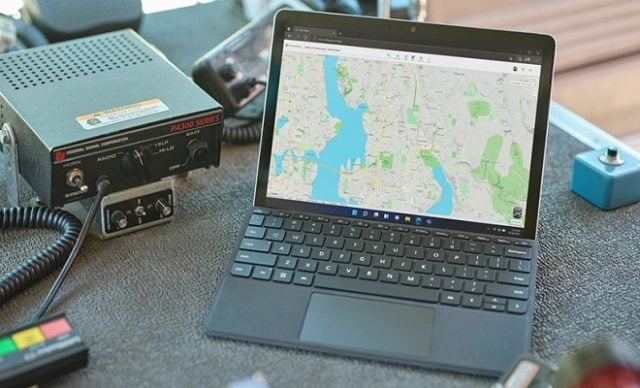 Factory-Enabled Advanced Windows Security For Microsoft Surface Devices
For a detailed description of the various security measures implemented by Microsoft mentioned here, please refer to articles on the Microsoft website here and here.
The most recent research in cyber security indicates that as manufacturers build more protections into the OS and its connected services, other ways of exploiting device vulnerabilities are emerging at an alarming rate, with firmware emerging as a top target. Because device firmware mostly involves third-party providers, keeping track of how secure firmware is becoming incredibly complicated. Since firmware is essentially embedded software that provides a low-level of control for a device's specific hardware – a standard set of coded instructions that tells the device what to do, used in all kinds of consumer electronics to computers themselves – they are an ideal entry-point to a device's actual hardware for any attacker.
Since 2015, Microsoft has been using a unified approach to firmware protection and device security through complete end-to-end ownership of both the hardware design and firmware development, which is done in-house. No third parties are involved in the supply of firmware for Microsoft devices, and this approach has proven to be highly effective in minimising the risk of firmware vulnerability. For the Surface family of devices, Microsoft's Unified Extensible Firmware Interface (UEFI) is maintained in-house, regularly updated through Windows Update, and seamlessly deployed for management through Windows Autopilot.
To summarise, Microsoft's approach to security for its Surface range includes:
Microsoft designed and built components
Factory level security protocols and inspection
No third-party BIOS vendors are involved in development or production
Virtualization-based security, or VBS
Hypervisor-enforced code integrity (HVCI)
Secure boot and boot guard
Malware protection
Dynamic Root of Trust Measurements (DRTM) in AMD devices
Remote device management control.
With these measures in place, users can have confidence that the privacy and confidentiality of their data will be protected and that their data will only be used in ways consistent with their needs and expectations.
Technology & Governance For A Sustainable Society

Enabling government service delivery with Microsoft Surface is continuing to make informed, inclusive, and rapid decision making possible under high-pressure conditions, which is critical for the effective functioning of societal sectors that fall within the domain of government, such as infrastructure, public finance, public health, and social services, as well as public safety and justice.
The innovative training and up-skilling of government employees and officials are made possible by technology such as that offered by the Surface range of devices. Knowledge transfer and the preservation of institutional knowledge require enhanced data storage capacity and security, with the additional requirement of accessibility and shareability. Skills initiatives made possible by technological advancements allow for the optimal use of Artificial Intelligence (AI) and data analytics for effective people-centered solutions.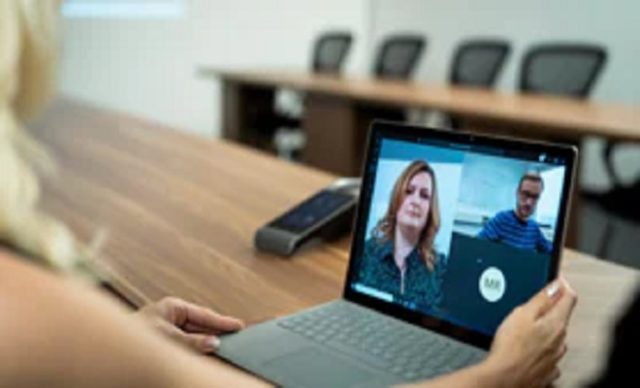 Promoting more equitable access, engagement, and outcomes through tailor-made public engagement platforms and digital services enhances the quality of life of millions of people and build public trust and confidence in government institutions – an imperative part of a democratic and free society.
Apart from the accessibility and engagement made possible by technology such as the Microsoft Surface family of devices, the security of these devices and the platforms and information they give access to is a non-negotiable part of the public trust in government equitation. The security features offered by Microsoft on its devices as well as collaboration platforms are precisely what is needed by governments around the globe to foster and maintain public support, protection, welfare, and sustainability.
Adopting the technological advancements available to government agencies today has become the only way to ensure that society at large can adapt to constantly shifting social, economic, and environmental imperatives that are necessary for the prosperity and growth of all citizens now and into the future.