Slim and stylish. Make a powerful statement and get improved speed, performance and battery life. The Surface Laptop 4 fuels your ideas and reflects your style with a thin, light design.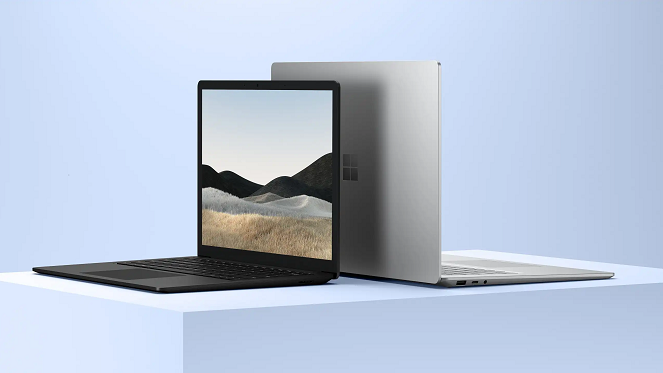 Surface Laptop has enjoyed the highest customer satisfaction rating for this class of device, and Surface Laptop 4 delivers more of what customers love in both 13.5" and 15" sizes. The new devices deliver more power, fast charging and a 20% larger track pad. There are new colour options like Sandstone and new finish options with both Alcantara and machined aluminum.
Surface Laptop 4 remains true to the product's fundamentals of an amazing display, a keyboard that is second-to-none, and great battery life that together make Surface Laptop a joy to use. Along with models powered by 11th Generation Intel Core processors, this is the first time we're launching a product powered by the exclusive AMD Ryzen Microsoft Surface Edition processor, delivering amazing computing, graphics and battery performance in a slim 15" form.
The supremely sturdy uni-body construction inspires confidence, giving up a bit of weight and size savings in the name of reassuring build quality.
The craftsmanship of the Surface Laptop 4 is top-notch, as it should be for a premium machine. The aluminium lid is smooth and stylish, fitting exactly on to the deck with a solid-feeling clunk, and opening up again with one hand without tipping over backwards. The screen, too, is crisp, bright and gorgeous, rivaling the best.
Covered In This Article:
Create With Confidence And Surface Laptop 4
Windows Hello
An Integrated World
Work, Play And Connect
Quick Tech Specs
Safe As Houses
Create With Confidence & Surface Laptop 4

Get productive with Windows 11 Professional and the Microsoft 365 apps you rely on. If you need additional enterprise management and security tools for the workplace, you can switch to Windows 11 Pro.
Surface Laptop 4 features Instant On, USB-C™ and USB-A ports and dual far-field Studio Mics for great Microsoft Teams calls and dictation in Office. And with Surface Laptop 4, you can have more control over your sensitive information with a removable hard drive for data retention.
Both the 13.5-inch and 15-inch touchscreen display is unchanged from prior models, and it maintains the signature 3:2 aspect ratio found on all Surface devices. It's bright and sharp, with good viewing angles and punchy colours.
Like the 15-inch Laptop 4, the 13.5-inch model has an outstanding keyboard, with excellent spacing, travel, and feedback. It's perhaps my favourite laptop keyboard I've used in a long time. Similarly, the track pad, which is 20% larger than one on the Laptop 2, is smooth and easy to use, with great tracking and palm rejection.
Collaborate, connect and interact your way. This lightweight business laptop lets you choose the ways you work best.
Collaborate seamlessly
Experience premium meeting experiences with immersive Dolby® Audio™ Premium sound, dual far-field Studio Mics and front-facing, 720p f2.0 HD camera.
Connect Better Than Ever
Connect to displays and peripherals more easily than before with USB-C and USB-A ports. With Surface Dock you can connect to multiple monitors.
Interact Naturally
Use the touchscreen to scroll, select and zoom. Use your voice for dictation. Use the glass track pad to navigate faster and more easily.
Windows Hello

Log in with a smile! Windows Hello is a biometrics-based technology that enables Windows 11 users to authenticate secure access to their devices, apps, online services and networks with just a fingerprint, iris scan or facial recognition. The sign-in mechanism is essentially an alternative to passwords and is widely considered to be a more user friendly, secure and reliable method to access critical devices, services and data than traditional logins using passwords.
Windows Hello limits the attack surface for Windows 11 by eliminating the need for passwords and other methods under which identities are more likely to be stolen. Windows Hello lets a user authenticate a Microsoft account or a non-Microsoft service that supports Fast Identity Online (FIDO) by having the user set up a gesture, such as a facial scan, iris scan or fingerprint to log into a device.
An Integrated World With Surface Laptop 4
Microsoft 365
Sharing Surface Laptop 4 with the rest of your family is seamless, safe, and secure, with multiple-user logins via Windows Hello, parent-managed screen time limits, spending control and content filtering. The Surface device links in with the great Microsoft Windows ecosystem seamlessly.
Microsoft 365 provides solutions to empower users to work together more securely to improve mission outcomes. With tools like Microsoft Teams, you can transform how you collaborate and coordinate efforts within and across departments.
The hub for teamwork in Microsoft 365, Teams helps users to:
Connect employees with stakeholders across departments in a shared workplace.
Centralise communication and coordination to provide visibility, accountability, and keep initiatives moving forward.
Enable teams to access resources from virtually anywhere, so they can spend time on the tasks at hand.
Do all this while helping to protect sensitive information your teams work with daily.
OneDrive
With OneDrive cloud storage you have one place for your favourite pictures, videos and files. And OneDrive works across all your devices, so you'll have recipes, photos ready to view and share from Surface Laptop 4 or the OneDrive mobile app anytime. ​Keep your private and confidential files secured with OneDrive Personal Vault, an extra layer of protection for documents, photos, and videos for you and your family. ​Surface Laptop 4 offers peace of mind with the Windows you know.
Microsoft Teams
Microsoft Teams is an entirely new experience that brings together people, conversations and content – along with the tools that teams need – so they can easily collaborate to achieve more. It's naturally integrated with the familiar Office applications and is built from the ground up on the Office 365 global, secure cloud. With the Surface Laptop 4's crystal clear screen and integrated camera, meetings will be a breeze.
Office 365
Office 365 is a cloud-based subscription service that brings together the best tools for the way people work in today's connected world. By combining best-in-class apps like Excel, Word and Outlook with powerful cloud services like OneDrive and Microsoft Teams, Office 365 lets anyone create and share anywhere on any device, leading to increased productivity, which ultimately affects your company's bottom line.
Whether you're working in your office or on the go, you get a familiar, top-of-the-line set of productivity tools. Office applications, like Outlook, Word, Excel, Powerpoint, Publisher and Access – updated monthly with exclusive features and security improvements – lets you create, edit, and share ideas and workflows.
Work, Play & Connect

Surface products have always delivered a balance of performance, quality and versatility that lets our customers create and work in the way that best suits their style, and these new products drive that vision forward with innovation inside and out. We're incredibly excited to read the early product reviews and we look forward to our customers experiencing these new products.
Surface Laptop 4 makes it easy to get things done. Be creative, work and play your way, and look and sound your best on video calls.
Ideas To Life
Create, play and make memories on the vibrant, interactive touchscreen. Whether you're working on a presentation, editing videos or retouching a picture in Adobe Lightroom*, it's easy and fast.
Browse & Binge
With a high-resolution PixelSense™ Display and blazing-fast processors, Surface Laptop 4 is perfect for browsing in Edge and streaming your favourite programmes.
Enjoy Omni-sonic Sound
Enjoy amazing sound for games, music, films, audio books and podcasts with built-in Omni-sonic Speakers backed by Dolby® Audio™.
Stay Connected
From one-to-one video calls to virtual get together, easily connect and share big moments with Skype and the front-facing HD webcam. Plus, hear every word with built-in Studio Mics.
Surface Laptop 4: Quick Tech Specs

Fuel your ideas with exceptional performance, improved speed and graphics, plus long battery life – all in a thin, light design. Learn more about the processors that power amazing experiences on our 13.5" and new 15" laptops. Experience more power than ever with faster multitasking and improved graphics.
11th Generation Intel® Core™ i7
Intel® Iris™ Plus Graphics
8GB/16GB
Solid state drive (SSD) 128GB/256GB/512GB/1TB
Battery: Up to 11.5 hours of battery life
Safe As Houses With Surface Laptop 4

Surface Laptop 4 remains the most versatile 2:1 device you can buy. Redesigned from the inside out, the Surface Laptop 4 comes shipped with world-class security and endpoint protection.
Peace of Mind: Be reassured that updates are pushed out automatically to your organisation. The UEFI on Surface devices is developed and maintained proactively by Microsoft.
Defend Data: The removable SSD on Surface Pro X and Surface Laptop 4 streamlines data retention with advanced features like pre-boot DMA remapping protection.
Zero-Touch Deployment: Reduce IT complexity and eliminate time-consuming re-imaging by shipping and deploying straight to employees. Surface is built for the Windows Autopilot experience.
Microsoft Surface Data Eraser: When it's time to re-deploy, you can remove sensitive data from a compatible Surface device with Microsoft Surface Data Eraser, a tool that boots easily from a USB stick.