The conference room has evolved. Traditional whiteboards are being replaced with their digital counterparts, complete with stunning resolution and native operating systems. Throwing its hat in the ring, Microsoft has developed the industry-leading Surface Hub 2S, giving organisations the ultimate in collaboration, all on the Windows system they know and love. In this article, we unpack the Surface Hub 2S in all of its glory.
Surface Hub 2S is an elegant, portable, interactive device that can move from one space to another without disrupting your team's flow. Bring remote and local employees together on a crisp 4K+ resolution screen with an enhanced camera, speakers, and microphone technology. Surface Hub 2S has over 50% faster graphics and 30% better power efficiency than the original Surface Hub. It's everything you loved about Surface Hub in a thinner, lighter, more versatile package.
From small group brainstorms to big team meetings, find the right fit. Choose the size, audio, and video accessories, and Windows OS your teams need, whether they meet in smaller, intimate groups or large teams.
Covered In This Article:
Bringing Collaboration To The Front
One Device, Many Levels
Fit For Your Business
The Windows You Know
The Details

Bringing Collaboration To The Front With Surface Hub 2S
With many organisations adopting a remote or hybrid style of work, the struggle to keep collaboration top-of-mind has increased. These boundaries can be broken down with the Surface Hub 2S so that teams can inclusively engage everyone's voices, faces and ideas. The Surface Hub 2S is the platform of a powerful meeting for every team thanks to its integration with Microsoft Teams. The new Microsoft Teams Rooms on Surface Hub experience is designed to enable boundary-less collaboration on a device purpose-built for teams to meet and co-create, wherever they work.
With Surface Hub 2S, enjoy the freedom to take your ideas with you and turn any space into a teamwork space. Wherever you or your team moves, works or collaborates, the Hub 2S easily moves with you thanks to the Roam™ Mobile Stand created by our partners at Steelcase. It is also slimmer and 40% lighter than the original Surface Hub. And with the APC™ Charge Mobile Battery, your team's workflow remains uninterrupted as you unplug and move to a new space.

Teamwork Makes Dreamwork
Surface Hub 2S gives teams the flexibility to come together wherever they work best. It takes something that has long been a fixture in the conference room – the shared screen – and transforms it into a mobile computer, built for teams. This device offers the thinnest edge and smallest bezels in its class, bringing you closer to your content and your team and integrating seamlessly into any office environment. When paired with the Steelcase Roam Mobile Stand and APC Charge Mobile Battery, Surface Hub 2S creates a mobile collaboration experience that frees teams from the conference room and allows your ideas to be as mobile as you are – no AC power connectivity required.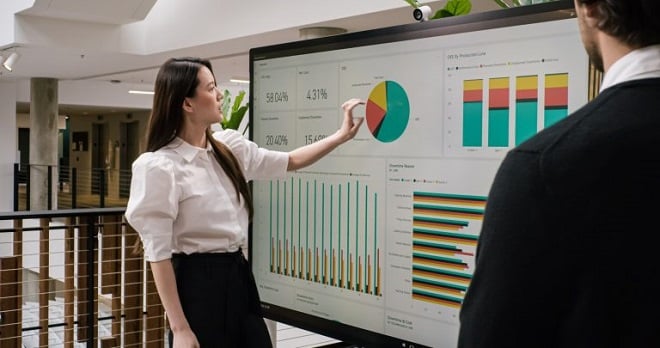 Bridge The Gap
Whether a team is in the same room or spread across the globe, Surface Hub 2S is a powerful platform for Microsoft Teams and Skype for business meetings that lets remote employees actively participate in meetings or working sessions. When using Surface Hub 2S, teammates no longer have to worry about not feeling "present" enough or missing out on real-time collaboration. With Surface Hub 2S and its 4K+ resolution screen and barely visible two-element front-facing stereo speakers, your teammates can be seen and heard. And with an array of full-band 8-element microphones and a 4K-capable camera, you look and sound crisp and clear.
Let Ideas Lead
With the hectic pace of work today, it's tough to stay focused and feel creative. Ideas are often born and die within the constraints of conference room walls. No more worrying about getting kicked out of the conference room and taking photos of the whiteboard – with Microsoft Whiteboard you can pick up where the team left off with a persistent, digital teamworking canvas you can share across devices and platforms. It lets you easily sign in to work with your Office 365 files, access must-have Microsoft and business apps natively, project content wirelessly with Miracast, and interact naturally with Surface Hub 2 Pen and touch.
One Device, Many Levels

Surface Hub 2S comes with Windows 10 Team installed. This customised edition of Windows 10 facilitates collaboration in meeting-room environments. Users can now instead run Windows 11 Pro or Enterprise, giving them the latest Windows OS experience and functionality.
This new device packs even more performance into a thinner, lighter, more versatile design. 40% lighter than its predecessor, and with a 60% thinner display, this device fits easily into any space – from a traditional conference room to a compact huddle space. The vibrant 4K+ 50-inch multi-touch display offers an inviting canvas to co-create with the best pen and touch experience and the highest resolution compared to any device in its class. Plus, this device offers 50% faster graphics performance than the original Surface Hub.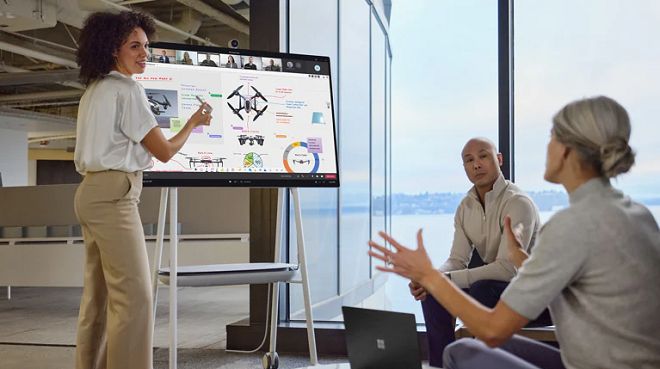 Come Together With Surface Hub 2S
Too often, great ideas get stuck on the conference room whiteboard and the team's flow gets broken when the meeting ends. This device enables teams to work digitally all the way through their creative process, with access to the tools they rely on. Easily sign in to your Office 365 account to access and interact with the content you need, run must-have Microsoft and business applications natively, and interact naturally with Surface Hub 2 Pen and touch. The Microsoft Whiteboard allows people to collaborate on a shared digital canvas from almost any device so it's easy to pick up where you left off, keeping teams in their flow.

Fit For Your Business

There is no one-size-fits-all approach to collaboration. Businesses require choice, flexibility and control over the productivity tools that help enable teamwork. Over the last several months, we have been listening closely to our customers to deliver tailored options to meet a variety of emerging needs. This includes delivering Surface Hub 2S now, with a modular hardware design that will enable customers to unlock new experiences in the future.

Microsoft has been inspired by how its customers use Surface Hub to transform meetings and collaborate. And they can't wait to see how businesses across the globe will use Surface Hub 2S to empower their teams to work together in new ways.
Surface Hub 2S 50"
Brainstorm together in Microsoft Whiteboard, and collaborate across devices. For smaller spaces and quick huddles, the 50" is a perfect fit with the Surface Hub 2 Camera,5 integrated far-field mics and crystal-clear speakers.
Surface Hub 2S 85"
Move beyond meetings to true team flow. For a large-room meeting experience with big teams, pair the 85" with a high-resolution enhanced camera and mics.
The Windows You Know On Surface Hub 2S

Surface Hub 2S is a fully integrated Windows 10 device designed for teams. Natively run your must-have Microsoft 365 apps, including Microsoft Teams, Microsoft Edge, and your essential third-party business apps, without having to project or switch devices.
Microsoft Whiteboard
There's no better visual way to express your ideas than by writing them on a whiteboard. If you're missing it, check out Microsoft Whiteboard! It re-creates the dynamic of that loveable wall of melamine with digital pens, post-its, and more. Microsoft Whiteboard is a free app intended to re-create this experience. Nothing beats the real thing… until the Microsoft Surface Hub 2S showed up and evolved the way we collaborate and flesh out ideas.
OneDrive
Use OneDrive for Business to easily share tools, logs, and other files between all your work devices. OneDrive enables you to share your work files between your laptops, Surface Hub 2S, and your Intune-managed mobile devices. Files can be edited on any device, and all network-connected devices will be updated with the changes. Manage remotely and stay secure anywhere with OneDrive and Surface Hub 2S.
Surface Hub 2S Is Made For Teams
A perfect match, Microsoft recently released a major update for the Microsoft Teams app for shared space devices, such as the Surface Hub 2S, with new features and experiences. Some new features that are part of this update include Coordinated Meetings, the ability to pin attendees on Surface Hub, Proximity-based meeting join on Surface Hub, Live captions on collaboration bars, and more.

The Details

Find the right fit for every team. Whether your space is small and intimate, large enough to need a robust, Microsoft Teams-certified experience, or your teams are on the move, you can configure the perfect meeting space with your choice of device, accessories and Windows OS.
Dimensions: 741 mm x 1097 mm x 76 mm
Weight: 28 kg
Resolution: 3840 x 2560
Display PixelSense™ Display: 3:2 aspect ratio, 10-bit colour, 15.5mm border, anti-glare, IPS LCD
Compute Quad-core 8th Generation Intel® Core™ i5 processor: 8GB RAM, 128GB SSD3
Software Windows 10, Microsoft Teams for Surface Hub, Skype for Business, Microsoft Whiteboard, Microsoft Office (Mobile), Microsoft Power BI
Connections USB-A, Mini-DisplayPort Video Output, RJ45 Gigabit Ethernet, HDMI Video Input, USB-C™ with DisplayPort Input, USB-C™ (4)
What's in the box Surface Hub 2S, Surface Hub 2 Pen (1), Surface Hub 2 Camera, 3m AC Power Cable, Quick Start Guide
Graphics Intel® UHD Graphics 620
Audio/video Full range front-facing 3-way stereo speakers, Full band 8-element MEMS microphone array, Microsoft Surface Hub 2 Camera, 4K, USB-C™; connection, 90-degree HFOV
Pen Microsoft Surface Hub 2 Pen (active)
Sensors Doppler occupancy sensor, Accelerometer, Gyroscope
Wireless Wi-Fi 5 (IEEE 802.11 a/b/g/n/ac compatible), Bluetooth Wireless 4.1 technology, Miracast Display