Introducing Surface Laptop Go, the lightest and most affordable Surface Laptop ever to power everyday experiences.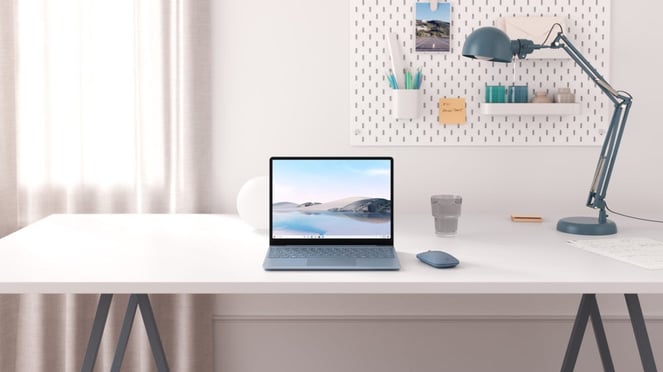 With its balance of performance, battery life, value and style, Surface Laptop Go helps you get the job done. Surface Laptop Go is ultra-light with a portable profile consisting of premium materials, running essential apps, and available in a variety of modern colours. For the student at home or the professional on-the-go, make an impression with the new Surface Laptop Go.
Design & Value
Take Surface Laptop Go with you everywhere. The lightest Surface Laptop ever at 2.45 lbs helps you do more on a 12.4" PixelSense™ touchscreen display, full-size keyboard, large precision trackpad, and all-day battery life, all at an exceptional value.
The Surface Laptop Go is petite as modern laptops go but its physical design matches the rest of the Surface Laptop 3 family, which includes the larger 13.5-inch and 15-inch versions. The Surface Laptop Go's design includes an aluminum display lid and a polycarbonate base, available in your choice of three colours: Ice Blue, Sandstone, and Platinum. The entire package feels sturdy and well-engineered.
Trusted Security
Get started with the Windows you love, the convenient security of Windows Hello and One Touch sign-in with a FingerPrint Reader Power button on select models. Enjoy amazing sound for music and streaming video and easily connect on video calls with built-in Studio Mics, Omnisonic Speakers and Dolby® Audio and 720p HD camera.
Get Things Done
Collaborate with fellow students and colleagues alike doing your best work with the Surface Laptop Go. Power through today's tasks and tomorrow's assignments with your favourite apps, backed by all-day battery life. Surface Laptop Go features USB-C® and USB-A ports for display and accessory support along with the latest 10th Gen Intel® i5 Core™ Processor and up to 8GB RAM and 256GB storage helping you stay productive and connected wherever you are.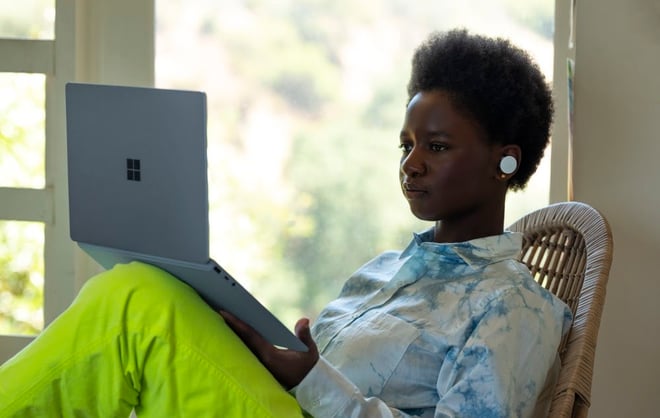 Perfect For Students & Teachers Alike
Let Surface help you redesign the classroom with devices that meet the needs of everyone. With its mission to enable every student to achieve more, Microsoft Surface Devices are created with education in mind to empower students to create the world of tomorrow.
Built for education and designed to be as versatile as the student who uses it, Surface devices can be used in multiple modes to fit the learning environment. Read or watch lessons in Tablet Mode, click and type in Laptop Mode, or draw in Studio Mode…the possibilities are endless!
Microsoft Surface works perfectly with Office365 for education to provide multiple built-in tools and features to enhance learning experiences and foster creativity.
Microsoft Surface is designed to include and engage all learners with the best of Microsoft Education's inclusive learning tools.
Microsoft Surface and Education tools offer intuitive and easy to use built-in features to support vision, hearing, cognition and mobility as well as language and literacy skills both in school and beyond!
Features include:
Immersive Reader which supports all students to access and improve their literacy skills with the ability to change font size and background, break words into syllables and have the text read aloud.
Microsoft Translator which translates text in real time allowing teachers to communicate effectively with all students and parents and keeping everyone on the same page.
Accessibility Checker which gives prompts within Office365 apps to make content accessible to students with vision, hearing, cognition and mobility difficulties.
Lightweight, stylish Surface Laptop Go balances performance and battery life with the speakers, mics and camera students need to keep connected to their classrooms. Modern design pairs with a comfortable keyboard and a finish that can withstand daily use.
Stay Cyber Secure In An Online World
Facilitate real connections between students, from secure digital classrooms to collaborating together on complex projects, with hardware and software designed to bring people together.
The Microsoft Surface Laptop Go offers users the ability to connect securely from anywhere, thanks to its 4G LTE capabilities.
Fingerprint Sign In
Convenient security is the name of the game when it comes to the Surface range of products. The Surface Laptop Go is no exception. With a Fingerprint Power Button One Touch sign-in is a safe and easy way to secure the device.
Windows Autopilot
Give faculty, staff and students the freedom to teach and learn anywhere with zero-touch deployment, one-click device management and protection from Microsoft. Eliminate time-consuming re-imaging because Surface is built for the Windows Autopilot zero-touch deployment experience. Students simply sign in to their new Surface device and start learning from day one.
Windows Autopilot allows you to:
Automatically join devices to Azure Active Directory (Azure AD).
Auto-enroll devices into MDM services, such as Microsoft Intune (requires an Azure AD Premium subscription).
Restrict the Administrator account creation. Autopilot is the only way to have the first person who logs into Windows enter as a standard user.
Create and auto-assign devices to configuration groups based on device profiles.
Customise OOBE (Out of Box Experience) content and branding to meet organisational requirements.
Enable full device configuration with Intune.
Reset or restart devices remotely.
Device Configuration Interface
Manage devices down to the firmware level through the cloud with a few clicks. Surface is the only manufacturer to have Device Firmware Configuration Interface (DFCI)2 enabled through Microsoft Endpoint Manager.
Like any computer running Windows 10, Surface devices rely on code stored in the SoC that enables the CPU to interface with hard drives, display devices, USB ports, and other devices. The programs stored in this read-only memory (ROM) are known as firmware (while programs stored in dynamic media are known as software).
In contrast to other Windows 10 devices available in the market today, Surface provides IT admins with the ability to configure and manage firmware through a rich set of UEFI configuration settings. This provides a layer of hardware control on top of software-based policy management as implemented via mobile device management (MDM) policies, Configuration Manager or Group Policy. For example, organisations deploying devices in highly secure areas with sensitive information can prevent camera use by removing functionality at the hardware level. From a device standpoint, turning the camera off via a firmware setting is equivalent to physically removing the camera. Compare the added security of managing at the firmware level to relying only on operating system software settings. For example, if you disable the Windows audio service via a policy setting in a domain environment, a local admin could still re-enable the service.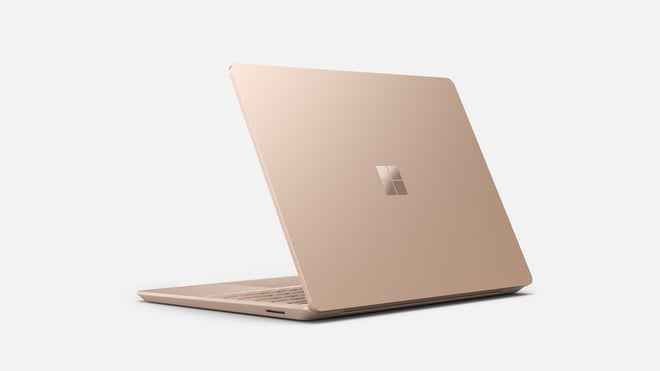 Meet The Microsoft Educator Centre
A focused learning environment can be a challenge in hybrid learning. Microsoft Education is here to support multimedia experiences that keep educators, students, and families connected.
The Microsoft Surface Laptop Go allows students and teachers to connect remotely and access the tools they need with Microsoft Teams and Office365.
Office365 Education includes other tools such as:
Word
PowerPoint
Excel
Flipgrid
Minecraft: Education Edition
Office Mix
Microsoft Edge (Chromium)
Microsoft Translator, and many more.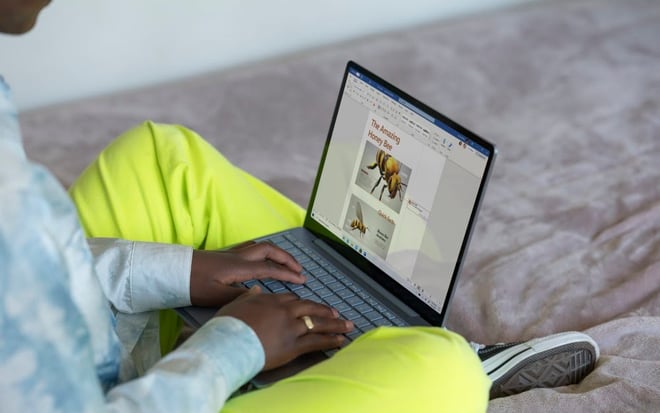 The Takeaway
The Surface Laptop Go is purpose-built for students, professionals and home workers that care about good design and functionality. In a nutshell, it gets the job done and is the perfect pack-up-and-go workstation for those who need to travel light.