Our hyper-converged world is turbocharged by digital transformation, and underpinned by scalable IT infrastructure which responds intuitively to automated business processes and data sets. The Dell ISG (infrastructure solutions group) range of products fuels the storage, management, networking, protection, analysis and processing of critical company data. This makes Dell a first-rate investment for businesses to drive service imperatives and bottom lines to the next level. In this article, we discuss a data infrastructure strategy with product and service solutions from Dell Technologies.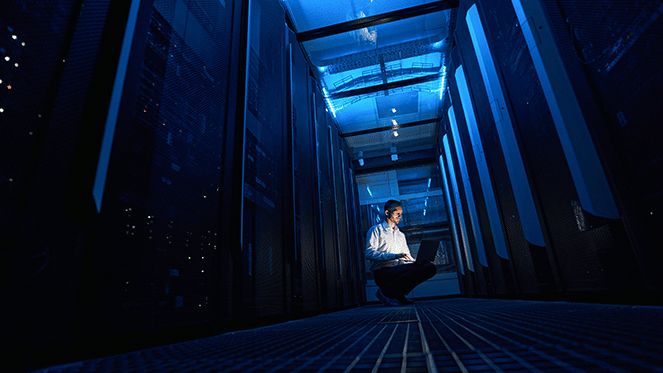 Covered In This Article:
The Ins And Outs Of Servers
Dell Enterprise-Class Servers
Dell PowerEdge Solutions
Cutting Down Your Electricity Bill
Dell PowerEdge Rack Servers
Dell PowerEdge Tower Servers
PowerEdge Modular Infrastructure
Dell's ISG offerings include branded hardware such as servers, storage and backup, networks, converged and hyper-converged, and the building blocks of cutting-edge information technology (IT). That's why partnering with Dell ISG solutions makes excellent business sense. And Dell's server offerings are the ideal tools to accommodate websites, files, remote access applications and technology infrastructure.

The Ins & Outs Of Data Infrastructure
Servers are specialised processers reserved solely for the managing of network resources. They support the precise expedition and coordination of intricate computer processes. If your business uses a computer network, you need a server – simple as that. They are the nerve centres of your IT setup; without them, IT grinds to a halt.
In order to bolster IT efficiency, organisations need to monitor server performance by collating data such as CPU usage, disk utilisation, error rates and memory consumption.
Specifically designed systems that process and send data to other computers over a local network, servers come with additional processing power, memory and storage. They run 24 hours a day, seven days a week, and consist of on-site hardware configured to shift and scale as your company grows.

Solving Problems With Dell Enterprise-Class Servers
Dell's enterprise-class servers are compatible and form the bedrock of your IT paradigm. Designed with cloud-based integration in mind, they enable you to move and deploy workflows, and foster a low-risk, non-disruptive yet innovative IT environment.
The advantages of choosing Dell servers are:
They are robust and safe as houses, combining mainframes and storage with unique data privacy and cloud agility.
By encrypting the entire lifecycle of your data processing, storage and transmission, you rally privacy and data protection across your IT ecosystem.
Dell enterprise servers deliver flexibility and range, which empowers you to deliver just-in-time solutions and flexibility.
Considering the best Dell server for your needs? What are your organisation's performance musts? What services does your server deliver to your users, and how many users do you have?
Defining these metrics will guide you in your choice of server amount and the right hardware you will need to fulfil your disk storage, memory and CPU needs. The right combination is critical to your server operation.
The right server for the job is mission-critical, ensuring current business continuity and future-proofing business expansion. Technical and functional considerations will inform your best choice.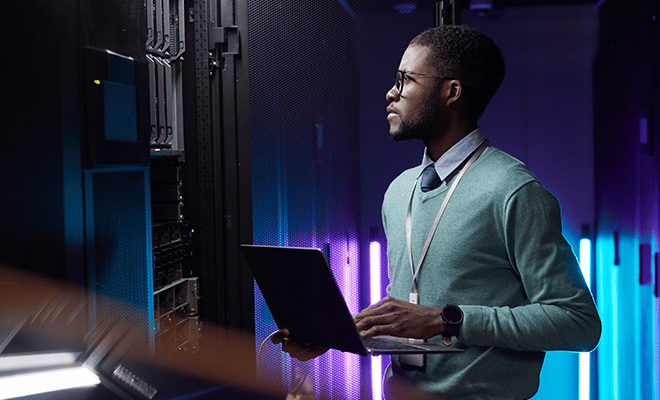 Dell PowerEdge Data Infrastructure Solutions
The PowerEdge server room is the engine room of your business, meeting the challenges of modern commerce with infrastructure that easily processes present and future workloads. Dell servers are designed to optimise the output and systems management you've expected, with no holds barred attention to detail.
Partnering with Dell makes for a true marriage of minds, with access to cutting-edge industry know-how on virtualisation, storage and design. Your data centre's servers come with unmatched solution stacks and integrated support. Streamlining your business process onto one platform, whether flash, converged, cloud or analytics, Dell EMC PowerEdge servers do it all.
From best-of-breed combos to pre-assimilated hybrid cloud turnkey applications, Dell EMC fuses server integration with top-of-the-line services and financial solutions. The result? A fully transformed data centre, faster, cheaper and more sustainable.
Data loss is a thing of the past, as Dell EMC PowerEdge servers are built for cloud backup and data retention. Their file access controls are configured for individuals to store private records, share documents and specify read-only settings.
Pre-emptive agility is secured with a resilient chip-based core of custody. This powers security features such as verified OS bootloader, firmware chain of trust, UEFI Secure Boot Customisation and end-to-end boot verification.
Automatic renewal streamlines certificate management and NIST baselines (including firmware updates) secure firmware. Data-in-use and data-at-rest safeguarding is by driven forward by PowerEdge servers, employing Secure Enterprise Key Manager (SEKM) and Confidential Compute CPU technologies.
Hosted apps which operate on external infrastructure with a web-based user interface don't need a server. If you are hosting on-premises software, you can't do without one.

Cutting Down Your Electricity Bill
Dell's ESG (environmental, social, and corporate governance) strategy is informed by the links between its social/environmental concerns and its business acumen. Dell works closely with regulators, industry and business to implement its high ESG standards.
Dell servers' cooling, thermal and power advances asset resale and recycling to limit Dell's carbon footprint. Engineering innovations have reduced PowerEdge energy intensity (EI) by 83% in the last decade. Dell's Openmanage Power Manager balances data-driven acumens to your energy budget.
Making data centres' cooling and energy needs lighter on the environment is a big challenge in IT. Dell's solution comprises PowerEdge's multi-vector cooling, thermal design and liquid cooling.
Dell ensures waste is minimised and goes out of its way to reuse existing resources: Dell EMC PowerEdge servers are made with recycled plastic.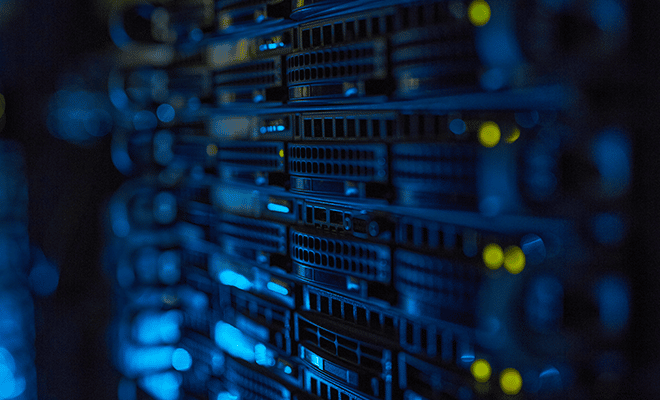 Dell Support Systems
The steadfast functionality of critical systems and automated workloads is enhanced by ProSupport Plus. While ProDeploy Enterprise Suite specialists configure and action deliverables from hardware installations to preparing, aligning and integrating intricate digital ecosystems.
SupportAssist, energised by predictive analysis and risk prevention, stops IT problems in their tracks. Dell EMC Data Center Infrastructure (DCI) has a selection of racks, and power and cooling management options, so you can scale as your data centre expands.
The Dell EMC OpenManage Enterprise console makes things easier by automating and amalgamating infrastructure management priorities. Aimed at checking, arranging and bringing up-to-date PowerEdge tower, rack and modular servers, it also supplies infrastructure lifecycle monitoring for Dell EMC storage device networking.
OpenManage Mobile is the smartphone option for on-the-go activity.

Dell PowerEdge Rack Servers
Dell PowerEdge rack servers are the building blocks of any sophisticated infrastructure deployment. Choices range from a selection of 1,2 and 4-socket rack servers which ameliorate IT problems and supply heightened core density for your cloud-native workflows, apps and virtualisation.
Rapid memory speeds, BIOS fine tuning and quick NVMe storage are just some things that tally execution to your workload.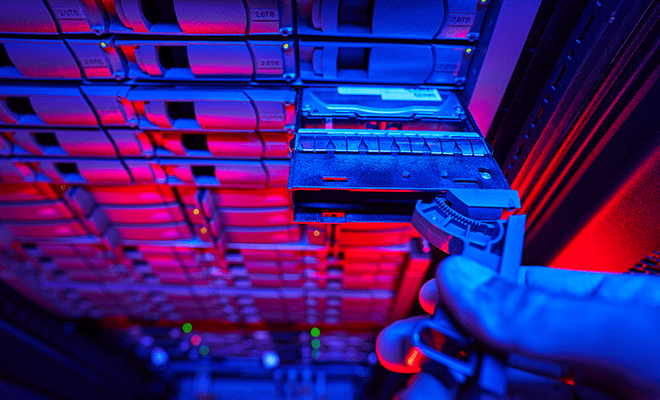 Dell PowerEdge Tower Servers For Corporate Data Infrastructure
From small home offices to remote offices and data centres, Dell PowerEdge tower servers deliver potent CPU power, quiet acoustics and solid modelling. They come in one-socket builds for entry-level business functions like database applications, file sharing, collaboration, mail, messaging, conferencing, point of sale and print. Two-socket (dual CPU) servers are packed with more features, cache and speed to meet extra CPU needs like website serving, power-intensive workflows, virtualisation and consolidation.
PowerEdge Tower servers are installed, maintained and programmed with Dell OpenManage tools, with no trouble. Easy to use and leverage to reduce complexity, tower servers are cyber-resilient and contain safe data architecture. From mini-towers to rackable podia, PowerEdge Tower servers are infinitely scalable. They are perfect for on-site, remote and office deployment. Made for rapid processing and transmission of data, PowerEdge Tower Servers diminish the number of business interruptions and fire up your daily business applications with bolstered speed.
PowerEdge Tower servers streamline team collaboration, letting you work on your latest work revisions with confidence. No more reworking threats – data is automatically uploaded. And, PowerEdge Towers defend your servers from cyberattacks and malware, with the iDRAC9 Enterprise Server Lockdown Mode. By handling many remote servers on one platform, you save on transport costs and eliminate downtime. There is no need to physically visit each service site all around the country – an expensive and time-consuming process.
The beauty of digital interfacing means you are able to get alerts and remote access to hardware, no matter where you are, no matter what time.
PowerEdge Modular Infrastructure (MI)
PowerEdge MI releases you from the shackles of technology silos and time-intensive operative administration with the power of versatile modular components, charged by Intel® Xeon® processors. Inviting you to design your digital computing, networking and storage framework with scalable units, PowerEdge MI cuts the cost of ownership by deploying modular infrastructure to unify server management and extend your IT lifespan. Legacy, contemporary and future workflows are augmented by MI to usher in the era of extended reality into hyper-automation and beyond.