Dell infrastructure solutions simplify and autonomises the storage, management, networking, security, analysis and processing of your company data, making it the best choice to drive organisational performance and elevate your bottom line. In this article, we take a look at why these solutions are not only important for business but how it can help your company grow.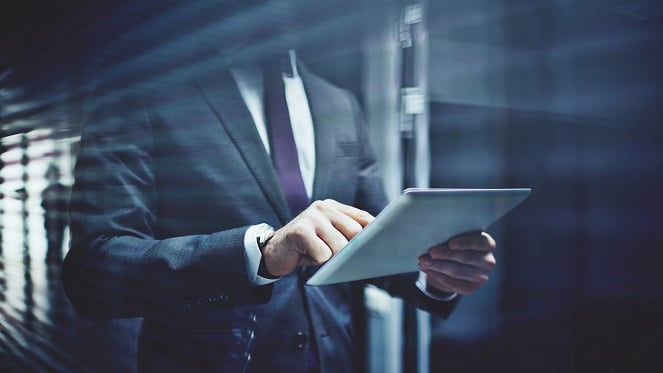 Covered In This Article:
Optimise Output With Hyperconverged Infrastructure
Server Management Made Simple
Storage As Infrastructure Solutions
Dell Networks
The Support You Deserve

Optimise Output With Hyperconverged Infrastructure
The crown jewel of Dell hyperconverged infrastructure (HCI) is VxRail, blazing a trail of full assimilation with VMware Cloud Foundation (VCF) SDDC Manager. Boasting joint HCI engineering with VMware Cloud Foundation (VCF), this solution is underpinned by up-to-date app integration to deliver hybrid cloud automation in one easy step.
VMware Cloud Foundation on VxRail is a reliable cloud ecosystem which hinges on a single, comprehensive platform that stacks hardware-inclusive cloud lifestyle automation, servicing Tanzu at cloud scale and offering scalable storage selections such as Dell EMC arrays and vSAN.
Mention must be made of its public and private cloud mobility, and network capability defined by precision software and cybersecurity.
Improve Storage Efficiency With vSAN Ready Nodes
Fast track cutting-edge infrastructure for competitive advantage and service differentiation with the agility of vSAN Ready Nodes, the hyperconverged building block foundation for VMware vSAN™ infrastructure.
OpenManage™ Integration for VMware vCenter® (OMIVV) lets you control physical and virtual platforms. The Dell plug-in boosts simplicity and error-free IT processes. The best-of-breed combination of Dell and VMware enables PowerEdge to deliver the freshest iterations of VMware vSphere®, VMware vSAN™ and VMware Cloud Foundation.
vSAN Ready Nodes are optimised and configured to run VMware vSAN and contain SSDs, HDDs, network I/O controllers, memory and CPU in order to integrate with Dell's Thirteen Platforms – they specifically identify the server as appropriate on boot up to deploy updates, for example.
Expanding on the PowerEdge MX are form factors including kinetic infrastructure, modular solutions, towers and 1U and 2U rack servers. Dell boasts over 250 certified ready node configurations, from all-flash to hybrid rack and NVMe only. Hypervisor and firmware updates can be completed in under four minutes when using vLCM and OMIVV.
Move Faster And Respond Effectively With Dell PowerFlex
Dell PowerFlex offers supple platform support, hypervisor and broad OS to facilitate assorted workflows on one system, boosted by automated apps, optimal software and forward-facing consolidation.
Solutions For Microsoft Azure Stack
Microsoft and Dell have joined forces to deliver two offerings that allow hybrid and edge apps to be governed across locations.
Azure Stack HCI
This solution lets you run on-premise virtualised applications with full stack management, modernise outdated platforms, integrate with Azure, enable computing and storage power at remote branches and use Azure Arc to control Azure cloud and Azure Stack HCI remotely.
Azure Stack Hub
This offering lets you operate your on-premises connected or disconnected private cloud using cloud-native apps, as well as from the public cloud, and
enables you to observe data sovereign laws. We can't forget Azure-consistent Infrastructure-as-a-Service (IaaS) and Platform-as-a-Service (PaaS) operability.
Boost Simplicity And Deployment
Comprising PowerEdge servers with Intel Xeon processors, Nutanix software, XC Core nodes and XC Series apps, the Dell XC family boosts simplicity and deployment and lowers operating expenses. XC ore nodes are supported by the newest Intel and AMD processors, while XC Core offer rapid virtualised deployment.
The products run on 1U, 2U and 3U configurations to combine virtualisation, storage and computing power, enabling multiple data centre apps to run simultaneously, including enterprise business applications, Microsoft® SQL Server®, Oracle® and SAP HANA® databases, DevOps and QA environments and Virtual desktop infrastructure (VDI) security.
Deployed in 50 minutes and less, they do away with the need for RAID groups, LUNs and volumes and simplify storage complications.
VxBlock 1000
Combine high-value workflows and serve VMware cloud ops faster with the VxBlock 1000, which combines Dell storage and data security to supply mission-critical process automation and scale storage arrays, blade and rack servers and SAN/LAN switches.


Server Management Made Simple
Dell servers form the foundation for cloud integration and virtualisation and help you move and deploy workloads. They are flexible, robust and agile, ensuring data retention and protection. PowerEdge servers optimise your output and system management, offering better server integration and configuration.
Your business processes are streamlined onto one platform, including flash, converged, cloud and/or analytics. Dell servers are suited to hybrid on-premise and cloud turnkey combinations, transforming data centres into economical and sustainable powerhouses.
Servers' access controls are set for storage, sharing and deployment by chip-based cores. Security features safeguard data-in-use and data-at-rest. Dell servers are scalable, and Dell service support checks arranges and contemporise Dell modular, rack and tower servers.
Dell rack servers are essential elements of any robust IT ecosystem, deploying amplified core density for virtualisation, applications and cloud-native workloads.
Extra advantages of Dell rack servers are:
Space conservation
Heightened scalability
Amplified airflow with cooling systems
Easy computer maintenance and diagnostics
Dell tower servers are suitable for entire business ecosystems, from small or remote offices to data centres. They pack a punch with their CPU power and sturdy modelling. They handle collaboration, database applications and file sharing with ease, and streamline teamwork, automatically uploading new data.
Added advantages of Dell tower servers are:
Design simplicity means lower component density than other servers
Easily identifiable on your network
Ability to add unlimited amounts to an existing network
They are customisable and upgradeable
Lower acoustics than rack servers
Dell modular server infrastructure
Dell modular server infrastructure removes silos and the need for time-consuming admin by fusing the clout of scalability with the versatility of modularisation.
More benefits of Dell modular data centre servers are:
Reduced installation time
Lower cooling power means lower operational costs
Less operational footprint
Self-contained with high-density
Mobile, compatible and flexible
Storage As Infrastructure Solutions
Dell Storage and Backup solutions offer supple end-to-end service facilities, logical data reduction, and software developed for scaling up and out. The company's cloud storage products offer the benefits of distributed cloud, with a cloud storage portfolio that leverages on-premise storage, public cloud, colocation centres and cloud adjacent solutions for maximum business efficiency. Rapid functionality, instant access to developer provision, disaster recovery and high availability are all touchstones of Dell storage and backup solutions. All Dell storage agencies boast autonomist manual processes including auto-tuning and resource scaling, ensuring pain-free transferal of your critical data from on-premise to the cloud.
Preventing cyber-attacks and hastening recovery from ransomware is facilitated with multi-factor authentication. Dell's storage lets you use a central interface to extract, capture, copy, load move, tier and file your data with ease.
When your data is disseminated across many locations, cloud management is streamlined by Dell's hybrid cloud products, and its storage solutions help simplify cloud management. Dell's storage services help you strike a balance between working and living from home and improve workflow in hybrid working environments.
Advantages of Dell Storage And Backup
Security: As computer systems grow and integrate, threats to company information increase. So Dell storage and backup services are critical to upholding a backup and recovery solution in order to protect and save essential organisational data.
2. Ease of management: Ease of management makes storing and backing up data consistent, reducing stress, and makes restoring lost data less time-sensitive. Dell storage and backup solutions prevent end-users from backing up their own devices irregularly and inconsistently. Dell easily configures and manages its storage and backup strategies, putting you in good hands.
3. Trustworthy replication: Dell ensures your data is disaster-proof by ensuring its accurate replication in its storage and backup processes.
4. Compliance standards maintenance: Dell collects and preserves your critical data with regular backups, so IT departments can be more agile and ready when asked to retrieve documents and files.
5. No performance impact: Dell storage and backup run silently and in the background, so fewer disruptions to users translate to more uptime, with zero impact on endpoints.
6. Helps management reduce expenses: Dell storage, backup and recovery products cut workforce overhead costs, and result in cost savings for companies. Deployment speed is transformed from days to minutes, freeing up time and energy for essential services and operations, and streamlining storage.
Dell Networks
Traditionally, network adoption of disaggregation, convergence and virtualisation has lagged behind that of servers and storage. But with Dell networking harvesting network telemetry data, learning patterns and predicting network issues, you are guaranteed a seamless and state-of-the-art network infrastructure. Dell's open network offerings are scalable, agile and disaggregated. They let your match hardware, software and operating systems to your edge and data centre needs. Streamlining processes to adapt to forever changing business environments, Dell technology is sustained by automation and innovation. Interface management is made less cumbersome and erroneous, and networks run smoother and faster.
Dell's network fabrics are optimised for data centres, large or small-scale business landscapes, and are scalable and containable. Dell's range of Ethernet switches for core, edge and cloud is broad, and its Virtual Edge Platform lets you switch components such as acceleration tools and virtual firewalls. Silos are a thing of the past with Dell's data automation and network configuration, and Dell's single network platform features device provisioning, scalability, self-healing, remediation and analytics.
Software developers can link building elements and focus on single components. Cloud-native networks are enhanced by bolstered IT operator, visibility and management control. Containerised operating systems improve network agility and scale-out. Centralised management makes Dell networks more economical. Dell switches enable core-to-cloud mobility, and are affordable with low latency and optimised for Open Automation Frameworks.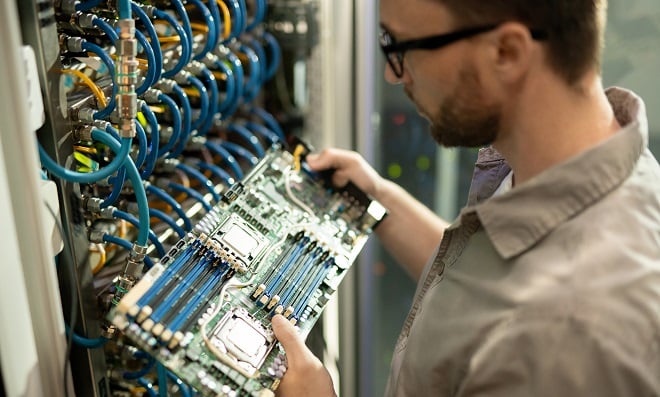 Support For Your Infrastructure Solutions
With remote/hybrid working the new normal, Dell's ProSupport team is on hand to help you deliver nonstop system output and end-user interface flow. Expand your IT department with Support Technologies Services, allowing you to resolve tech problems before they affect your business. Underpinned by data analytics, machine learning (ML) and artificial intelligence, Dell's support infrastructure transforms time use and bolsters accessibility.
Why Use Dell ProSupport For Infrastructure Solutions?
With hybrid working, IT endpoints are easy pickings for cyber hackers. ProSupport helps to foil attacks, stop data loss, preserve network integrity and keeps one step ahead of evolving threats. ProSupport removes the "break" from "break-fix".
Dell Software Support
Advanced Support For Software allocates you a skilled security expert as well as a team of ProSupport for Software technicians for your Dell endpoint security needs, able to help address, configure and deploy any software product issues in your IT infrastructure.
ProSupport Plus
ProSupport Plus offers business owners and their teams' peace of mind regarding their choice of hardware. Your business strategy is shaped and propelled by your business team. Empowering them with expert support access in order to take your organisation to the next level makes good business sense.
By giving mixed working environments access to the correct support, you, your team and Dell enable your business to grow to new heights. ProSupport Plus simplifies enterprise complexity and engages all actors in problem resolution. ProSupport Plus includes 24/7 access to hardware and software expertise, next business day on-premise repair after remote diagnosis, fixing accidental damage caused by spills, drops and surges and ensuring data security by keeping hard drives after replacement.
SupportAssist gives you case creation, notifications, failure prevention, automated issue detection and proactive monitoring. Dell's ISG products and services are indispensable tools for businesses to lean out running costs and swell dividends. Invest today.