Data centres seldom meet the operational and capacity requirements of their initial designs. The principal goals in data centre design are flexibility and scalability, which involve site location, building selection, floor layout, electrical system design, mechanical design and modularity. In this article we will take a look at what planning a data centre is all about and offer product solutions from Dell Technologies' Infrastructure Solutions Group (ISG).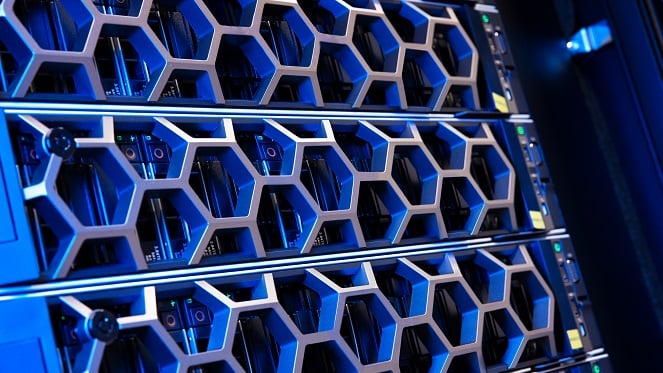 What Is A Data Centre?
A data centre is a physical facility that enterprises use to house their business-critical applications and information. As they evolve from centralised on-premises facilities to edge deployments to public cloud services, it's important to think long-term about how to maintain their reliability and security.
Data centres are often referred to as a singular thing, but in actuality, they are composed of a number of technical elements. These can be broken down into three categories:
Compute: The memory and processing power to run the applications, generally provided by high-end servers
Storage: Important enterprise data is generally housed in a data centre, on media ranging from tape to solid-state drives, with multiple backups
Networking: Interconnections between data centre components and to the outside world, including routers, switches, application delivery controllers, and more
These are the components that IT needs to store and manage the most critical resources that are vital to the continuous operations of an organisation. Because of this, the reliability, efficiency, security, and constant evolution of data centres are typically a top priority. Both software and hardware security measures are a must.
Key Considerations When Planning A Data Centre
Before you buy the entire Dell solutions catalogue, let's take a look at a quick real-world example and some important questions that need to be answered first.
a financial services firm in Manhattan likely requires continuous operations as any outage could cost millions. The company would likely decide to build two data centres within close proximity, such as New Jersey and Connecticut, that are mirror sites of one another. An entire data centre could then be shut down with no loss of operations because the company could run off just one of them.
On the other hand, small professional-services firms may not need instant access to information and can have a primary data centre in their offices and back the information up to an alternate site across the country on a nightly basis. In the event of an outage, it would start a process to recover the information but would not have the same urgency as a business that relies on real-time data for competitive advantage. It is important to note that when planning a data centre that there is no -one-size-fits-all approach.
To shed some light on your undertaking, here are the key considerations:
Does the business require mirrored data centres?
How much geographic diversity is required?
What is the necessary time to recover in the case of an outage?
How much room is required for expansion?
Should you lease a private data centre or use a co-location/managed service?
What are the bandwidth and power requirements?
Is there a preferred carrier?
What kind of physical security is required?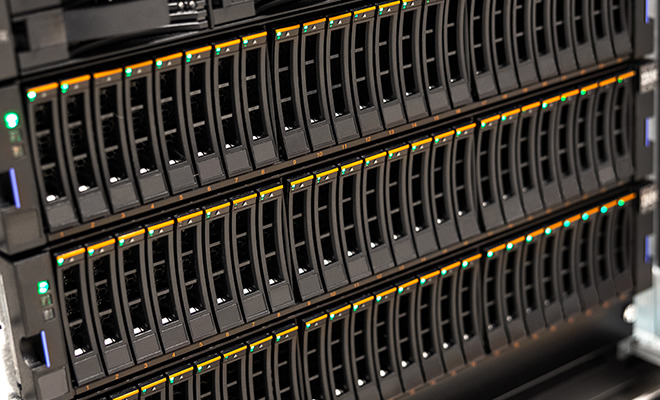 Requirements To Design A Data Centre
Once you've answered all of the questions above you will have a clear foundation on what's needed to plan a data centre. With this out of the way, we need to break down the requirements needed for all of this to work.
The first rule of data centre facilities is to design for flexibility and scalability. Planning ahead should be top of mind at all times.
All data centre designs are judged by their ability to provide continuous operations for the network services they support. Data centre availability is affected by both planned (scheduled maintenance) and unplanned (failures) events. To maximise availability, the impact from each of these must be minimised.
All data centres must be maintained on a regular basis. In most data centre designs, scheduled maintenance is a planned event requiring network downtime. For this reason, general maintenance is often forgone, leaving long-term availability to chance. In robust data centre designs, concurrently maintainable systems are implemented to avoid interruption to normal data centre operations.
To mitigate unplanned outages, both redundancy and fault-tolerance must be incorporated into the data centre design. High availability is accomplished by providing redundancy for all, major and minor, systems, thereby eliminating single points of failure. Additionally, the data centre design must offer predictable uptime by incorporating fault tolerance against hard failures.
Simplicity is most especially for data centres. The major benefits of simplifying within a data centre design are:
Reduced chance of failures due to human
Reduced cost for implementation
Easier systems monitoring, manageability, and maintainability
Dell Technology offers pre-design and planning services to provide the optimal solutions to meet client needs. This results in an early and accurate alignment between scope, schedule, and budget.
Data Centre Capacity Planning
Data centres are limited in terms of footprint, power consumption and cooling capacity. While redundant backup power and fault-tolerant server clusters can potentially increase uptime, they can also reduce the total available power capacity. Planning too much capacity for the given workloads wastes capital expenditures and might draw power to idle, unused servers. Over-provisioning computer room air conditioners also result in below optimal efficiency operation.
IT organizations should start capacity planning with agreed-upon service performance metrics, such as storing data for X amount of days, and running applications with a response time of X. To be effective, the capacity planning process requires sophisticated load calculations both at normal and peak performance times. To determine optimal capacity, IT organizations can benchmark operations with either simulated or real load testing, trend analysis or modelling using tools designed for this purpose.
Capacity planning software tools can help the administrator calculate the resources and power draw that a data centre must support, given current and projected future operations. Such tools range from simple spreadsheets to 3D renderings of the data centre with automated asset discovery and documentation.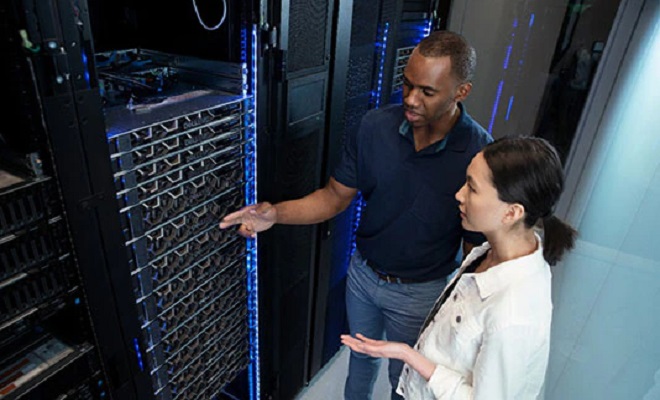 Planning A Data Centre With Dell ISG
Set the standard for data centre agility, efficiency and management with Dell ISG. Leverage Dell ISG's deep industry expertise to build the data centre that you need, with proven effectiveness in harsh environments. For more information, download the Dell Centre Site Planning Guide
Dell PowerEdge Modular Infrastructure
Modular infrastructure solutions let you optimise your IT infrastructure for traditional, new and emerging workloads, and provide a path to a modern, software-defined data centre. Learn how a modular approach helps you keep pace with modern business demands and workloads.
Dell EMC PowerEdge Modular Infrastructure is built from the ground up for the software-defined data centre. The PowerEdge platform is designed to support the right balance of density, capacity, and flexibility to meet the needs of both traditional and cloud-native workloads. The Dell EMC kinetic infrastructure extends the benefits of modular design to a dynamic, memory-centric architecture to deliver apportionable shared compute, storage and networking resources for further workload and infrastructure optimisation. Customisable modules of computing, storage and networking are easily and rapidly scaled and managed. And the OpenManage portfolio delivers innovative systems management that makes you more efficient and your infrastructure more productive and reliable.
Dell KVM and KMM Solutions
Simplify administration, reduce cable clutter and minimise server downtime with Dell keyboard, video, mouse (KVM) and keyboard, monitor, mouse (KMM) solutions. From a single console, you can perform large-scale updates and manage up to 1,024 local and remote servers running various operating systems. And with compact designs, you can conserve valuable rack space in your data centre. Offering efficient visibility and control, Dell KVM and KMM solutions allow users to view, manage and update systems across the enterprise.
KVM
Maximize system control and productivity across the enterprise with Dell Digital KVMs offering KVM over IP management with full remote functionality and extensive connectivity. Available in 8-port, 16-port and 32-port models, Dell Digital KVMs offer:
Scalability with tiering support: Connect multiple KVMs and manage 8 to 1,024 servers.
Single-console management: Configure and access KVMs and SIPs through the local interface or using the onboard web interface (OBWI) in a browser-based session.
Full remote functionality: Control servers and serial-attached devices at near-local performance.
Multiple connectivity options: Support various server connections through server interface pods (SIPs), connect local USB devices and have true serial support to connect with Secure Shell (SSH) or Telnet-compliant software.
Space efficiency: Save space with two installation options including zero-U side mount and 1U rackmount for easy installation with toolless rails.
DSView software: Remotely access, monitor and control devices on multiple platforms at numerous locations. DSView software works with Dell Digital KVM appliances, Avocent serial console appliances, service processor gateways and power distribution units (PDUs).
Password protection: Provide two-factor authentication of local and remote users with Common Access Card (CAC) support.
High availability: Provide failover redundancy with dual power supplies in 16-port and 32-port models and with dual Gigabit Ethernet support.
KMM
Save valuable rack space and manage servers from a single, integrated console with the Dell KMM. The keyboard, monitor, mouse (KMM) solution from Dell includes a large 18.5-inch flat panel LED screen, a keyboard and a touch pad mouse, all contained in a space-saving 1U package. Key features include:
Superb usability: View multiple windows at once using the large 18.5-inch display with widescreen resolution support, connect devices using two USB 3.0 pass-through ports and work comfortably using the touch pad with palm-rejection technology.
Space-saving 1U console: Install in the same 1U space as a Dell KVM to enable high-density deployments.
Easy deployment: Simplify installation with tool-less mounting in racks.
Eco-conscious design: Help save energy with an efficient LED-backlit display console that is free of mercury vapor, is RoHS compliant and is easier to recycle than LCD consoles.
Dell Smart-UPS
Intelligent line-interactive power protection ideal for core business servers and mid-range network gear. Smart-UPS is trusted by millions of IT professionals throughout the world to protect equipment and critical data by supplying reliable, network-grade power reliably and efficiently. Trusted to protect critical data and equipment from power problems by supplying clean and reliable network-grade power, Smart-UPS models have long been considered the benchmark for all network and server UPSs. Smart-UPS have extremely high efficiency at low, medium and high load levels making them ideal for today's multi-core or virtualised servers that have varying load consumption.
The Smart-UPS Pro provides abundant battery backup power, so you can work through medium length power outages. It safeguards your equipment against damaging surges and spikes that travel along utility and data lines. The Smart-UPS also features automatic voltage regulation (AVR), which instantly adjusts high and low voltages to safe levels, so you can work indefinitely during brownouts and over-voltages. The Smart-UPS also includes unique 'green' features, like power-saving outlets that automatically turn off idle peripherals. A high-efficiency charging system and 'AVR Bypass' also reduce power consumption. With the rest of the Smart-UPS' standard features, this is the perfect unit to protect your productivity from the constant threat of bad power and lost data.
Provides instant, clean power to your critical electronic devices during a power outage
Eight battery- and surge-protected outlets ensure all of your critical electronics will be backed up and protected
Switched outlet group allows you to reboot hung equipment, automatically shed less critical equipment, and sequence both the start-up and shutdown of attached equipment
The pure sine wave output while on battery provides the highest degree of compatibility for active PFC (power factor corrected) servers and sensitive electronics
Green Mode bypasses unused electrical components to achieve high operating efficiency without sacrificing power protection
Intuitive LCD panel provides Smart-UPS and power status at a glance
PowerChute Business Edition software for Smart-UPS management, safe system shutdown and energy management for up to 5 servers and workstations
SmartSlot for equipping APC Network Management Cards (NMC) which allow you to remotely customise and manage your Dell Smart-UPS