Our more connected, the data-driven world has created an uncharted digital territory. Yesterday's infrastructure can't keep pace with today's rapidly evolving demands, especially when they can change overnight. In this environment, digital transformation is imperative. The future requires an adaptable, scalable and secure IT foundation that's ready for anything. Secure your future with Dell Server Solutions – we will show you how.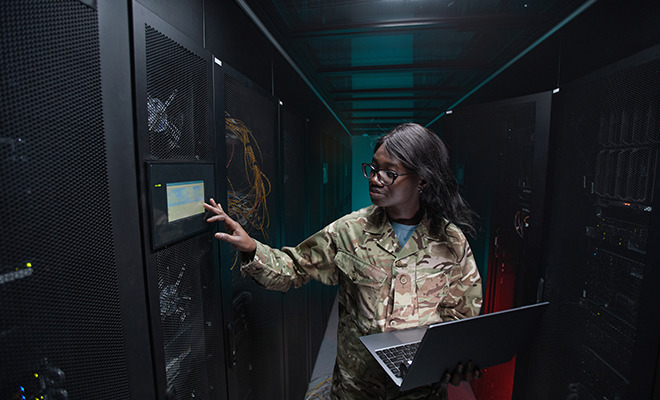 Forming part of Dell's Infrastructure Solutions Group (ISG) offering, servers are an important part of a business' technology infrastructure. They house files, applications, websites, provide remote access for your employees and more. Without servers, IT operations would come to a halt. That's why it's so important to make the right decision when choosing your business server environment.
Dell Technologies is an American multinational computer technology company that develops, sells, repairs, and supports computers and related products and services. Dell sells personal computers (PCs), servers, data storage devices, network switches, software, computer peripherals, HDTVs, cameras, printers etc., and electronics built by other manufacturers. In this article, we will unpack Dell server solutions for businesses of all shapes and sizes while underlying the importance of these components.
What Is A Server Solution?
A server is a specially designed computer system that can process requests and deliver data to other computers over a local network. Servers are typically configured with additional processing power, memory and storage capacity. Servers are designed to run 24/7 and offer additional redundancy for data storage and power. Every business requires fast, sturdy, and powerful dedicated servers and some require the ones that can quickly adapt to changing market dynamics. A dedicated physical server is handmade hardware, designed and configured to meet specific business needs. It's usually on-premises and fully customisable.
Though servers offer a long list of benefits, it also comes with a chunk of responsibility that needs to fall on IT's shoulders. With the increase in IT services and the adoption of new technologies, organisations must check on the health and performance of various IT operations through regular monitoring. Server monitoring starts with gathering critical data, including CPU usage, disk utilisation, memory consumption, error rates, key metrics analysis, and more. With automated server monitoring solutions, organisations can capture and analyse essential metrics to help save time and improve the efficiency of IT teams.
Enterprise Business Servers
With highly compatible enterprise-class servers at the foundation of your IT infrastructure strategy, you can integrate with your cloud of choice, deploy and move workloads where you want – on-prem or in the cloud. Develop an approachable, low-risk path that doesn't disrupt existing IT infrastructure, yet paves the way for innovation.
Benefits include:
By combining your mainframe and storage, you can unlock the true power of a resilient and secure solution with exceptional cloud and data privacy capabilities.
Improve data protection and privacy across your entire IT ecosystem by encrypting each stage of the data's life cycle, transmission, storage and processing.
Take control of your hybrid cloud strategy with enterprise servers that offer flexibility and choice, allowing you to adapt and evolve with a modern IT infrastructure.
To select a server, the first thing you should take into account is your company's performance requirements. How many users do you imagine having? What type of services will your server provide to users? Finding out the right numbers and services helps you conclude how many servers and what kind of hardware components you will need to meet your CPU, memory, and disk storage requirements. Formulating the right blend will substantially affect your server performance.
Setting up an appropriate server with the necessary capabilities is a must for any business, regardless of size and industry. Servers guarantee your business continuity for now and help you expand your business in the future. However, it's not that easy to select a server tailored to your specific requirements. You need to consider a variety of functions as well as technical issues to make the best choice.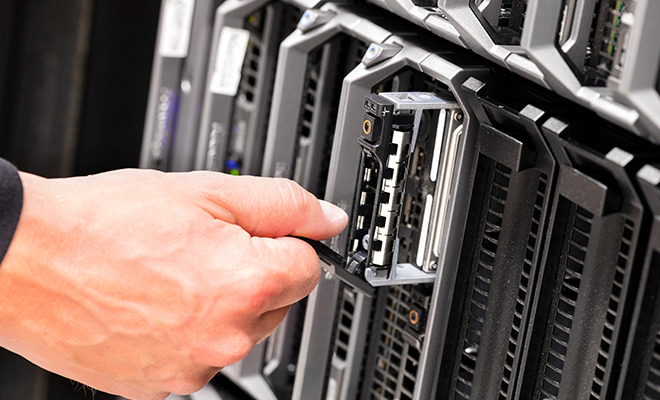 Sustainability In Dell EMC PowerEdge
The first topic highlighted was a macro one – the establishment of Dell's ESG Strategy. Dell says this governance strategy will give oversight to the highest levels of the corporation and strengthen the ties between Dell's social/environmental priorities and its business progress. Part of Dell's ESG strategy involves working to shape standards alongside regulators, the business and the industry at large.
Dell server solutions' power, thermal and cooling innovations and asset resale and recycling services reduce Dell's carbon footprint:
Dell Server Solutions Power Efficiency
Since 2013, engineering advancements have helped us reduce PowerEdge energy intensity (EI) by 83%! OME Power Manager also makes it easier for you to manage your power budgets with data-driven insights.
Dell Server Solutions Thermal Design and Cooling
Improving the energy and cooling needs of data centres is one of the biggest challenges in IT today. We address it with PowerEdge multi-vector cooling, liquid cooling, and thermal design.
Dell Server Solutions Sustainable Materials
Dell makes every effort to reduce waste and reuse available resources. Dell EMC PowerEdge products contain up to 35% recycled plastic.
The Benefits Of Using Dell PowerEdge Servers For Business
The new PowerEdge server portfolio is built to power your innovation engine to meet the challenges of digital transformation with a secure infrastructure that supports a full range of modern workloads and objectives. Paired with Dell EMC OpenManage and systems management solutions, PowerEdge servers deliver the productivity and performance you need to power your innovation. Together, they stop at nothing, so
nothing's in your way.
Dell and EMC bring together industry-leading expertise in system design, storage and virtualisation into a common platform to help you transform your data centre with an unrivalled solution stack and unified support. Whether you are modernising with analytics, cloud, converged or flash, Dell EMC PowerEdge is designed to be a common platform for all your solutions.
Dell EMC can deliver PowerEdge technology at any level of integration – from a best-in-breed platform to a pre-integrated fully turnkey hybrid cloud implementation or any step in-between. Combining PowerEdge server infrastructure with Dell Services and Financial Solutions allows you to transform your data centre faster, more affordably and with less risk.
Backing Up Important Data
There are two types of computer users in this world, those who have lost data and those who will lose data. Well, that statement is not entirely true. If you have a properly configured and tested backup, you can almost certainly prevent data loss in any scenario. A server goes a long way to getting your business to that point. Depending on your needs, a cloud backup solution can go a long way to making sure you never lose your data.
File Sharing
File access controls are one of the most common roles that a server can have. Individuals can store private documents, share documents, permit read-only on certain documents, and many other important functions. For example, the sales team may only require access to the sales folder and not the management folder. A server can permit this. And while we are at talking about this, so can many cloud solutions.
Security
Proactive resilience is anchored by an immutable, silicon-based root of trust and enables security functions like end-to-end boot verification including UEFI Secure Boot Customisation, trusted BIOS, firmware chain of trust, and verified OS bootloader. Firmware is protected using NIST guidelines including signed firmware updates and certificate management is simplified through automatic renewal. PowerEdge servers also provide data-at-rest protection using Secure Enterprise Key Manager (SEKM) and data-in-use protection with Confidential Compute CPU technologies.
Hosting Applications
A server may be an absolute requirement if you want to host on-premises applications like payroll programs. Put simply, a hosted application is any piece of software that is running on someone else's infrastructure rather than on-premise. Such hosted applications are accessed over the Internet and provide a web-based user interface for users to interact with them.
Expert Advice On Hand With Dell Server Solutions Pro Support
A modern infrastructure requires reliable IT support and life cycle services to ensure new technologies are quickly deployed and optimised continuously. Dell EMC can help accelerate your IT and business transformation with our world-class cloud, big data, and technology expertise and services. Our 31,000+ Dell EMC Services experts and 28,000+ services partner professionals, in more than 165 countries around the world, stand ready to serve you.
ProSupport Plus improves the performance and stability of critical systems and workloads with automated technology. You can count on ProDeploy Enterprise Suite experts to lead deployments from basic hardware installations through planning, configuration and complex integrations.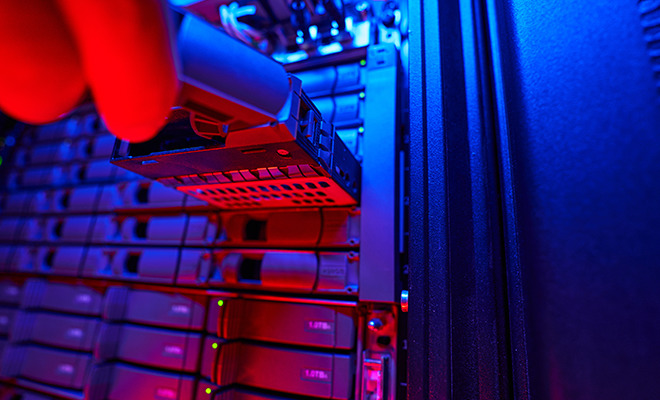 Tarsus Distribution Offers Dell Server Solutions
Tarsus Distribution provides a wide range of server solutions from Dell EMC for all purposes and organisations across South Africa and surrounding countries. We work closely with resellers to source and supply the best Dell server solutions for any purpose, drawing on our relationships with the world's leading IT brands.
How It Works
Contact Tarsus Distribution's expert server team with your requirements.
We will assess your client's needs and develop a one-of-a-kind solution.
Once the server has been installed, the Tarsus team remains on hand to consult with our clients in the maintenance and upgrading of their networking systems.