Surface for healthcare professionals from Microsoft has played a pivotal role in moving the interface between medicine and ICT forward. With the enormous challenges posed to the healthcare sector in the past two years, there has been a giant leap in how technology is being used for delivering medical services, both on location – in consultation rooms and hospitals for example – to remote patient video or audio consultations. With the social distancing precautions necessary during lockdown conditions, remote consultations became an ideal way for patients to connect to healthcare professionals safely and from practically anywhere. Many of Microsoft's Health and Life Sciences customers require portable, yet full-fledged tablet devices to be involved in duties such as performing patient rounds, clinical consultations in doctor's rooms or via video streaming, aiding home health workers in accessing patient information remotely and storing new information from their visits, research, and clinical study scenarios. With the capabilities of the Surface range of devices from Microsoft being ideally suited to the field of medicine, whether it is in terms of patient contact, teaching, research, or administration, we will take a closer look at how ICT technology, and the Surface range, in particular, has been transforming healthcare over the last three years.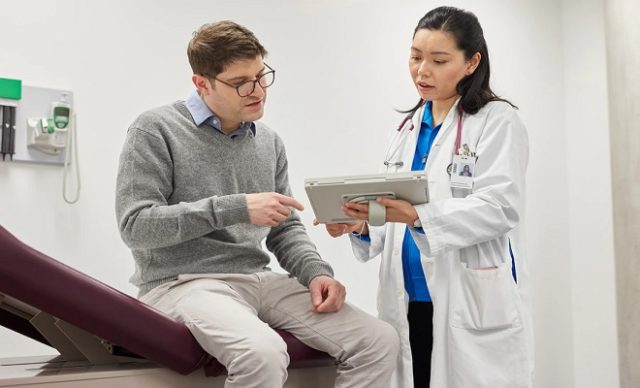 Beginning in 2019, Microsoft has been introducing a rather extensive range of new devices in the Surface family, built for flexibility, portability, connectivity, and ease of group communications to meet the needs of the changing landscape of medical training and healthcare delivery. The range originally consisted of the Surface Laptop Go, released in October 2020, the Surface Laptop 4, released in April 2021, and the Surface Hub 2S, released in 2019.
Launched in 2021 was a variety of new devices which can be viewed on Microsoft's website. For the purposes of this post, we will narrow the focus to the Surface Pro 7+, Surface Go 3, Surface Laptop 4, Surface Hub 2S, and the Surface Laptop Go, with specific emphasis on the Surface Laptop Go, the Surface Go 3 as devices particularly suited to the field of medicine as reported by many health professionals since incorporating these devices in their practice.
Covered In This Article
Surface For Healthcare in Facilities
Surface In Practice
Surface For Healthcare: Securing Productivity With Powerful Hardware And Software
Microsoft Surface For Healthcare: Digital Solutions for Each Medical Role
Pharmaceutical Reps
Nurses
Mobile Care Workers
Physicians
Surface For Healthcare in Facilities
By integrating Microsoft Surface devices across its daily operations, hospitals, clinics, and other medical facilities can support evolving healthcare demands by enabling the smooth running of healthcare delivery by medical professionals who use Surface devices. At first, the lightweight but powerful Surface Laptop Go proved to be an extremely useful device for healthcare professionals. With its Intel 10th generation i5 processor, the ability to run Windows 365, Windows 10, and Windows 11 provides you with your favourite Windows applications plus a couple of additional tools such as Microsoft Teams, Remote Desktop, Windows Information Protection, BitLocker, and a suite of tools designed for business use licensed for PC or Mac.
Since then, the Surface Go 3, a 2-in-1 device that transforms from laptop to tablet with a kickstand and is capable of supporting handwritten notes with the Microsoft Surface Pen became the preferred choice for professionals from doctors to nurses and home healthcare workers, its lightweight design, extended battery life and ability to transform from laptop to tablet as required is ideal for any setting where healthcare professionals may work.
Surface In Practice
Longhua Hospital achieved a new omnichannel experience with smooth end-to-end data flow, vastly improving hospital productivity. Additionally, Longhua Hospital upgraded its information architecture to simplify IT operations, allowing medical staff to access the Windows Server on multiple devices at work. This software was developed on the Windows operating system (OS) making the upgrade to the latest Surface devices seamless and fuss-free. Large urban public hospitals such as the Longhua Hospital in Shanghai, China, have integrated Microsoft Surface for healthcare across their daily operations and patient care to support evolving healthcare demands during the COVID-19 crisis. The hospital is leading the way in mobile healthcare and research by integrating technology to drive transformation across the sector in China.
The integration of Surface at Longhua Hospital has transformed the way healthcare institutions serve their patients. The most prominent feature of the Surface devices in use is their convenience, supporting the productivity and efficiency of medical practitioners at work. The devices are also lightweight with long battery lives and have touchscreen and stylus capability to capture handwritten notes. Today, medical staff can use Surface devices effortlessly in their everyday work and communication.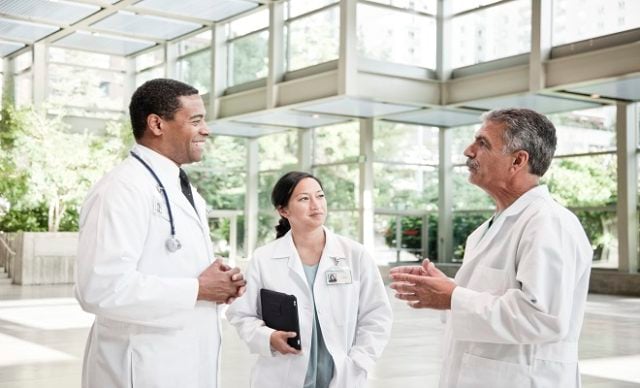 Surface For Healthcare: Securing Productivity With Powerful Hardware And Software
Compatibility and versatility are key considerations in developing a connected ecosystem of hardware and software for medical centres. In this respect, Surface becomes the biggest advantage of Microsoft's integrated software and hardware solution, enhancing the management experience for users and the IT department.
Microsoft Surface for Business series – including Surface Book, Surface Laptop, and Surface Hub – creates a rich and comprehensive experience for staff across an establishment's many departments. All devices come pre-installed with Windows 11 Professional, providing advanced security protection, enterprise-grade manageability, and enhanced productivity tools for all staff.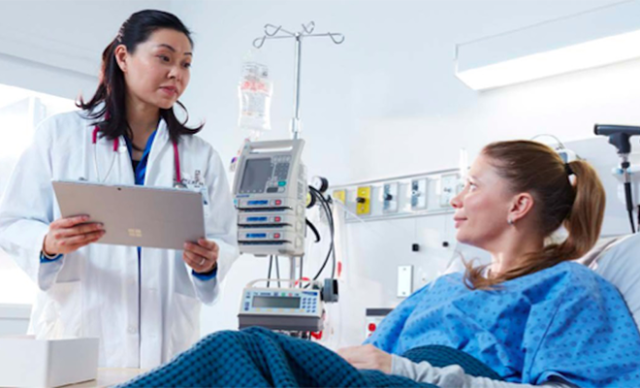 Microsoft Surface For Healthcare: Digital Solutions for Each Medical Role
No two roles in the medical field are alike. Each position comes with its own set of unique problems and challenges. That is why a versatile and mobile family of devices can make the different tasks at hand easier, not only saving time and money, but also lives. In this section, we break down different key roles in the world of medicine to give you real-life examples of how Microsoft Surface can make a difference.
Pharmaceutical Reps
Pharmaceutical sales representatives do not make direct sales, but rather connect providers with the drugs, treatments, and knowledge they need in order to provide the most up-to-date care to their patients. They communicate exciting advances at the forefront of medicine and bring new and sometimes life-saving treatments to the public.
The Challenge
A Pharmaceutical Sales Rep faces a number of challenges in their role including:
● Keeping up-to-date on the latest drugs and treatments;
● Staying connected to his or her email and calendar on the go;
● Using convincing content to persuade doctors;
● Working with teammates remotely.
The Solution
Have more engaging conversations with a high definition PixelSense display;
Call out specific details or annotate PowerPoint presentations in real-time using the Surface Pen;
Switch from Studio Mode to Tablet Mode so physicians can interact with the device directly;
Forego a charge with extended battery life;
Capture signatures on the spot and make better use of OneNote with natural inking experiences from the Surface Pen.
Nurses
Throughout the treatment process, the nurse follows the progress of the patient and acts accordingly with the patient's best interests in mind. The care provided by a nurse extends beyond the administration of medications and other therapies.
The challenge
Busy nurses face a number of challenges in their day including:
Providing patients with personalised care and support;
Staying productive and on the move;
Updating patient records accurately and securely;
Reacting quickly in the event of an emergency.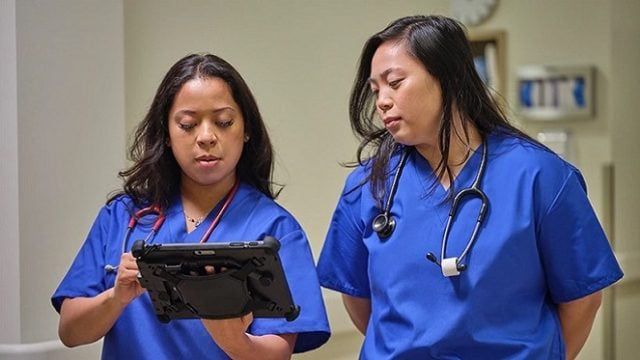 The Solution
Run critical EHR and productivity apps concurrently with an advanced Intel Core processor;
Attach a keyboard easily to input detailed notes when necessary;
Be confident in the safety of patient data with TPM chips, Windows 11 Device Encryption, and Windows Defender;
Stay productive on the morning's charge with extended battery life.
Mobile Care Workers
The main role of a Care Worker is to provide support to a person in need of care and who are housebound, improving their lives by attending to their specific needs, and assisting them with their daily tasks. Care Workers may find themselves working with children, the elderly, and people with disabilities or learning difficulties. In this field, Microsoft Surface For Healthcare can make a big difference.
The Challenge
A Mobile Care Worker faces a number of challenges in their role including:
Connecting with specialists and doctors remotely;
Ensuring all patient information is captured and stored securely;
Staying connected to a network even when moving from place to place.
The Solution
Share educational videos and informational content with a high definition PixelSense display;
Access patient records from anywhere, securely, with data encryption and LTE connectivity;
Bring colleagues and specialists into conversations with patients using Teams;
Get e-signatures on the spot for medical paperwork with the Surface Pen;
Use standard sanitation materials on the Surface Go to ensure it stays sterile.
Physicians
Physicians work to maintain, promote, and restore health by studying, diagnosing, and treating injuries and diseases. Physicians have to provide compassionate, appropriate, and effective care to promote health and treat health problems in their patients. Physicians must be aware of and responsive to the larger context and system of health care. They must also be able to find and use resources to provide the best care possible. Pairing physicians with Surface For Healthcare can solve many issues that doctors face on a daily basis.
The Challenge
As specialists in their fields, physicians face a number of hurdles unique to their day-to-day schedule including:
Managing teams of healthcare professionals;
Co-ordinating with specialists to determine the best treatment plans for patients;
Staying productive in-office;
Reacting quickly in the event of an emergency.
The Solution
Run critical EHR and productivity apps concurrently with an advanced Intel Core processor;
Use Teams, Skype for Business, and Outlook to communicate with colleagues and patients;
Sign forms and take receipt of medications using the Surface Pen;
Visualise patient information and apps in stunning detail with a PixelSense display and 3:2 aspect ratio screen;
Extend work to multiple displays with mini display, USB-C, or docking station options.