With the enormous challenges posed to the healthcare sector in the past two years, there has been a giant leap in how technology is being used for delivering medical services, both on location – in consultation rooms and hospitals for example – to remote patient video or audio consultations. With the social distancing precautions necessary during lockdown conditions, remote consultations became an ideal way for patients to connect to healthcare professionals safely and from practically anywhere. With the capabilities of the Surface for Medical Services from Microsoft being ideally suited to the field of medicine, whether it is in terms of patient contact, teaching, research, or administration, we will take a closer look at how ICT technology, and the Surface range, in particular, has been transforming healthcare over the last three years.
In this article, we take a look at Microsoft Surface for Streamlined Medical Services.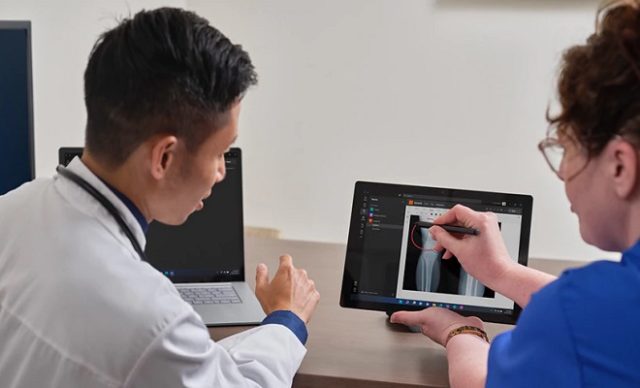 Covered In This Article
New Tools For Medical Professionals
ICT Applications In Medical Research
Streamlined Medical Services & Secure Cloud-Based Data Storage
Access To Healthcare, Information Technology & Improvements To Service As A Global Imperative
New Tools For Medical Professionals That Allows For Better Service Delivery

As with most industries and professions, the time of medical professionals is precious and needs to be structured and planned to allow for the completion of multiple tasks and responsibilities. In medicine in particular, where lives are at stake based on access to information about a patient's history or particular illnesses and health conditions, having fast, secure access to complete and reliable information is critical.
For the many roles medical professionals have to fill, from being physicians and consultants, teachers and researchers, the Microsoft Surface range of devices has enabled medical staff to function faster, more efficiently, and with greater ease. Digital applications in medicine, such as remote consultations via video or audio, have been a growing trend for at least the last decade but have radically sped up since the global pandemic in 2020.
Beginning in 2019, Microsoft has been introducing a rather extensive range of new devices in the Surface family, built for flexibility, portability, connectivity, and ease of group communications to meet the needs of the changing landscape of medical training and healthcare delivery. The range originally consisted of the Surface Laptop Go, released in October 2020, the Surface Laptop 4, released in April 2021, and the Surface Hub 2S, released in 2019.
Launched in 2021 was a variety of new devices which can be viewed on Microsoft's website. For the purposes of this post, we will narrow the focus to the Surface Pro 7+, Surface Go 3, Surface Laptop 4, Surface Hub 2S, and the Surface Laptop Go, with specific emphasis on the Surface Go 3 and the Surface Laptop Go as devices particularly suited to the field of medicine as reported by many health professionals since incorporating these devices in their practice.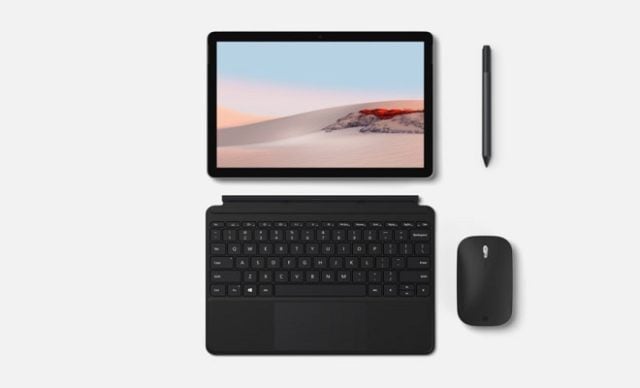 Remote Healthcare In Rural & Underserved Areas With Microsoft Surface For Streamlined Medical Services
The capabilities offered by remote access to healthcare consultation and services have been revolutionary for practitioners and patients in rural, remote, and underserved areas. More and more people with internet access can search for information on their respective health conditions and symptoms, and although it's not a good idea to self diagnose from internet information – which cannot always be verified or reviewed by qualified professionals – without seeking the advice of a trained healthcare provider, the access to additional information has overall proven to be quite beneficial for patients in finding ways to manage especially chronic conditions such as high blood pressure or diabetes.
In many places in the developing world, for example, being able to connect with patients remotely to make sure they adhere to their treatment regimes, collect their medications, or make their way to a clinic for tests and check-ups have improved health outcomes for many.
Portability, Connectivity & Ease Of Communication In Medical Practice
When developing the Surface family of devices, Microsoft took great pains to respond to the needs reported by a wide variety of users in many professions and disciplines, as well as home users. Through the development phases of the Surface devices, Microsoft enlisted the expertise of professionals in several fields, including medicine.
During the development phases of the Surface range of devices, medical professionals in a variety of specialist areas incorporated different Surface devices in their daily practice, whether that is in their consulting rooms, remote consultations, or hospital settings. The Surface Go 3 device was highlighted by these medical professionals as being particularly suited to their practical needs, with them putting emphasis on the portability, ease of access to accurate, complete, and up to date patient information, and the ability to connect with other professionals involved in patient care easily as the most useful capabilities of the Surface Go 3. Completing, organising, and storing administrative tasks and information in one, secure location that is accessible from multiple locations was another key feature that healthcare practitioners found particularly useful in practice.
Moving from paper-based patient files and charts to complete and up-to-date information available securely online for simultaneous access from multiple users has streamlined practice for many healthcare professionals, moving from consultation rooms to hospital rounds, to nurses stations to laboratories.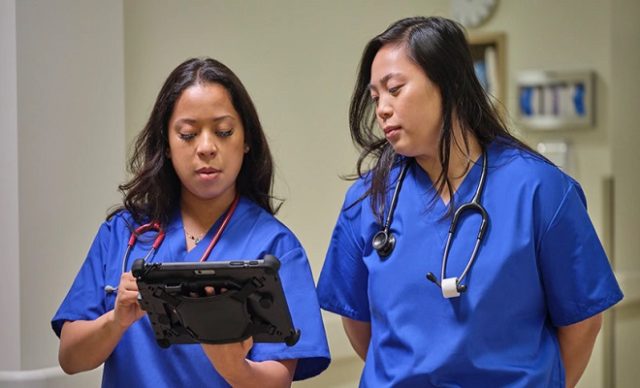 ICT Applications In Medical Research & The Development Of Diagnostic Tools & Treatments

From the development of sophisticated diagnostic tools such as Computer Tomography (CT or CAT Scans) and Magnetic Resonance Imaging (MRI Scans) that give medical professionals 3D views of organ systems for the diagnosis of conditions that enables the implementation of effective treatment protocols, to lab equipment and data storage capacity, technology has transformed medical interventions and patient outcomes for decades.
Medical researchers and practitioners alike have reported how the ability to transform from laptop to tablet of the powerful Surface Pro 7+ has made big differences in the efficiency and effective practice of many professionals. With its long battery life (up to 15 hours), touchscreen and keyboard interface, and the ability to support handwritten notes made with the Microsoft surface pen, this device has established itself as a core component of the practice of medical teams in a number of large, urban hospitals, such as the Longhua Hospital in Shanghai, China.
Teaching & Training Of Medical Professionals For Continous Development & Upskilling
The integration of ICT in medical teaching has been ongoing for the past two decades and continues to grow in popularity and potential to enhance teaching for both lecturers and medical students. From simulated patient case studies to 3D views in anatomical studies, students have benefited in multiple ways from technological tools in their learning.
The Microsoft Surface range has made the digital learning landscape much more user-friendly while promoting a higher level of digital literacy and a greater understanding of how different applications can be used to simplify certain learning materials or to more effectively manage information by representing it visually rather than discursively or textually. Learners and students who have been using Surface devices as part of their educational journey have highlighted the usefulness of the Microsoft surface pen, touch screen functionality, and the suite of Microsoft applications for their note-taking, collection and storage of notes, sketches, and diagrams, and for sharing notes with classmates and teachers alike. The Surface Hub 2S has also become a widely employed device for visual displays in lectures as well as for live interaction with other institutions or remote teaching by specialist practitioners from all over the globe.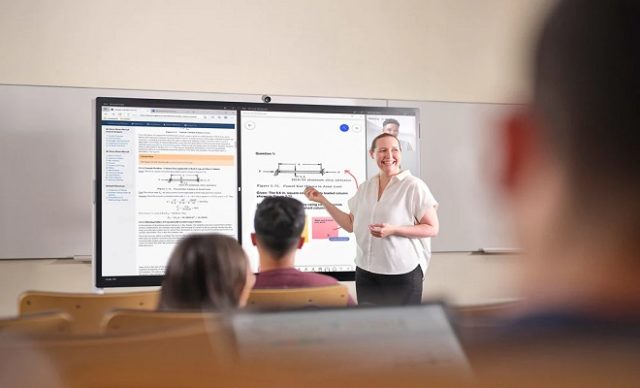 Streamlined Medical Services & Secure Cloud-Based Data Storage Is The New Best Practice

The security of information is of particular importance in the healthcare field. Highly sensitive data about patients which includes very personal information needs to be shareable among healthcare teams, but safe from outside interference, data theft, or corruption of essential information when lives are at stake.
For these reasons it is essential that identities are protected, the integrity of health facilities and healthcare teams remains intact, and access to patient information is controlled and limited only to those who legitimately need access to patient information. Data security is not only a matter of privacy and access of professionals to reliable, uncorrupted information, access to personal information is highly regulated in South Africa by the Protection of Personal Information Act (Act 4 of 2013) which came into full effect from 1 July 2021. The Act stipulates eight key conditions, including accountability, processing limitations, purpose specification, further processing limitations, information quality, openness, and data subject participation.
Factory-Enabled Advanced Windows Security For Microsoft Surface For Streamlined Medical Services
For a detailed description of the various security measures implemented by Microsoft mentioned here, please refer to articles on the Microsoft website on Microsoft Surface Security and Advanced Windows Security. The most recent research in cyber security indicates that as manufacturers build more protections into the OS and its connected services, other ways of exploiting device vulnerabilities are emerging at an alarming rate, with firmware emerging as a top target.
Because device firmware mostly involves third-party providers, keeping track of how secure firmware is, is becoming incredibly complicated. Since firmware is essentially embedded software that provides a low-level of control for a device's specific hardware – a standard set of coded instructions that tells the device what to do, used in all kinds of consumer electronics to computers themselves – they are an ideal entry-point to a device's actual hardware for any attacker.
Since 2015, Microsoft has been using a unified approach to firmware protection and device security through complete end-to-end ownership of both the hardware design and firmware development, which is done in-house. No third parties are involved in the supply of firmware for Microsoft devices, and this approach has proven to be highly effective in minimising the risk of firmware vulnerability.
For the Surface family of devices, Microsoft's Unified Extensible Firmware Interface (UEFI) is maintained in-house, regularly updated through Windows Update, and seamlessly deployed for management through Windows Autopilot.
To summarise, Microsoft's approach to security for its Surface range includes:
Microsoft designed and built components
Factory level security protocols and inspection
No third-party BIOS vendors are involved in the development or production
Virtualization-based security, or VBS
Hypervisor-enforced code integrity (HVCI)
Secure boot and boot guard
Malware protection
Dynamic Root of Trust Measurements (DRTM) in AMD devices
Remote device management control.
With these measures in place, users can have confidence that the privacy and confidentiality of their data will be protected and that their data will only be used in ways consistent with their needs and expectations.
Access To Healthcare, Information Technology & Improvements To Service As A Global Imperative

The integration of ICT solutions has become a regular part of everyday life, with applications that add significant value to all manner of human activity, from business to science and medicine, education, news, information access, governance, and service provision. If the past two years have taught us anything, it is just how valuable and useful our technological capabilities are, and in the context of the global pandemic, the implications of technological advancement in the field of medicine have been decidedly demonstrated. Microsoft Surface for Streamlined Medical Services is a must, no matter how big or small the health practice or sector is.
The Surface range of devices from Microsoft is on the cutting edge of this technological evolution, providing comprehensive solutions that ultimately save lives, improve health outcomes for billions of people, and empower medical professionals, teachers, students, and researchers to do more and to reach further. The digital transformation is as evident in the field of medicine as it is in all other sectors of our lives, and is a trend that will continue to grow, offer new and better ways to practice, and contribute to the betterment of health and the quality of life of billions of people.
Microsoft Surface for Streamlined Medical Services can help save lives by integrating into existing tech infrastructure, offering a portable and power-driven method of moving devices around the workplace.