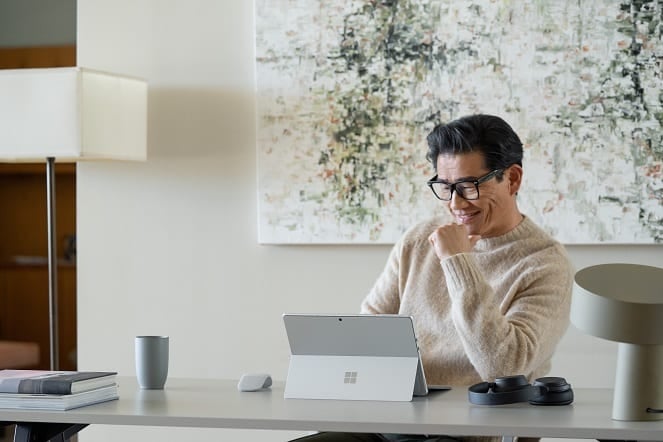 It is essential in today's fast-paced business environment to have a device that can keep up with your work demands, whether you are in the office or on the go. The Microsoft Surface Pro 9 is a versatile 2-in-1 device that can transition from the office to the field while keeping you connected to your team and work.
Covered in this article:
Design and Build Quality
Laptop power, tablet flexibility
Security
Display
Battery Life
Windows 11 Operating System

Design and Build Quality
The Microsoft Surface Pro 9's design and build quality are standout features that set it apart from other devices in its class. The device has a premium magnesium alloy casing, giving it a sleek and stylish appearance. The casing is also extremely durable, which is critical for a device designed to be used on the go.
The Surface Pro 9 has a slim and lightweight design that makes it easy to transport wherever you go. The device is one of the lightest in its class, weighing only 879g (without the keyboard). The Surface Pro 9's slim design also makes it easy to slip into a bag or backpack, without adding too much bulk or weight.
The Surface Pro 9's detachable keyboard is another standout feature that adds to the device's versatility. The keyboard attaches magnetically to the device and can be removed with ease when you want to use the device in tablet mode. The keyboard also has a touchpad, which makes it easier to navigate the device.
The Surface Pro 9 also has a kickstand that can be adjusted to various angles, allowing you to use the device on a desk, table, or even on your lap. The kickstand is strong and sturdy, and it can be adjusted with one hand.

Laptop power, Tablet flexibility
One of the most impressive aspects of the Microsoft Surface Pro 9 is its performance. The device is powered by an Intel® Evo™ 5 12th Gen processor, which provides lightning-fast performance and seamless multitasking. This processor is built using Intel's 10nm SuperFin process technology, which makes it more power-efficient than previous generations of processors.
The device also includes up to 16GB of RAM, ensuring smooth and responsive performance, even when running multiple applications at once. The Surface Pro 9's large amount of RAM also makes it an excellent choice for users who need to work with large files, such as video or photo editing.
In terms of storage, the Surface Pro 9 offers up to 1TB of solid-state drive (SSD) capacity. Because SSD storage is much faster than traditional hard disc drives (HDDs), the Surface Pro 9 can boot up quickly and easily load applications and files.
The Surface Pro 9 also has Wi-Fi 6 and Bluetooth 5.0 connectivity, ensuring fast and dependable connectivity. This is especially important for business users who must remain connected to the internet and other devices while on the move.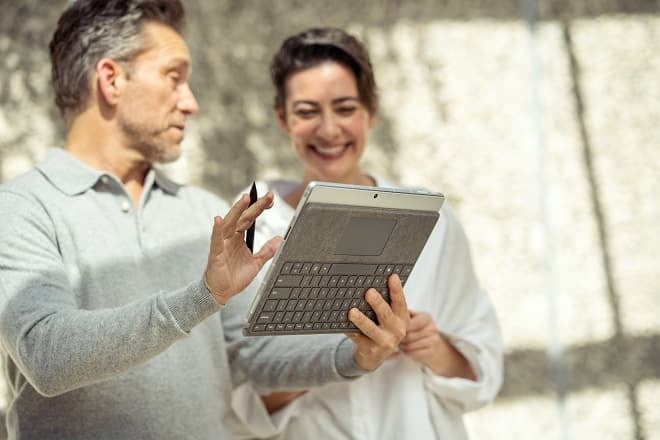 Cutting-edge security built-in
The Microsoft Surface Pro 9 comes equipped with a number of security features, making it a highly secure and dependable device for professionals. The device is designed to keep your data safe and secure, with hardware-based security features and facial recognition technology, while ensuring that unauthorised users cannot access your device or data.
Some of the features include:
Windows Hello facial recognition technology for quick and secure logins
BitLocker encryption for encrypting the entire hard drive and protecting data in case of theft or loss
Trusted Platform Module (TPM) chip for enhanced security of the operating system and data
Windows Defender Antivirus for protecting the device against viruses, malware, and other security threatsMicrosoft Endpoint Manager for managing the device's security policies and settings centrally, ensuring that the device is always up to date and protected.
Microsoft Surface Pro 9 makes quality display a reality
The device features a 13-inch PixelSense display with a resolution of 2880 x 1920 pixels. The Microsoft Surface Pro 9's display is incredibly sharp and crisp, making it perfect for watching videos, viewing photos, or working on graphic design projects.
The display is also incredibly responsive, thanks to its 10-point multitouch capability. This means that you can use your fingers to control the device and interact with applications directly on the screen. The Surface Pro 9 also supports the Surface Pen, which allows for even more precise control and input.
Another standout feature of the Surface Pro 9's display is its colour accuracy. The device features a P3 colour gamut, which is the same colour space used in the film industry. This means that colours are incredibly accurate and vibrant, making the device a great choice for professionals who work with colour-sensitive applications.
The display on the Surface Pro 9 also features a high contrast ratio, which makes it easy to read text and view images even in bright lighting conditions. The device also features a built-in light sensor, which adjusts the screen's brightness based on ambient light, ensuring that the display is always comfortable to view.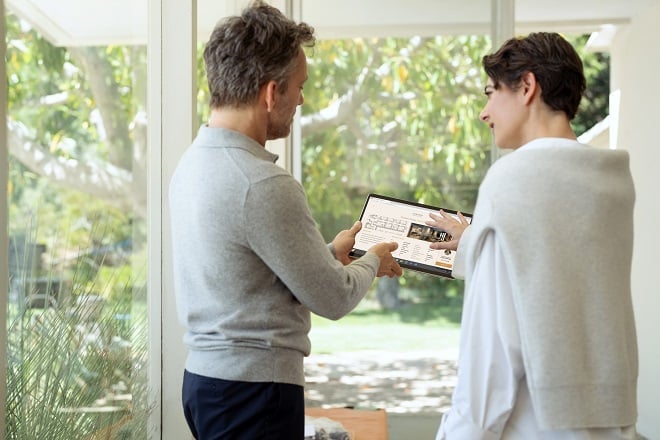 Longer battery life with Microsoft Surface Pro 9
Battery life is a crucial factor for mobile devices, and the Microsoft Surface Pro 9 delivers impressive battery life. The device features a 50.4 Wh battery that provides up to 16 hours of battery life on a single charge. This means that you can use the device for an entire workday without having to worry about running out of power.
The Surface Pro 9's long battery life is achieved through a combination of hardware and software optimisations. The device's processors are designed to be power-efficient, which means they consume less power than previous generations of processors. The device also features a range of power management features, including the ability to adjust power settings based on usage patterns and battery life remaining.
Additionally, the device features fast-charging technology, which means that you can quickly charge the device's battery when you need to. The Surface Pro 9 also supports USB-C Power Delivery, which allows you to charge the device using a USB-C power adapter.
Quick stand-outs on the Surface Pro 9's battery life include:
Up to 15.5 hours of battery life.
Extra battery life means fewer stops to charge along the way.
Windows 11 Operating System on Microsoft Surface Pro 9
The latest Windows 11 operating system is pre-installed on the Microsoft Surface Pro 9. Windows 11 is the most recent version of Microsoft's popular operating system, and it adds a slew of new features and enhancements to the previous version, Windows 10.
The redesigned user interface in Windows 11 is one of the most noticeable changes. The operating system has a new, modern design that is more streamlined and cleaner than previous versions of Windows. The new Start menu is in the centre of the screen and displays app icons in a grid, making it easier to find and launch your favourite apps.
Windows 11 also has better multitasking capabilities. You can now snap up to four apps on the screen side by side, and the operating system will automatically adjust the size of each app window to fit the available screen space. This feature is especially helpful for multitasking and allows you to work on multiple projects at the same time.
Another notable change in Windows 11 is enhanced support for touchscreens and stylus input. The improved handwriting recognition in the operating system makes it easier to take notes and write on the screen with the Surface Pen. When the device is connected to an external monitor, the operating system also includes a new virtual touchpad.
The Microsoft Surface Pro 9 is a powerful and versatile device ideal for personal and professional use. Its stylish design, quick performance, stunning display, long battery life, and new Windows 11 operating system make it an excellent choice for anyone looking for a dependable and high-quality device.