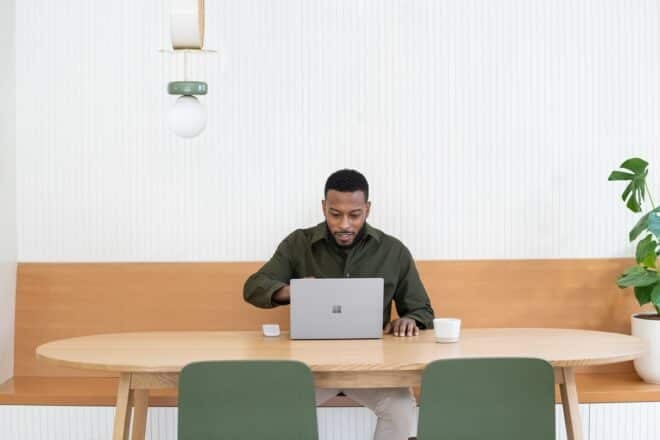 The Microsoft Surface Laptop 5 is one of the year's most anticipated laptops. It replaces the Surface Laptop 4 with a slew of new features and enhancements. In this blog article, we'll look at the Surface Laptop 5's essential features and discover what sets it apart from competing laptops in its class.
Covered in this article:
Quality build and design
Display
Performance
Battery life
Other features
Taking the office with you

Quality build and design
Running natively on Windows 11, The Microsoft Surface Laptop 5's design and build quality are two of its main selling factors. The laptop boasts a sleek and modern appearance that is great for hybrid workers who need a versatile and portable computer.
The laptop is built with a lightweight aluminium chassis that is both portable and sturdy enough to survive regular use. The aluminium chassis is also thermally efficient, which aids in keeping the device cool and preventing overheating during prolonged use.
The Surface Laptop 5 is available in graphite, which is ideal for professionals looking for a more refined aesthetic. The overall design of the laptop is clean and simple, with smooth lines and a thin profile. The laptop features a 13.5-inch PixelSense touchscreen display with minimal bezels that provides a smooth and immersive viewing experience.
The keyboard and touchpad on the Surface Laptop 5 are particularly impressive in terms of both design and construction. The well-spaced keys and pleasant tactile feel of the keyboard make typing a pleasure. With its ample size and quick response, the touchpad supports accurate cursor control and gestures.
The laptop also includes a premium-quality display hinge that is both smooth and durable, giving a stable platform for the gadget. Its hinge design enables the laptop to be opened with one hand and offers a variety of viewing angles.
The Microsoft Surface Laptop 5's design and build quality are excellent, offering hybrid workers a laptop that is both stylish and robust. The thin design, lightweight build, and premium finishes of the laptop make it a fashionable and practical solution for professionals looking for a laptop that can effortlessly move from the office to remote work locations.

Crystal-clear display
The display of the Microsoft Surface Laptop 5 is another characteristic that sets it apart from other laptops. It has a 13.5-inch PixelSense touchscreen display with a resolution of 2256 x 1504 pixels, which gives users the ability to see images that are particularly sharp and distinct.
Because the display has an aspect ratio of 3:2, it is ideally suited for tasks that need productivity, such as working with documents and spreadsheets. The increased vertical space afforded by the 3:2 aspect ratio enables users to see more of their work without requiring them to scroll as frequently, hence this layout is preferred by many.
The display also has a high contrast ratio and a wide colour gamut, which allows for colours that are both true and vivid for the user. This is especially significant for hybrid employees who work with apps that require a lot of graphical processing power, such as picture and video editing.
The capability of the display to be touched is also a remarkable aspect of the device. The responsiveness of the touchscreen makes for a straightforward and unobtrusive method for consumers to communicate with their respective devices. Taking notes, drawing, and navigating through programs are all examples of activities that benefit from the capabilities of the touch screen.
Corning Gorilla Glass, which is known for its durability and resistance to scratching, is used as a layer of protection for the display. The fact that the glass is so simple to clean makes it an excellent choice for customers who are often on the move.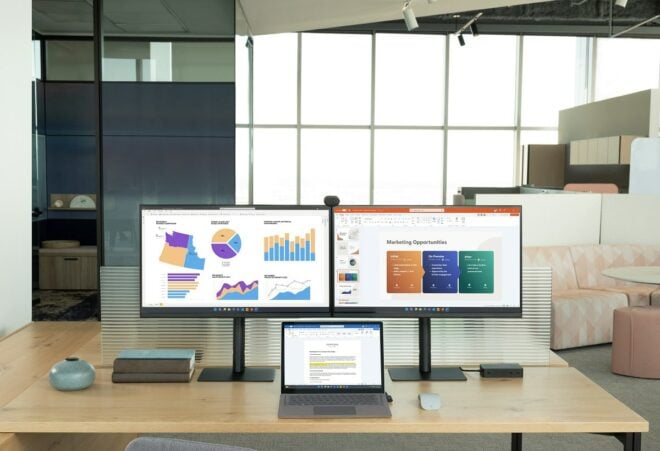 Performance
One of the most striking aspects of the Microsoft Surface Laptop 5 is its performance. It is powered by the most recent 12th Generation Intel Core processors, which deliver great performance and energy efficiency. This means that the laptop can manage numerous tasks at the same time without slowing down or crashing.
The processors are built on new 10nm SuperFin manufacturing technology, which enhances performance and power efficiency. This is especially critical for hybrid workers, who want a device that can manage heavy workloads while running smoothly and without lag.
The Surface Laptop 5 comes with up to 16GB of Memory and up to 1TB of solid-state storage, in addition to a strong processor. This provides plenty of capacity for customers to store their data and programs, and high-speed storage guarantees that information and apps are accessible quickly.
The laptop also includes an Intel Iris Xp graphics card, which delivers exceptional performance in graphics-intensive tasks such as picture and video editing. This is a big upgrade over the previous Surface Laptop edition, which featured integrated graphics.

Better battery life with Microsoft Surface Laptop 5
Battery life is critical for hybrid workers who require a device that can handle demanding workloads throughout the day. The Microsoft Surface Laptop 5 has an excellent battery life, making it an excellent choice for mobile users.
The laptop has a large 47.4Wh battery that, depending on usage, can last up to 19 hours on a single charge. This is a significant improvement over the previous version of the Surface Laptop's battery life, which was approximately 10 hours.
The Surface Laptop 5 also has fast charging technology, which allows users to quickly charge their device. The laptop can provide up to 80% of its battery life after only 30 minutes of charging, making it ideal for users who need to quickly top up their device during the day.
The laptop's energy-efficient 12th Generation Intel Core processors contribute to its long battery life. The processors are energy-efficient, ensuring that the laptop can handle demanding workloads without quickly draining the battery.
Power management settings are another feature that contributes to the laptop's battery life. The power management settings on the laptop are customizable, allowing users to optimise battery life by adjusting settings such as display brightness, sleep mode, and other power-saving options.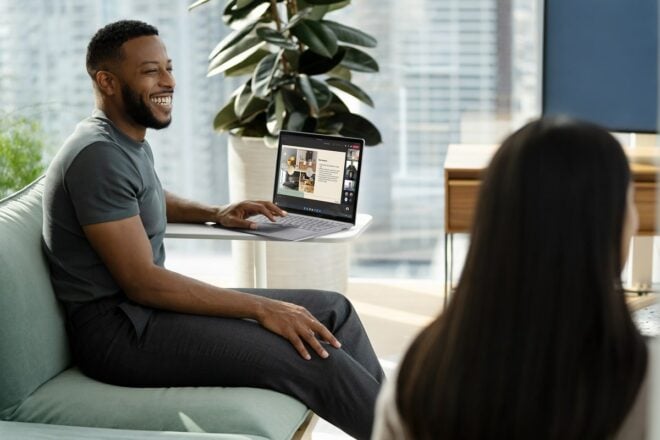 Other Features of the Microsoft Surface Laptop 5
The Surface Laptop 5 also includes a number of other features that are beneficial to hybrid workers. It includes a 720p HD webcam, Wi-Fi 6, Bluetooth 5.1, and a variety of ports, such as a USB-C port, a USB-A port, and a headphone jack.
These features make it simple for hybrid workers to connect to different devices and collaborate with colleagues regardless of where they work. The laptop also supports Windows Hello, which enables users to log in using their face or fingerprint, adding an extra layer of security.

Microsoft Surface Laptop 5 lets you take the office with you
The Microsoft Surface Laptop 5 is an excellent choice for hybrid workers who need a reliable and versatile device. It has a sleek design, powerful performance, excellent battery life, and a range of other features that make it ideal for professionals who work both in the office and remotely. If you are a hybrid worker looking for a new laptop, the Surface Laptop 5 is definitely worth considering.
Overall, the combination of powerful processors, ample RAM and storage, and dedicated graphics make the Surface Laptop 5 an ideal device for hybrid workers who need a high-performance laptop that can handle demanding workloads.