Packing a big bite, Jaws takes care of centre infrastructure and is the jawbone of the Eaton Toy Force. Whether you need to kit out a small data centre or upgrade a massive server room, Jaws has the solution you are looking for.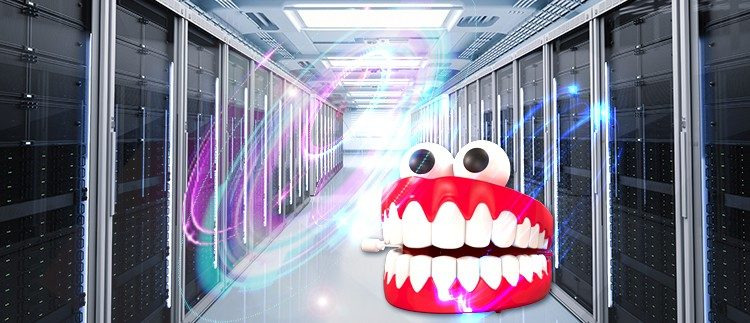 Jaws is here to help you adopt, adapt and improve your IT solutions. She brings together everything needed to create the perfect network and makes it happen with clear lines of communication. By selecting the correct rack and power infrastructure, paired with management hardware and software, Eaton's partners can keep their businesses up and running, saying goodbye to unnecessary downtime.
Covered In This Article
Fighting Downtime
IT Network Closets
Setting Up Server Rooms
Tackling Data Centres
Why Eaton

Fighting Downtime In Centre Infrastructure
South Africa is no stranger to power outages. And when the grid goes down, companies like yours pay the price – every minute of downtime results in thousands of Rands lost in productivity. But what causes downtime? The truth is unforeseen mishaps and grid maintenance issues are often to blame.
Lost or corrupted files, hardware malfunctions and the inability to access the critical systems can break workflow and wreak havoc. All of these unpleasant circumstances, and more, can significantly impact the ability to conduct business. Add to that the potential for lost revenue and damaged reputation in the event that customer service mechanisms such as online ordering, phone systems or other sales tools are unavailable to customers.

IT Network Closets
Your IT network is the backbone of your business and requires innovative, mission-critical power and thermal management solutions that will drive efficiency, quickly scale to meet your needs and ensure you are optimising your assets. These solutions need to be easy to deploy and resilient enough to accommodate reduced facility infrastructure redundancies, while supporting the quality of service you require.
Protection Centre Infrastructure
A strategically designed network closet helps ensure that your power infrastructure stays protected, so you're never stuck in the dark.
Eaton can help you distribute safe, clean power to your IT equipment during outages, surges and voltage problems. And with software that allows for server workload protection, whether moving to available internal servers or to a cloud-based backup recovery site, Eaton can help you maximise uptime.
Organisation Centre Infrastructure
The right rack can undo the clutter of network cables and clear up a space considerably. In fact, choosing the best rack to place equipment is vital to the overall health and function of your IT infrastructure.
Our racks and supporting cable management products enable you to store, power, manage and cool critical IT equipment. They keep servers, switches and storage equipment safe and secure. And they add an extra layer of security for environments that may store sensitive information like credit card, banking or personnel data.
Management Centre Infrastructure
How you manage your network closet is one of the keys to efficiency, reliability and uptime of your IT operations. We can help you manage your network your way, whether it's remotely or at the rack level.
Network closets take all shapes and sizes and each is an important arm of your IT ecosystem. And oftentimes, the challenge is leveraging the space you have, even if it wasn't originally intended for IT equipment. Efficient power and cable management will help you make sure your footprint is being used effectively.
Jaws recommends:
5P/5PX UPS Rack/Tower
The Eaton 5PX Rack/Tower UPS provides line-interactive backup power and scalable run times for servers, storage systems, VoIP gear and network equipment. With a next-generation intuitive LCD display, energy consumption metering down to the outlet group level, and up to 99% efficiency, the 5PX is the perfect UPS to protect modern IT equipment.
ATS Centre Infrastructure
The Eaton ATS offers an affordable solution for customers willing to add power redundancy to networking equipment like switches and routers. This automatic transfer switch will power them from 2 different sources. Should one power source fail, the alternate one will switch over with no interruption to the connected equipment. Eaton ATS can be connected to multiple devices at the same time while saving the cost of expensive redundant power supplies.
IPM Understand and/or Managed Editions
Intelligent Power Manager (IPM) comes in three editions: The Understand Edition allows operators of IT rooms and data centres to understand and monitor power, environmental and physical capacity metrics. Plan changes anticipate challenges and make intelligent management decisions to optimise efficiency and ensure business continuity.
RA IT Racks Centre Infrastructure
Designed for fast and easy set-up, the RA Series rack has features IT specialists need in an affordable ready-to-go rack system. Standard builds include load bearing castors (500kg dynamic load), jacking feet, locking front and rear doors, locking side panels, U-markings front and rear, 2 x 100mm cable trays in rear, 2 brush cable access points at top, baying kit and earth kit.
With our help, you can view your power network and all the equipment attached to it from your remote/virtual machine console, aggregate multiple UPS/power instances, monitor the temperature and humidity of the environment, receive instant access to alerts and initiate a virtual machine move or graceful shutdown in the event of an extended outage.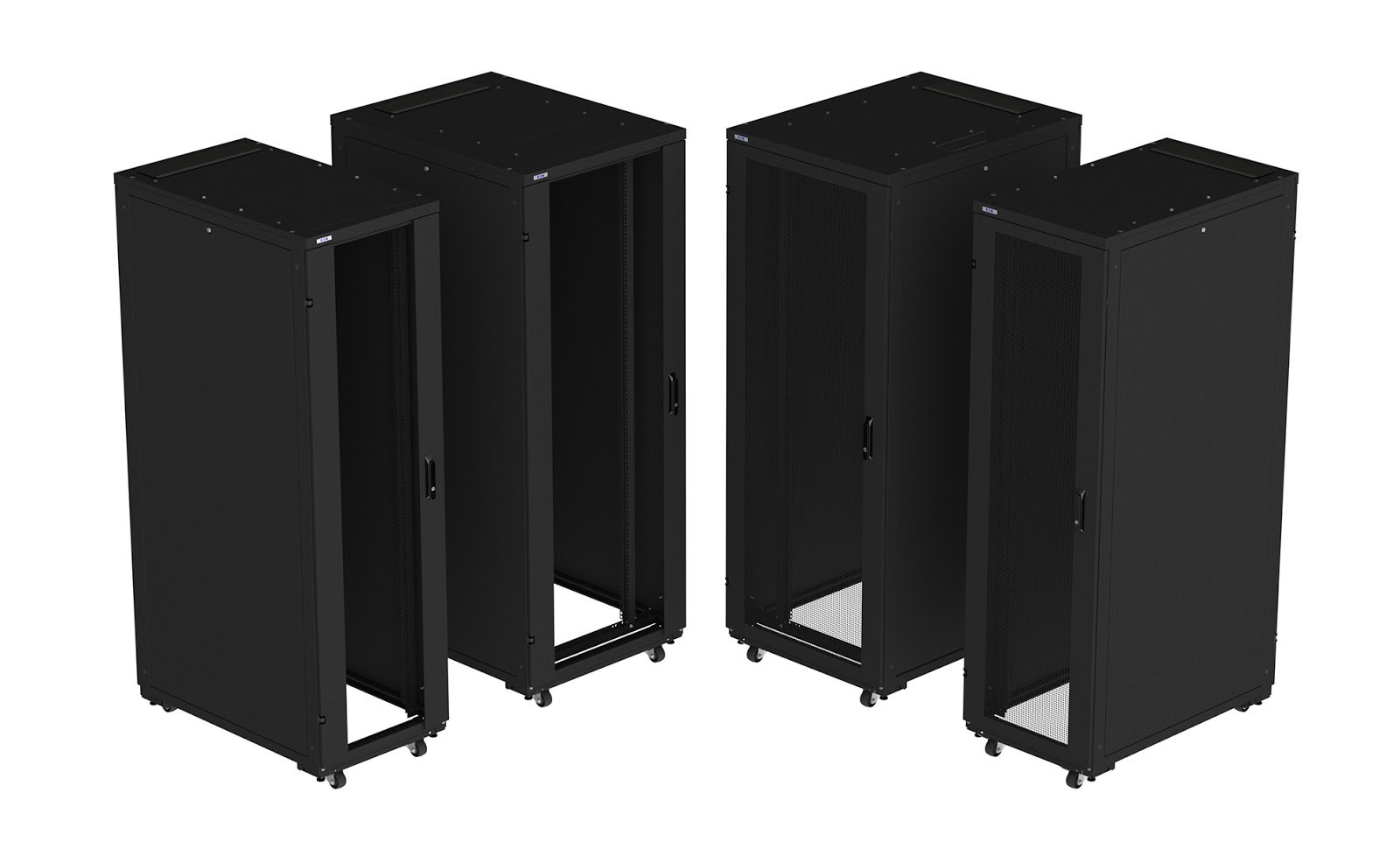 Setting Up Server Rooms
As an IT expert, you anticipate changing technology and business objectives all day long. But what you may not know is how to design and support a flexible server room space that's built for efficiency and optimised for uptime.
Electrical power is one of the most overlooked critical factors in IT facilities due to inherent threats such as power sags, swells and transients. Eaton's server room solutions represent a new generation of power quality instrumentation that reduces daily operating costs and helps avoid costly business interruptions.
IT professionals can now see both conditioned power in the data centre and unconditioned power entering the facility. This allows users to understand energy usage patterns, identify peak load times, determine energy-hog equipment, realise energy savings and automatically analyse power events.
Eaton's plug and play offerings accelerate installation time. Rack PDU installation requires no tools, simplified cable management systems ensure the right receptacle gets to the right place, airflow management solutions are flexible and because our system solutions integrate with a variety of other IT enclosures, you'll be up and running when you need to be.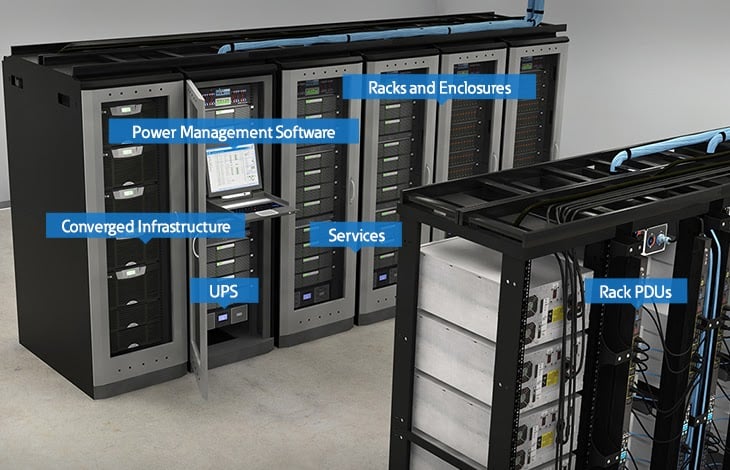 Tackling Small Data Centres
At Eaton, we know that your data centre is the backbone of your business. This is why we offer innovative, mission critical solutions that obtain higher availability systems, improve efficiency and offer flexible, scalable solutions that meet the specific needs of your business. Eaton also provides solutions to protect your equipment from hazards and outages that can cause million-dollar losses.
Eaton data centre solutions include Eaton UPS products, enclosures, power distribution, advanced power management and reliability techniques, and world-class services. Eaton provides reliable distribution equipment, DC network power systems and uninterruptible power supplies (UPSs) to ensure a steady flow of high-quality power – because an outage of just a few seconds can mean catastrophe in a data centre.
When setting up a data centre, Eaton will also help you put a disaster recovery program in place to deal with any unexpected emergencies, safeguarding your data and network so your business can continue operations without missing a beat.
Eaton's three-phase, high-efficiency UPS products provide maximum savings through unrivaled power performance in efficiency, input current harmonic distortion (THD) and power factor. The innovative, transformerless design reduces consumed raw materials and lowers freight costs with a substantially smaller footprint.
With Eaton's Power Xpert server solution, you can understand your energy usage patterns, identify energy hogs and realize energy savings.
Safety is important, for not only data and equipment, but also for workers. Eaton engineers provide diagnostic arc flash studies, retrofit programs and employee training to assess guidelines, reduce fault current and duration, place people away from faults and prevent faults through predictive diagnostic tools and monitoring equipment.
Power Distribution
Power distribution products provide the backbone of an electrical system. Eaton has developed industry-leading solutions in medium and low voltage power distribution to ensure a reliable, safe and efficient supply of power to critical data centre applications.
Power Quality
Eaton's power quality solutions provide clean, reliable and energy-efficient power to critical applications, giving you continuous uptime to keep your business running without interruption.
Power Monitoring
Eaton's monitoring software offerings help you monitor critical components in your power system and your facilities, including Eaton and non-Eaton equipment. Eaton's Power Xpert Architecture allows you to see power system information in real time. This secure, high-speed, Internet-based technology gathers information across your power system so that IT and facilities managers can see what's happening and make informed decisions.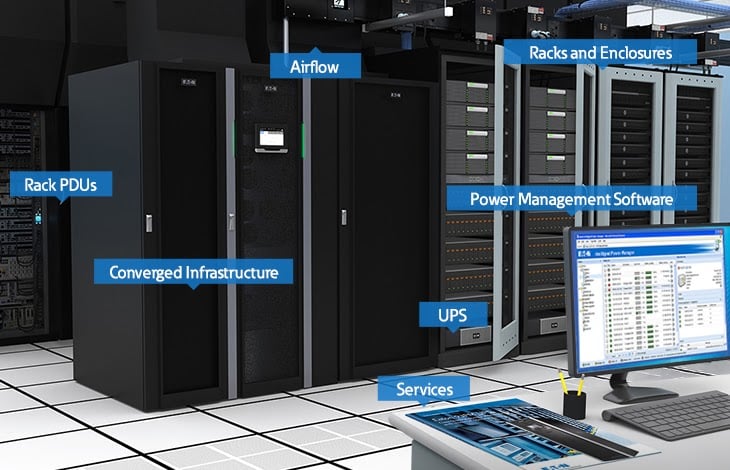 Why Eaton For Centre Infrastructure?
Critical to your business success is finding a partner that delivers the engineering skill, service expertise and interoperability that lowers cost, reduces risk and provides a safer environment across the data centre life cycle.
Eaton is a leading global provider of comprehensive power management solutions, consistently delivering the availability demanded by today's IT environments. Eaton solutions include the broadest range of power management products and services available today:
Uninterruptible power systems (UPSs)

Airflow management

Rack power distribution (ePDUs)

DC power systems

Management software

Comprehensive services