Electricity demands are set to shift as time moves forward, and the big and bulky Bigs is here to protect every type of installation against power outages. In this article, we take a look at Eaton UPS Solutions brought to you by Bigs.

Connectivity and security are the driving force behind Big's strength. Upgrade your power distribution.
Covered In This Article
Big On Connectivity
Big On Security
Why Eaton
Big On Connectivity With Eaton UPS Solutions

Bigs is a tough cookie and a big part of the Eaton Toy Force. He allows you to enhance the reliability of your IT installations with secured power distribution that reduces risk and allows you the flexibility to add components as necessary.
Eaton Managed ePDUs
Eaton Managed ePDUs allow you to monitor and control critical factors such as voltage, current and power factors. This level of information allows you to make the right decision when it comes to energy consumption in your data centre. Integrated with Eaton's management software, you can control these units from any computer on the network server.
ePDU G3 Managed models allow complete lights-out control and metering of devices including those powered across multiple ePDUs. They include IEC Class 1 (1%) billing grade accuracy, an advanced hot-swap meter with LCD pixel display showing V, W, A and kWh, and the ability to daisy chain 8 ePDUs to share the same network connection and IP address.
Enables on/off/reboot capabilities for a single piece of equipment with outlet-level control
Measures outlet-level power consumption and deliver Level 3 PUE to increase accuracy and precision of energy analysis
Single-phase and three-phase configurations provide solutions for SMB and networking closets, blade server applications, and colocation and large data centres
Manages the entire environment remotely over the network from a single interface
ePDU G3 Managed provides ±1% billing grade accuracy, an advanced LCD pixel display, a hot-swap meter, IEC grip outlets, colour-coded circuits and the ability to daisy chain four ePDUs to share the same network connection and IP address
Eaton's new ePDUs are Cisco EnergyWise Certified
Integrates with Eaton network closet, server room and data centre solutions
Securely allows remote control and remote rebooting
Eaton UPS Solutions
The Eaton 9PX is a proven best-in-class online UPS featuring ABM technology that extends battery service life by up to 50%. With double-conversion topology for constant power conditioning, optional battery packs for extended runtime and ENERGY STAR qualification, the 9PX tower/rackmount UPS supports your overall goal of business continuity. It's also built for scalable deployment and features a graphical LCD interface that gives you local access to configurations and settings, history and diagnostics, energy consumption and load segment control.
For a well-rounded backup power solution, you can easily pair your 9PX online UPS with the Eaton Intelligence Platform for seamless management of your connected equipment in your physical and virtual environment. In addition, select 9PX UPS models include the Eaton Gigabit Network card – the first UPS network card in the industry to comply with both UL 2900-2-2 and IEC cybersecurity standards.
Energy Star qualified, the Eaton 9PX provides the highest efficiency level to reduce energy and cooling costs. 9PX can meter energy consumption right down to the managed outlet groups. kWh values can be monitored using the LCD or Eaton's Intelligent Power Software.
With an optional network card and Eaton's Intelligent Power®, the Software Suite is compatible with all major OS 9PX and seamlessly integrates with leading virtualisation environments and cloud orchestration tools.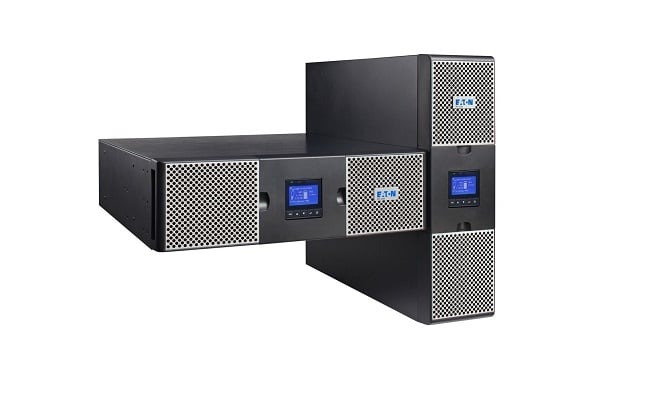 Big On Security With Eaton UPS Solutions

Eaton's full range of network connectivity devices enables you to remotely monitor and manage your power quality equipment. From outlet-by-outlet energy consumption reports to temperature and humidity readings, connectivity devices give you full control of your IT environment from offsite. This high level of awareness and control allows you to take full advantage of helping ensure business continuity.
Eaton's Gigabit Network Card and Industrial Gateway Card are the first in the industry to receive UL 2900-2-2 certification, ensuring it has been reviewed and tested and meet the benchmark of this trusted brand.
Eaton Gigabit Network Card for IT
With faster speed and enhanced cybersecurity, the Gigabit Network Card improves power system reliability by providing warnings of pending issues to administrators and helping to perform an orderly graceful shutdown of servers and storage. The new network card works with Intelligent Power Manager (IPM) v 1.61 or higher to improve business continuity by triggering policies configured to keep mission-critical applications running in the event of power or environmental anomalies, including virtual machine relocation or automated disaster recovery action.
Eaton Industrial Gateway Card
The Industrial Gateway Card is compatible with the MODBUS communications protocol. The card enhances the protection given by the UPS by providing real-time monitoring of the UPS system and environment through a Building Management System (BMS) or Industrial Automation System (IAS). The card allows facility managers to monitor the state of the UPS, power conditions, temperature and humidity within the UPS network, enabling early warning of any threats to the system.
Environmental Monitoring Probe Gen2
The new EMP maintains all the functionality of the previous generation of sensors (temperature, humidity and dry-contact monitoring) while adding the ability to be daisy-chained (up to three per host), allowing multiple sensor connections to a single host. This enhances the richness of rack-level environmental data for the top, middle and bottom of the rack. Temperature, humidity, and contact status can be viewed with a Web browser through the Network user interface. The Hot-swap feature simplifies installation to enable you to install the probe without turning off the power to the device or to the loads that are connected to it. The EMP monitors the status of the two user-provided contact devices and can be located 50m from the network card using a standard CAT5 network cable. The probe is delivered with a screw and screw anchor, nylon fasteners, tie wraps, and magnets.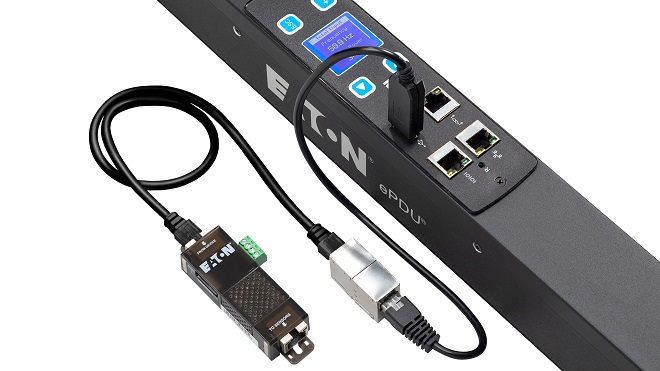 Why Eaton UPS Solutions
Critical to your business success is finding a partner that delivers the engineering skill, service expertise and interoperability that lowers cost, reduces risk and provides a safer environment across the data centre life cycle.
Eaton is a leading global provider of comprehensive power management solutions, consistently delivering the availability demanded by today's IT environments. Eaton solutions include the broadest range of power management products and services available today:
Uninterruptible power systems (UPSs)
Airflow management
Rack power distribution (ePDUs)
DC power systems
Management Software
Comprehensive services