Technology powers nearly every aspect of today's businesses, from an individual employee's work to operations to goods and services. When properly networked, technology can be optimised to improve communication, create efficiencies and increase productivity. In this article, we unpack the most frequently asked questions about Dell Infrastructure Solutions Group.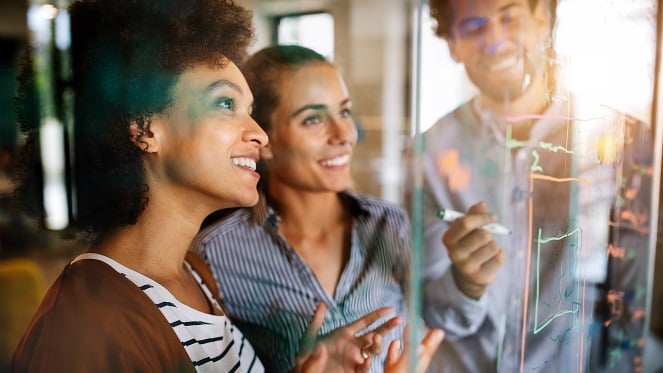 IT infrastructure setups vary by business needs and goals, but some goals are universal for every enterprise. The optimal infrastructure will provide a business high-performance storage, a low-latency network, security, an optimised wide area network (WAN), virtualisation and zero downtime. With this in mind, that is why Dell ISG dedicates its efforts to ensuring that your enterprise runs smoothly behind the scenes.
Covered In This Article
What Is Infrastructure Solutions?
What Is Dell Infrastructure Solutions Group?
What Is The Difference Between Dell ISG and Dell CSG?
What Are Dell ISG Products?
What Is The Difference Between Dell and Dell EMC?
What Is Infrastructure Solutions?
Even before you're thinking of visiting IT infrastructure solutions and service providers, you must know what IT infrastructure consists of. Its components are hardware, software, network resources and services which are required to run the organisation successfully. Within the organisation, it may be supporting business operations or may be used to deliver technology solutions for the customers. The typical components of infrastructure are:
The Hardware: It consists of servers, computers, data centres, switches, hubs, routers, etc.
The Software: It consists of Operating System, ERP, CRM and other applications.
The Network: It consists of network enablement, internet connectivity, firewall, and security.
The above are just the components, but the complete IT infrastructure is much more than that. It has to meet the service level expectations of the organisation.
If Infrastructure Solutions are flexible, reliable and secure, they can help an enterprise meet its goals and provide a competitive edge in the market. Alternatively, if Infrastructure Solutions aren't properly implemented, businesses can face connectivity, productivity and security issues – like system disruptions and breaches. Overall, having a properly implemented infrastructure can be a factor in whether a business is profitable or not.
With Infrastructure Solutions, a company can:
Provide a positive customer experience by providing uninterrupted access to its website and online store.
Develop and launch solutions to market with speed.
Collect data in real-time to make quick decisions.
Improve employee productivity.
What Is Dell Infrastructure Solutions Group?

The Dell Technologies family of businesses sees the world the same way, each with complementary portfolios work better together and is strategically aligned. It is comprised of three core businesses - Dell Client SolutionsGroup, Dell EMC Infrastructure Solutions Group, and Dell EMC Services.
Areas of successful infrastructure solutions being delivered to our customers are centred on:
Infrastructure around the IT's core with rackable servers, SAN/NAS storage and networks
Virtualisation and efforts to drive increased efficiencies in operations and high availability
End-user "application computing" in support of Microsoft, Linux and 25 other operating systems in a Virtualised server.
Virtualisation supports the most efficient use of computing resources with security with centralised applications and data.
Data and Application availability with Data Availability Suite
Network Security with the SonicWALL product line
Latitude laptops, Optiplex desktops, tablets and printers for users to access corporate resources
Management tools are key to understanding and supporting the operational needs of each business from provisioning services to optimised resources.
What Is The Difference Between Dell ISG and Dell CSG?

Dell Technologies operates across two business units. The Infrastructure Solutions Group segment includes servers, networking, and storage, as well as services and third-party software and peripherals that are closely tied to the sale of ISG hardware. The Client Solutions Group (CSG) segment consists of sales to commercial and consumer customers of desktops, thin client products, and notebooks.
What Are Dell ISG Products?

Broken into four groups, Dell ISG offers storage hardware, converged and hyperconverged infrastructure, and data protection on an enterprise and SME level.
Storage Hardware
The company's Infrastructure Solutions Group (ISG) streamlines and automates cloud operations in products optimised for public and private clouds as well as on-premises storage infrastructure. Dell's storage portfolio includes all-flash arrays, scale-out file, object platforms, and software-defined solutions, all with a focus on data protection and security.
Dell storage products have many noteworthy use cases across industries. For example, the company reported recent success in the hospitality sector with a digital transformation of Westgate Resorts, a timeshare company. With 27 properties and over 10,000 employees, the company had more data than they could reasonably manage and secure. They upgraded their data protection solution to Dell EMC Data Protection, using Data Domain Cloud Tier to Microsoft Azure. They radically decreased their operational costs and the time it takes to perform data backups by using Dell's cloud-compatible services. Considering the prevalence of cyber attacks on the hospitality industry, secure data storage is more critical in this sector than ever.
Converged Infrastructure
Converged infrastructure is a pre-packaged bundle of systems, including servers, storage, networking, and management software. Simplify IT and transform operations by bringing together compute, storage, networking, and data protection in fully-engineered systems and validated designs from Dell Technologies.
Build your own CI with maximum flexibility, speed and choice using these validated designs that connect you with leading components and unmatched engineering guidance from Dell Technologies. The Dell EMC Ready Stack is a portfolio of validated designs that enables you to build your own converged infrastructure with industry-leading technology components and unmatched guidance from Dell Technologies. Ready Stack connects you with a wide range of Dell Technologies products to support hybrid cloud and virtualisation platforms with maximum flexibility. Whether it's VMware or Microsoft, the latest container-based based platforms or bare metal deployments, Ready Stack is flexible enough to meet your specific workload needs. With Ready Stack, you have the power and flexibility to host a wide range of applications and resources, from mission-critical to cloud.
Hyperconverged Infrastructure
Hyperconverged infrastructure (HCI) is a software-defined, unified system that combines all the elements of a traditional data centre: storage, compute, networking and management. Benefit from the breadth of the Dell Technologies HCI portfolio that allows for choice based on current infrastructure, operational models and desired IT outcomes.
Dell's hyper-converged infrastructure portfolio offers customers the industry's only single source for the broadest portfolio of the most trusted hyper-converged infrastructure solutions. Dell to resell EMC hyper-converged offerings including VCE VxRail™ Appliance Family, VCE VxRack™ Node and VCE VxRack™ System 1000 FLEX.
Data Protection Infrastructure Solutions
Protect your data across edge, core and cloud with industry-leading data protection appliances and software-defined solutions. Dell Technologies' data protection software delivers next-generation data management and comprehensive data backup capabilities to meet the needs of organisations of all sizes. Data protection solutions from Dell technologies offer users the ability to create a secure infrastructure that optimises cyber resilience to ensure your organisation has a path to ransomware recovery from destructive cyber attacks.
Dell Data Protection (DDP) solutions allow for comprehensive encryption, advanced authentication and leading-edge malware prevention. Dell Data Protection solutions are designed to help you protect end-user data wherever it goes and make it easy to centrally manage endpoint security and compliance.
What Is The Difference Between Dell and Dell EMC?

As a member of Dell Technologies' unique family of businesses, Dell EMC serves a key role in providing the essential infrastructure for organisations to build their digital future, transform IT and protect their most important asset, information.
Dell EMC enables enterprise customers' IT and their digital business transformation through trusted hybrid cloud and big-data solutions, built upon a modern data centre infrastructure that incorporates industry-leading converged infrastructure, servers, storage, and cyber security technologies.
Partners such as Logicalis service customers across 180 countries, in every industry, in the public and private sectors, and of every size, from startups to 98 percent of the Fortune 500.
Dell EMC customers include global money centre banks and other leading financial services firms, manufacturers, healthcare and life sciences organisations, Internet service and telecommunications providers, airlines and transportation companies, educational institutions, and public sector agencies.
Lower your Total Cost of Ownership (TCO) and scale the smart way, with software-defined storage, hardware add-ons and all-flash technologies from Dell Technologies' ISG.