Dino is always working with the entire Toy Force team, but her main job is to ensure that all of Eaton's power monitoring and distribution solutions are powered, reliable and secured meaning. Let's see what Dino of Eaton Toy Force has to offer.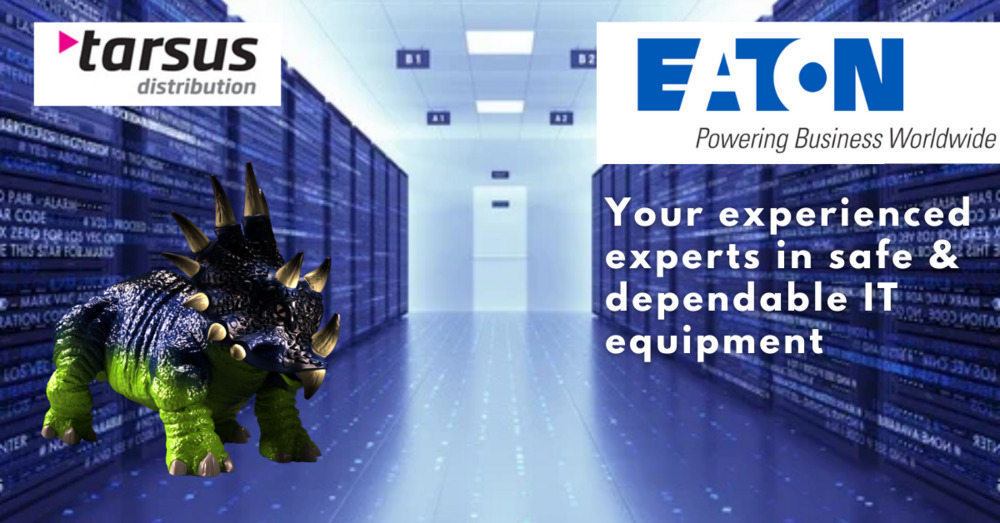 Dino's experience in IT power solutions has stood the test of time and she brings millennia of knowledge and understanding to the Eaton Toy Force. This is why she wants to invite you to expand your solution offering with the three best-in-class Eaton's products.
Covered In This Article:
RA Series Racks From Eaton
Eaton ATS
Eaton ePDU
Why Eaton Toy Force
RA Series Racks From Eaton Toy Force
Designed for fast and easy set-up, the RA Series has features IT specialists need in an affordable ready-to-go rack system. Standard builds include load-bearing castors (750kg dynamic load), jacking feet (adjustable from inside or outside the rack ) locking front and rear doors, locking side panels, U-markings front and rear, 100mm enhanced cable tray in the rear, baying kit, fixing kit and earth kit.
Perfect for Edge applications with Eaton UPSs, RackPDUs and monitoring software. Fully equipped for fast and easy, plug-and-play installations in network closets, server rooms and enterprise.
Standard racks include:
Fully assembled rack frame with load-bearing castors and jacking feet.
Four painted adjustable 19" mounting rails with unit height markings on front & rear.
Enhanced cable trays facilitating Rack PDU mounting fitted at the rear
Top panel with 2 brush entries at the rear.
Perforated steel or glass front door.
Split rear doors (on 800mm wide vented models) or single rear doors (on 600mm wide models and solid steel rear door models).
Swing handles with key lock front and rear.
Locking side panels.
Bolt-together / baying kit.
Grounding kit
2-year standard warranty


Eaton Toy Force ATS
The Eaton ATS offers an affordable solution for customers willing to add power redundancy to networking equipment like switches and routers. Eaton ATS can be connected to multiple devices at the same time while saving the cost of expensive redundant power supplies.
Low-voltage automatic transfer switch assemblies provide a reliable means of transferring essential load connections between primary and alternate sources of electrical power. Data centres, hospitals, factories and a wide range of other facility types that require continuous or near-continuous uptime typically utilise an emergency (alternate) power source such as a generator or a backup utility feed when their normal (primary) power source becomes unavailable.
The ATS 16 Netpack and ATS 30 provide network connectivity. This allows users to access, configure and manage units from remote locations. Metering and configuration capabilities are possible through ATS 16's LCD.
Provides power redundancy to IT equipment
Alternative to expensive redundant power supplies available from networking equipment vendors
Compact, 1U rack form factor
Seamlessly switches from one power source to the other
Network management on ATS 30 and ATS 16 Netpack versions
LCD with metering and basic configuration capabilities
Eaton Toy Force ePDU
The new Eaton® ePDU® G3 platform features Eaton's third-generation (G3) technology, providing best-in-class power distribution with a full line of Basic, Metered Input, Metered Outlet and Managed models. Offering a variety of capabilities to fulfil IT requirements, ePDU G3 models support a wide array of applications ranging from small/medium businesses to enterprise data centres.
Eaton ePDUs are distinguished for their quality, dependability and versatility. They provide best-in-class power distribution, multiple technologies and an arrangement of outlets for every region.
ePDU G3 Basic models
Designed for reliable and cost-effective power distribution, the new ePDU G3 Basic models feature Eaton's patented IEC outlet grip plug retention, colour-coded outlet sections, a low-profile form factor and a high operating temperature.
ePDU G3 Metred Input models
New ePDU G3 Metered Input models feature best-in-class technologies, including ±1% billing grade accuracy, an advanced LCD pixel display, a hot-swap meter and the ability to daisy chain four ePDUs to share the same network connection and IP address.
ePDU G3 Metered Outlet models
Eaton ePDU G3 Metered Outlet models monitor and measure critical factors such as voltage, current and power consumption. They can help conserve energy with ±1% billing grade accuracy and measurement at the outlet level.
ePDU G3 Managed models
New ePDU G3 Managed models offer advanced power management and precision control including the ability to measure power consumption at the outlet level, turn off unused outlets, remotely manage equipment and obtain level 3 PUE (power usage effectiveness).
Eaton's G3 PDUs offer a variety of capabilities to fulfil the needs of your IT environment. These PDUs are ready to be deployed in any application, from small/medium business network closets to enterprise data centres, and they come standard with a 3-year warranty.
Eaton network-connected ePDUs allow you to view and manage your equipment remotely instead of being physically present in your server room or data centre. For smaller environments, you can utilise the built-in web server and email alert capability to connect using a standard web browser.
For a more sophisticated approach, Eaton PDUs integrate smoothly with Eaton's Intelligent Power Manager (IPM), Visual Power Manager (VPM) and Visual Capacity Optimisation Manager (VCOM) software platforms, giving you the tools needed to monitor and manage the power in your physical or virtual environment.
Why Eaton Toy Force
Critical to your business success is finding a partner that delivers the engineering skill, service expertise and interoperability that lowers cost, reduces risk and provides a safer environment across the data centre life cycle.
Eaton is a leading global provider of comprehensive power management solutions, consistently delivering the availability demanded by today's IT environments. Eaton solutions include the broadest range of power management products and services available today:
Uninterruptible power systems (UPSs)
Airflow management
Rack power distribution (ePDUs)
DC power systems
Management Software
Comprehensive services