At face value, the family of Microsoft Surface devices appears to be a simple hybrid, 2-in-1 laptop/tablet combination. But once you take a closer look, you will realise that for such a slim machine, it packs a big punch.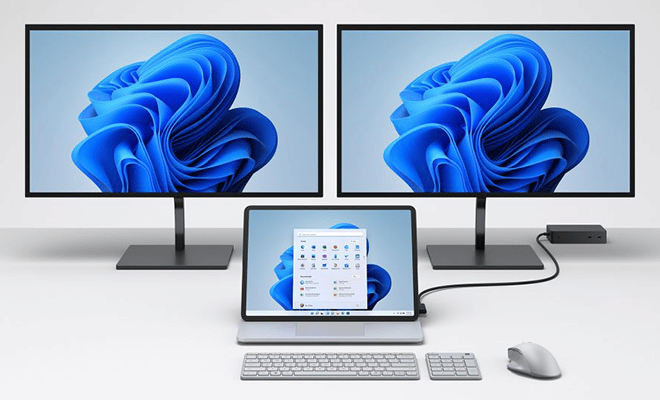 The new generation of Microsoft Surface devices is the fastest machine the tech company has ever shipped. Thanks to its laptop-class 10th generation Intel Core processor, jumping in between spreadsheets, programs, and browser windows, the Surface is fit for any office environment.
Covered In This Article:
For The Modern Workplace
Security
Microsoft Surface Devices For Business
Microsoft Surface Devices For Schools
Microsoft Educator Center
IT Pro Resource And Microsoft Protection Plans
Meet The Family Of Microsoft Surface Devices

For The Modern Workplace
In recent times, the modern workplace has evolved into a spot on the kitchen counter, a table at a coffee shop, or even a smaller, more compact version of the office. With this, features such as connectivity, portability and security play a big role. Fortunately, the Surface ticks all those boxes:
Seamless Integration
Microsoft has designed the Surface to fit in smoothly with its other products. Thanks to its Windows operating system, these devices are easy to use, removing the roadblocks you would find when switching between different platforms. In a nutshell, it is a Windows-based machine created for Windows users.
There are a lot of business collaboration tools on the market – but Microsoft Surface devices offer unchallenged mobility, security, and communication capabilities when used with Microsoft Teams and Office 365 for Business. It is built for collaboration, no matter where you or your team might be.
Connectivity
When Wi-Fi is unreliable, stay connected virtually anywhere with LTE, available on selected models. Surface Pro with LTE Advanced allows people to stay connected with a blazing fast cellular connection. The CAT 9 modem makes Surface Pro with LTE Advanced the fastest LTE-enabled laptop in its class, so there's no question that the device will keep up with fast-paced ideas.
All Surface computers have HD video webcams that orient your face from whatever angle you take your calls, meetings, virtual get-togethers, and more. Also, it won't drop video when you share your screen.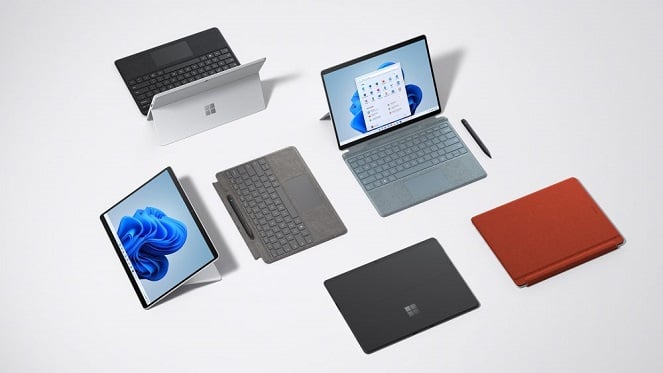 Microsoft Surface Devices Security
Stay secure and maintain control, from chip to cloud, with protection from Microsoft. Surface helps you mount proactive defenses with security built-in:
Quickly and easily encrypt your data, enabling access only by authorised individuals, with a physical Trusted Platform Module on Surface devices.

If a Surface removable SSD is tampered with, the device will shut off power. The resulting reboot causes the UEFI (Unified Extensible Firmware Interface), a small software program that connects a computer's firmware to its operating system, to wipe memory and to erase any residual data.

Malware can find a backdoor into the firmware and survive OS re-installs. Keep the door closed when Secure Boot runs in conjunction with the Surface UEFI.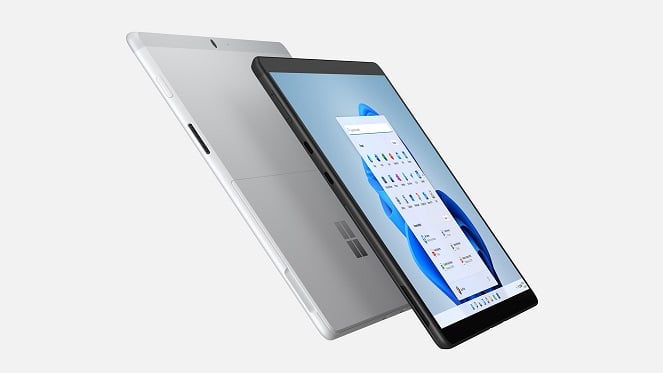 Microsoft Surface Devices For Business
Boost productivity by offering your employees devices that enable them to work on their terms. From people always on the move to those who tackle intensive creative tasks, there is a Surface that's a perfect match for everyone on your team. Surface laptops and 2-in-1s are small business-ready:
Give users freedom but maintain control with Microsoft Endpoint Manager and DFCI (Device Firmware Configuration Interface), a new feature of UEFI that enables secure programmatic configuration of hardware settings, for complete and seamless device management down to the firmware layer with just a few clicks through the cloud.

Get built-in security features and automatic updates, including BitLocker and cloud-powered intelligent security to protect your devices from modern threats.
The Surface for Business portfolio delivers experiences employees love with the choice and flexibility they need to work on their terms.
Products such as Office 365 are completely compatible with Surface, removing the worry of things such as file conversion or downloading third-party applications to open documents. Office 365 includes fully-integrated Office applications, like Word, PowerPoint, and Excel.
One of the main advantages of using Microsoft Surface in your business is that it combines effortlessly with Microsoft Teams. Working together on this cohesive, easy-to-use, and accessible workspace enables employees to discuss, meet through audio or video conferencing, share files, and work with business apps – all without having to keep track of and switch between various third-party services.
Design That Inspires
If you're after the best laptops for graphic design, then you've come to the right place. The cutting-edge technology that defines Surface devices is the result of relentless iteration and an obsessive commitment to innovation. Flatten it down and pull out the Surface Pen and you're ready for sketching, drawing, or painting. The Pen attaches to the side of the Surface magnetically.
At its launch, Surface Studio presented partnerships with seven app developers that built customised dial controls for the display through a quietly released API provided by Microsoft with the Anniversary Edition of Windows 10. These include the CAD app NX, the PDF navigation app Bluebeam Revu, the PDF markup app Drawboard PDF, the illustration app Sketchable, the 3D sketch app Mental Canvas, the music composition app StaffPad and the designer's go-to, Adobe Creative Suite.
Microsoft Surface Devices For Schools
In addition to the typical great performance and battery life you can expect, the seventh-edition Surface Pro can fit into any situation, no matter where you are. The Surface laptop's super-portable size makes it ideal for high school and college students who may be carrying a lot of gear. Thanks to it being a compact hybrid, it offers the flexibility of a tablet with the computing power of a laptop. For a comfortable typing experience anywhere, Surface Pro can easily be paired with a signature type cover that includes backlit keys and a large track pad.
Facilitate real connections between students, from secure digital classrooms to collaborating together on complex projects, with hardware and software designed to bring people together.

Microsoft Educator Center
Nearly a million courses were completed worldwide in recent months at the Microsoft Educator Center. Bring new skills to your classroom, earn professional development hours, and acquire badges as you confidently implement hybrid learning.
Manage devices down to the firmware level through the cloud with a few clicks. Surface is the only manufacturer to have Device Firmware Configuration Interface enabled through Microsoft Endpoint Manager.
Introducing the new whiteboard, Microsoft designed the Surface Hub 2 for teams to use together – pushing the boundaries of hardware and software to deliver a meeting and collaboration experience that transcended the confines of the traditional conference room.

IT Pro Resource & Microsoft Protection Plans
Like any computer running Windows 10, Surface devices rely on code stored in the SoC that enables the CPU to interface with hard drives, display devices, USB ports, and other devices.
In contrast to other Windows 10 devices available on the market today, Surface provides IT admins with the ability to configure and manage firmware through a rich set of UEFI configuration settings. This provides a layer of hardware control on top of software-based policy management as implemented via mobile device management policies, Configuration Manager, or Group Policy. For example, organisations deploying devices in highly secure areas with sensitive information can prevent camera use by removing functionality at the hardware level. From a device standpoint, turning the camera off via a firmware setting is equivalent to physically removing the camera. Compare the added security of managing at the firmware level to relying only on operating system software settings. For example, if you disable the Windows audio service via a policy setting in a domain environment, a local admin could still re-enable the service.

Meet The Family Of Microsoft Surface Devices
Surface Laptop
It has a gorgeous, 13.5-inch high-resolution display, a lovely keyboard, a stellar glass track pad, and a slim case. You now get a USB-C® port along with your good old-fashioned USB-A port. It also has a magnetic charging port.
Microsoft gives you some great tech standards, like a Windows Hello IR camera that lets you log into Windows with your face, lickety-split. Once you get used to that, it's hard to ever go back to typing in your password. Even fingerprint sensors feel like a chore after this.
Surface Pro 7
No matter which configuration you land on, each Pro has 10th-generation Intel chips and an improved 12.3-inch high-res touchscreen with a document-friendly 3:2 aspect ratio.
You also get a USB-A port, a magnetic charging port, a Windows Hello–compatible webcam, and a MicroSD slot for expanding the onboard storage. The Pro 7 update adds a long-overdue USB-C® port, too.
Surface Pro X
The Surface Pro X will be the perfect laptop for some users. The Microsoft SQ1 ARM-based processor and GPU is faster than expected — rivaling a Core i5. Paired with the right owner, the Surface Pro X is an exciting evolution of modern computing worth considering.
Users can expect blazing-fast LTE connectivity, the Surface Pro X features two USB-C® ports and a stunning, virtually edge-to-edge 13" touchscreen, plus a new choice of colours.
Surface Go 2
Because of its excellent Surface Pen compatibility, the Go is awesome for note-taking, and with a Type Cover attached, it's a surprisingly good if tiny, tablet and laptop hybrid. The Go 2 is well priced and good enough for most students.
If your needs are minimal, or you prefer tiny computers, this is what you should buy. This second-generation model provides the all-day battery life you need.
Surface Book 3
This transforming powerhouse is the only Surface device with an optional graphics chip that'll boost core performance, speeding up everything from Adobe Premiere to SolidWorks. The full-size, laptop-style keyboard (with better key travel than the Go's clip-on-type cover) makes typing easier, and the screen detaches at the press of a button to become a tablet when watching movies or annotating documents with the Surface Pen.
Thanks to standard 10th-generation Intel processors and an optional discrete Nvidia GPU inside the keyboard dock, you'll get amazing performance for a portable device. Plus, you get the expected suite of Surface goodies – Windows Hello, a gorgeous high-res screen, a luxurious backlit keyboard, and a big, silky-smooth glass track pad. The Surface Book 3 comes in a 13-inch or 15-inch package.
Surface Laptop Go
Microsoft's newest Surface device is a stripped-down, little laptop that is to the Surface Laptop as the Surface Go 2 is to the Surface. That is, the "Go" moniker means the emphasis is on portability, not power. It's a lot of fun to use.
Still, if you like the portability of the Surface Go hybrid, but want the more traditional clamshell design, the Surface Laptop Go is an excellent option. There are three configurations available, all using the same Intel i5 chip, but varying in RAM and SSD size. The middle option is the best value, offering 8 gigabytes of RAM and a 128 gigabyte SSD.
Surface Hub 2
Microsoft designed the Surface Hub 2 for teams to use together – pushing the boundaries of hardware and software to deliver a meeting and collaboration experience that transcended the confines of the traditional conference room. For a large-room meeting experience with big teams, pair Surface Hub 2S 85" with a high-resolution enhanced camera and mics.
The Surface Hub 2 ships with enterprise-grade security to enforce data protection with BitLocker and TPM 2.0, plus cloud-powered security with Microsoft Defender.It also supports a secure collaborative experience. From custom firmware to signature scrutiny of all executable code, the Surface Hub 2's operating system (Windows 10 Team) protects the whole system.