ProSupport is the standard warranty package offered by Dell Technologies with its consumer-grade hardware. But it's more than that. ProSupport acts as a safety net for workforces in all industries, even after the warranty has expired. In this article, we take a look at why Dell ProSupport is important for business and how it can lead to a return on investment.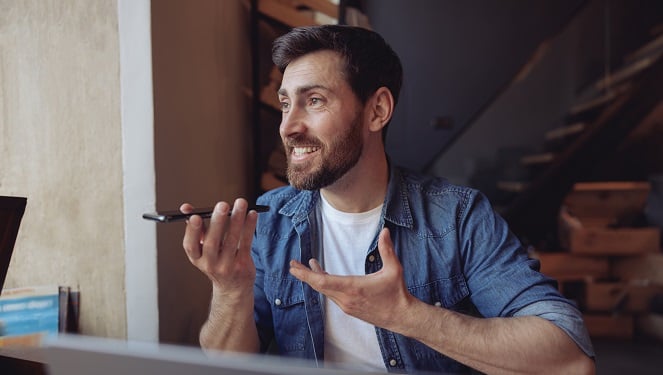 Covered In This Article:
What Is Dell ProSupport?
There When You Need It Most
Choose Your Level Of Support
Security Meets Customer Care
As the first line of engagement for employees, your IT staff faces a range of challenges that can make meeting internal initiatives difficult, where strategic projects become neglected. The last thing you need is to spend valuable time repeating basic troubleshooting. If purchasing computers for the office, managers, remote workers, or C Level employees, it is recommended to have ProSupport as the minimum level of support.

What Is Dell ProSupport?
Dell ProSupport is designed to rapidly respond to your needs, protect your investment and sensitive data, and provide proactive support services to help reduce risk, cost, and complexity in your environment. This service offering can help you not only cut costs and increase productivity across your multivendor environment but also lessen the burden on resources already managing too many day-to-day administrative tasks. Keep your customers satisfied and free your time to focus on the bigger picture with Dell ProSupport.

There When You Need It Most
Dell Technologies helps organisations and individuals build their digital future and transform how they work, live and play. The company provides customers with the industry's broadest and most innovative technology and services portfolio for the data era.
Mission Critical
When it is essential to avoid unplanned downtime and reduce recovery time through priority response, count on 2- or 4-hour Onsite Service after Remote Diagnosis2 with 6-hour repair service. This option includes emergency dispatch, ongoing situation updates, problem replication in Dell's simulation labs, and hardware fault monitoring.
End User Support
Sometimes the biggest IT challenge is not having the necessary staff to support your systems 24 hours a day. Dell ProSupport for End-Users combines advice for getting started, how-to support and software application assistance from senior-level technicians to enable you to focus on your business knowing your support needs are being resolved.
• 24x7 phone and online support
• "How-to" support and advice on getting started with applications including Norton AntiVirus,™ Microsoft® Office, Microsoft® Small Business Server, Intuit QuickBooks®, Adobe® Photoshop®, and Adobe® Acrobat®
• Collaborative support for select third-party hardware and software vendors
• Single point of contact for escalation management with customer-defined severity levels
• Global Command Centers to manage critical situations, monitor all onsite dispatches, and provide proactive crisis management during events like natural disasters
• Assistance with configuring simply wired and wireless networks
• Next Business Day Onsite Service after Remote Diagnosis
Dell ProSupport provides all this and more. Breaking the mould of traditional IT support, Dell ProSupport is a 100% configurable suite of professional support services which can simplify your operations, from desktop to data centre.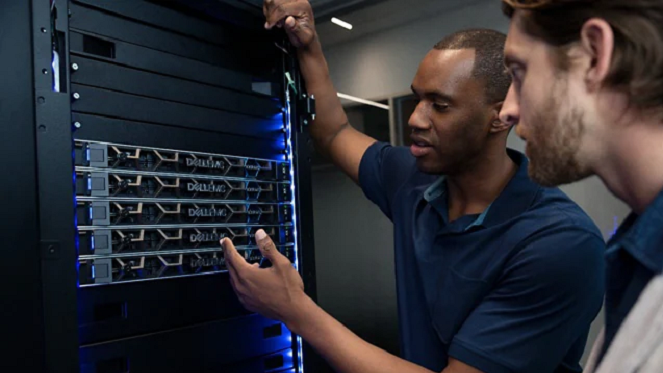 Choose Your Level Of Support
Support Technologies Services extend your IT team, enabling you to address issues before they impact your business. A strong foundation of artificial intelligence (AI), machine learning and data analytics will change the way you look at saving time and increasing availability. The level of support needed is different for every company. Get the plan that's right for you and your team. This comparison chart shows you the features side-by-side to help you make the best decision.
ProSupport Flex
The ideal choice for self-maintaining customers with a large number of PCs and robust IT capabilities. Our solutions are built on standard support service components that leverage our global scale and can be assembled in a combination that perfectly fits your needs. The Dell ProSupport Flex for Client service description outlines the scope of service, requisite service steps, optional services and other important terms and conditions relevant to your purchase of services from Dell.
Optimise your support budget with a custom-fit package
Complement your resources by extending capabilities only as needed
Reduce risk and downtime with streamlined processes and industry-leading technologies
ProSupport for PC
With most of your employees now working from home, Dell is standing by to help you provide uninterrupted system productivity and a seamless end-user experience. Whether you need a little support or a lot, the ProSupport Suite for PCs provides the perfect match for your business needs. When a basic warranty just won't cut it, upgrade to ProSupport for 24x7 access to tech experts and proactive resolution of issues.
ProSupport offers:
Support anywhere, anytime
Monitor the health of your Dell fleet
Resolve existing issues quickly
Discover utilization trends
ProSupport Plus
ProSupport Plus for Enterprise is enterprise-class support that is designed to proactively improve the performance and stability of your critical systems through environmental intelligence and the right expertise for your organisation. It is designed to not only get you back up and running quickly but also help you get ahead of problems before they happen. You'll have the freedom to adopt complex technologies with confidence, knowing Dell Technologies' best resources are with you every step of the way.
ProSupport Plus offers:
Immediately advanced troubleshooting from an engineer that understands the entire Dell Technologies infrastructure solutions product portfolio
An assigned Service Account Manager - your #1 support advocate, ensuring you get the best possible proactive and predictive support experience
3rd party software support - we are your single point of accountability for any eligible software installed on your ProSupport Plus system, whether you purchased it from us or not
Predictive analysis for issue prevention and optimization
Proactive monitoring, issue detection, notification and automated case creation for accelerated issue resolution
Semiannual systems maintenance - keep your ProSupport Plus systems up to date with installation of the latest firmware BIOS and driver updates to improve performance and availability
Optional next business day or 4-hour mission-critical onsite hardware support response
Sometimes the basic hardware warranty just won't cut it. Choose ProSupport or ProSupport Plus to ensure you work at full speed with fewer interruptions.
ProSupport One for Data Center
Whether customers have a small IT department or a multi-faceted global infrastructure, Dell knows a critical component is the quality of the service and support experience customers receive. ProSupport One for Data Center is designed specifically for joint Dell EMC data centre customers and combines the best of both Dell and EMC support capabilities into a unified, best-in-class service experience that includes:
Priority access to specialised Dell EMC technical support engineers to quickly diagnose and resolve issues
Proactive engagement and advocacy by Dell EMC service account management
Optional next business day or four-hour parts and labour response for critical issues
Software, hypervisor, OS and EMC Operating Environment software support
Up to 90% less IT effort with proactive monitoring for automated issue prevention and accelerated resolution from SupportAssist and Secure Remote Services (ESRS)
Collaborative 3rd party assistance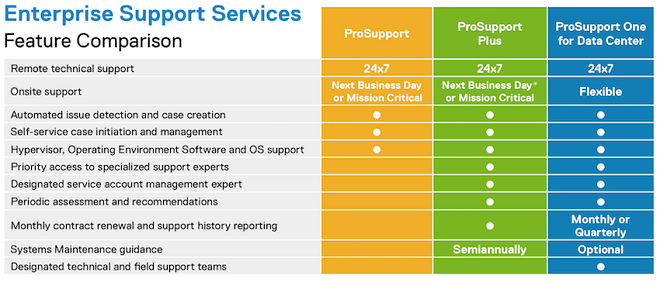 Security Meets Customer Care
The rapid shift to remote and hybrid work setups, increased dependence on the cloud, and monitoring of employee productivity have created new threats to business data and hardware. Every business is a target regardless of location, industry or size as threats have grown increasingly sophisticated and sometimes challenging to detect. Recent data suggests that 44% of companies experienced at least one hardware-level or BIOS attack over the past 12 months. For an endpoint security strategy to be effective, it must take the entire attack surface into consideration, including supply chain hardware, firmware and day-to-day applications.
Dell Trusted Devices' security portfolio helps protect Dell commercial workstations throughout the supply chain and device lifecycle. New security features include:
Advanced Secure Component Verification for PCs
Intel Management Engine (ME) Verification
Dell Trusted Device Security Information and Event Management (SIEM) Integration