Microsoft Surface is powering the new normal when it comes to the way we create content in the entertainment and media industries with its unique brand that is #anythingbutordinary.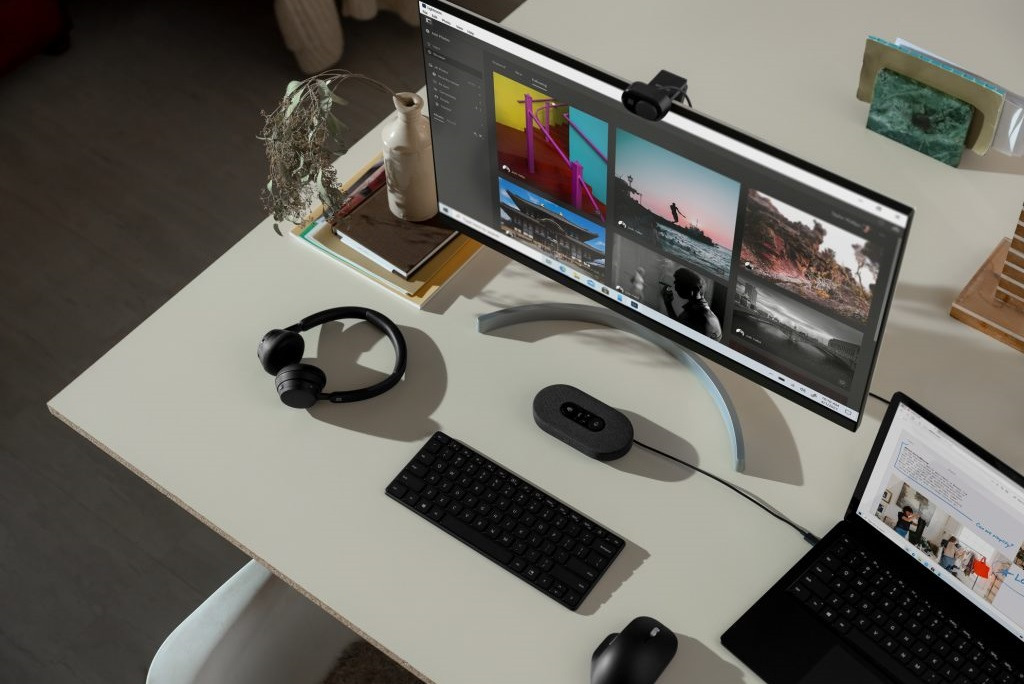 The roar of the crowd in the stadium celebrating a goal; fans screaming ecstatically at a virtuoso performer's amazing concert; the audience's smiles of delight as the characters come to life at a Broadway show. We all know the power of experiences like these that are built on the energy of groups and shared locations – stadiums, theatres, concert halls, convention centres, meeting rooms, even classrooms – and their power to transform us in the moment and beyond, whether we are at work or in our personal lives. Real-time events collectively attended are the apex of entertainment, shared collaboration, and engagement. These experiences delight us, inform us, and become part of us. We are made even better because we are active participants in them. This expands and deepens bonds between participants and brands.
We now know that pandemics change everything. Our unique ability to adapt is tested to the limit as the business and personal landscape literally changes and shifts day-to-day. Digital is the new normal and remote work and life is now fully standard operating procedure (SOP). Remote normal will transform entertainment events, too. Content creation – an entire pipeline from camera to screen – has become virtual, supported by cloud technologies at scale.
Microsoft is hard at work to deliver better technologies and tools to bring the true power of both shared experiences to geographically diverse audiences and participants and content creators at a massive scale. They are creating platforms for a new world where powerful shared experiences and collaboration by groups of all sizes, spread across locations and time zones, will be the norm. In entertainment, creative work will require constant collaboration to achieve great things, despite our having or wanting to be geographically disbursed. Together and close, yet physically far. Microsoft's vision here is clear: they provide cloud platforms and solutions, networks, and edge technologies that close this gap of making remote simply normal, and the Surface range of devices play a big role in all of this.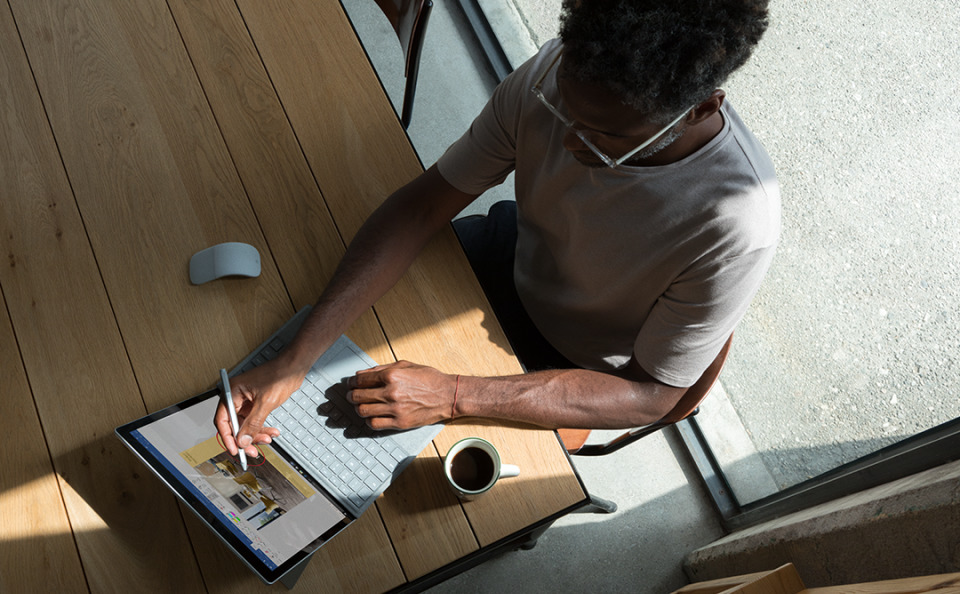 Adobe Creative Cloud And Surface
Solving the challenge of mobile creativity and untethered creativity is really important to Microsoft. The power of touch-enabled, scaled, and pen-optimised user interface for Surface Pro resonates with creatives the world over. Surface is powerful enough to run the real-deal, uncompromised creative apps you love.
Showcasing Adobe's partnership with Microsoft, Illustrator CC has introduced a new workspace that is designed for Surface. This touch workspace lets designers create on the go what they could once only accomplish sitting at their studio workbench before. This new workspace exposes the core tools and controls for drawing and editing, making it super simple to start creating with pen and touch.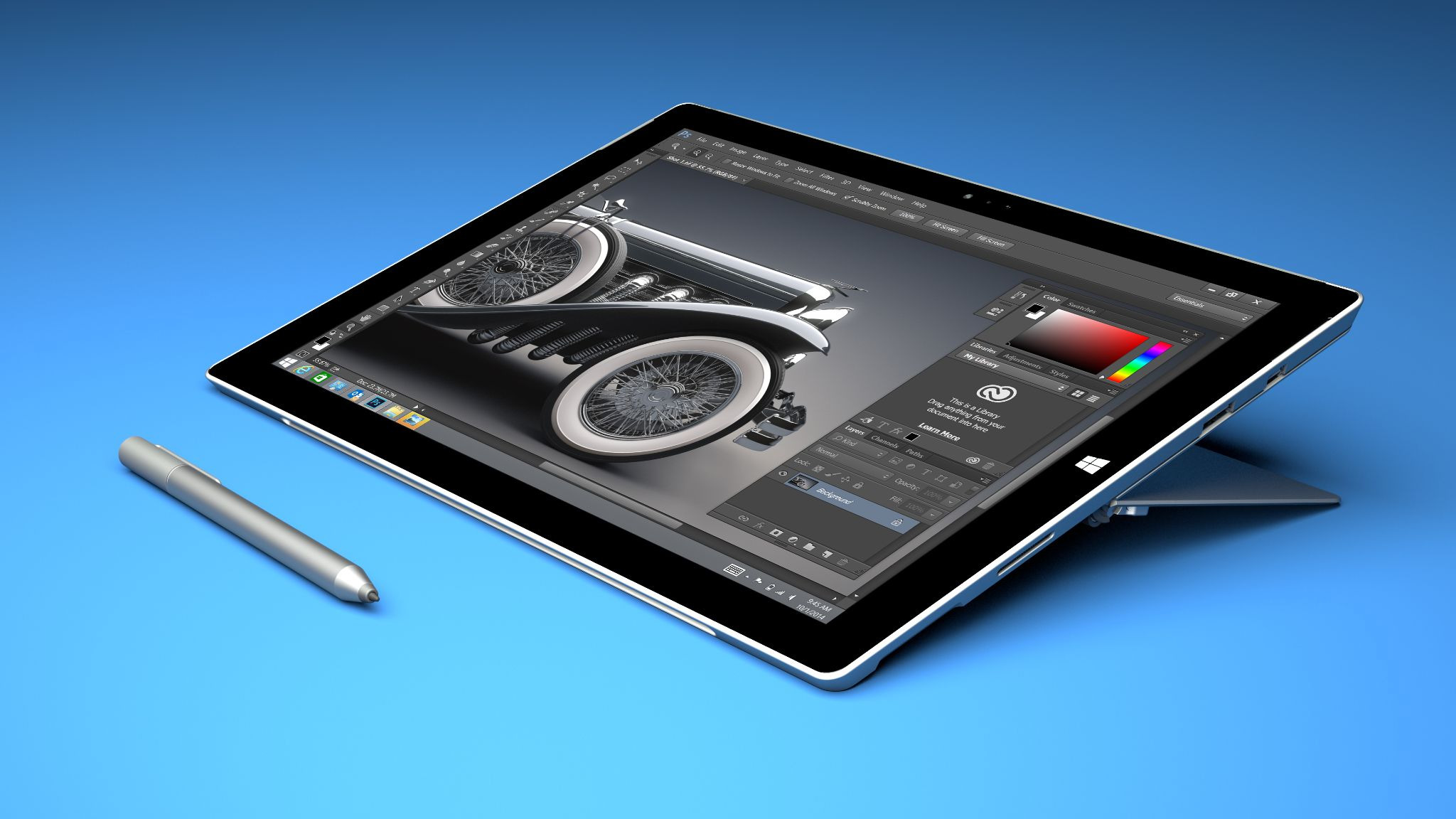 Immersive Media And Collaboration Partnerships
More powerful, shared experiences and collaboration opportunities at-scale for global participants demand technologies and software approaches that can deliver dazzling experiences for users and scalable performance from the core to the edge of the network. Whether producing and delivering a shared live concert experience with thousands of participants across the globe, or conducting an important content editing or post-production review with multiple offices including real-time 4K video or renderings, Microsoft's intelligent media and entertainment framework brings the power of shared and the power of the cloud to any high-fidelity user end-point, from a smartphone, to large screen, to even more immersive AR/VR/XR, and gaming environments.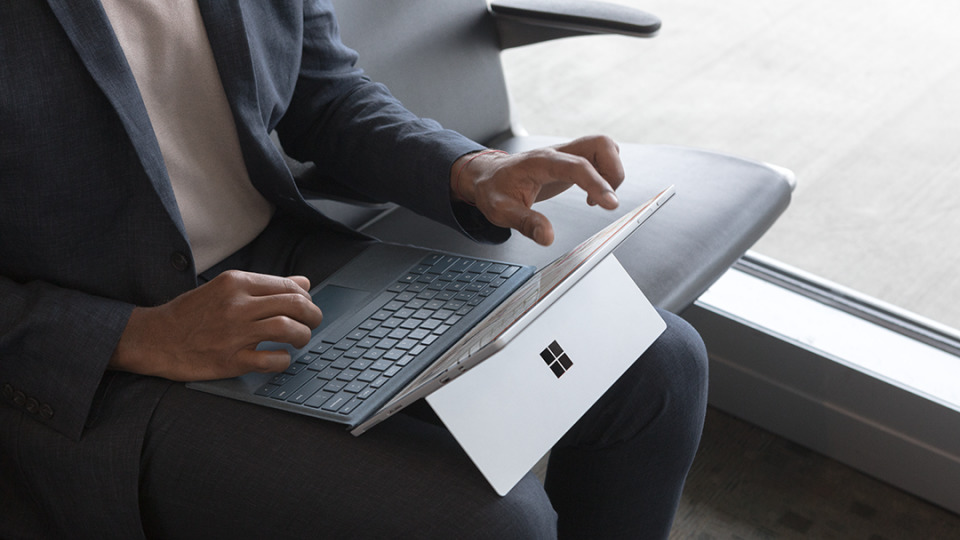 The Remote Normal Is Opportunity
With the new remote normal, we have an incredible opportunity to design and deliver the most engaging real-time, distributed entertainment and collaboration experiences the world has ever seen. Microsoft is passionate about helping brands create new, more powerful, high-fidelity collaborative experiences. With all the creative and commercial possibilities this new opportunity space holds, we hope that bringing a global digital audience together in real-time will do amazing things. From deeper brand engagement to increased viewer and fan interactivity. With AVID, we are redefining remote normal for news organisations globally. Journalists are now able to capture and deliver content into the virtual editing suite and control room to immediately publish to broadcast.
Creating With Surface
Surface Book 3
Meet the laptop that can handle your biggest demands. The most powerful Surface laptop yet combines speed, graphics, and immersive gaming with the versatility of a laptop, tablet, and portable studio. Available in 13.5" or 15" sizes, both with a high-resolution touchscreen.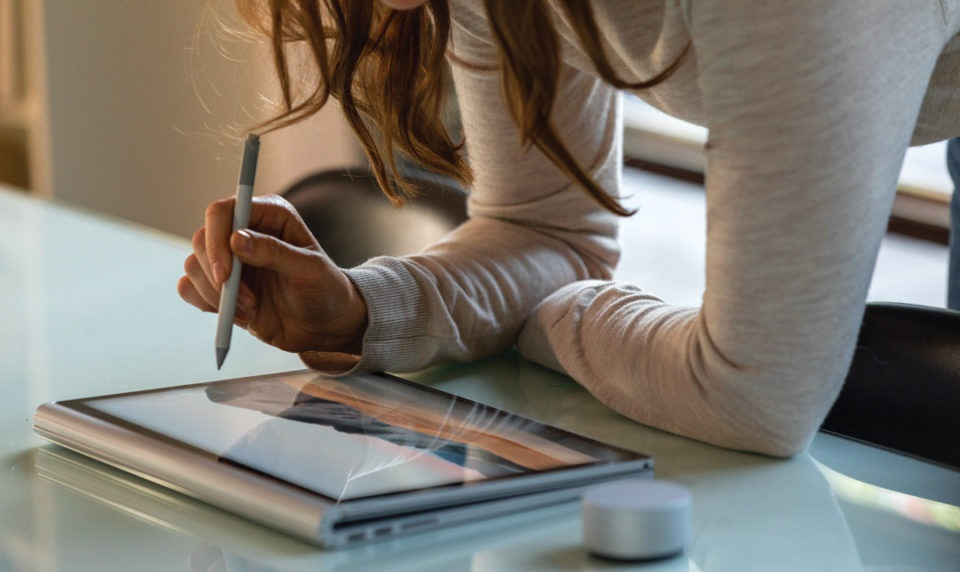 Surface Pro 7
The Surface Pro 7 is the creative hardware of choice for creatives. Professional vector artists and graphic designers who rely on demanding tools such as Adobe Illustrator. It's also a great tool for creative directors and designers for whom easy portability and the ability to draw are important.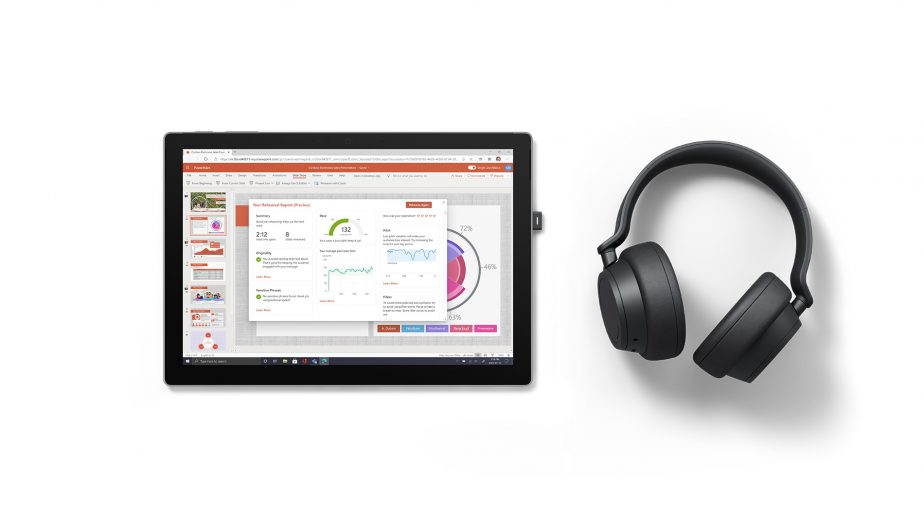 Surface Go
the lightest and most affordable Surface Laptop ever to power everyday experiences. With its balance of performance, battery life, value and style, Surface Laptop Go helps you get the job done. Surface Laptop Go is ultra-light with a portable profile comprised of premium materials, running essential apps, and available in a variety of modern colours.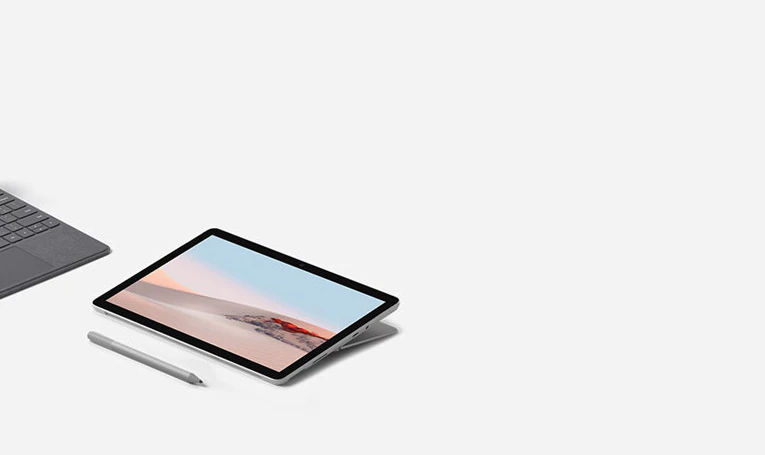 Your Window To The World
As a hybrid tablet computer, Microsoft built this Surface for people who need the performance and graphics processing power to work, create, and game from anywhere. Now, anyone who needs desktop-class power, from designers, developers, and engineers to scientists, artists, and gamers can have the freedom and flexibility of a laptop and tablet.
Integration with Windows 10 and Beyond
Save time and money with streamlined deployment, modern device management, and built-in, cloud-powered security with connected experiences from Surface and Microsoft 365.
Cloud-First Deployment and Management:Deploy and manage down to the firmware layer through the cloud with Microsoft Endpoint Manager13 and DFCI.6 Reduce IT complexity with Windows Autopilot.
Windows Virtual Desktop:Meet complex business and security requirements with broad device redirection support, endpoint protection and Microsoft 365 virtualised in Azure.
OneDrive for Business:Access and protect your business and school work with this intelligent files app. Share and collaborate from anywhere, on any device.
Collaborate with Teams: Work better together. New integrations allow you to create shareable links, grant expiring access, and follow configured policies.
Bring your biggest ideas to life with performance that fuels demanding software. Edit stunning photographs. Run circles around renders. Create rich 3D graphics for every reality. Complete your creative workspace with clean, modern design. One hand can tilt the display weightlessly from upright to the perfect drafting table angle.
Microsoft's tablet computer is also becoming an option for artists whose digital mark-making follows the process of traditional drawing and painting – artists who would currently be drawn to Apple's iPad and apps such as Procreate – though this has less to do with the upgraded hardware but that Adobe has released a Windows version of its new painting app, Fresco, that's only available for Surface tablets and Wacom's MobileStudio Pro.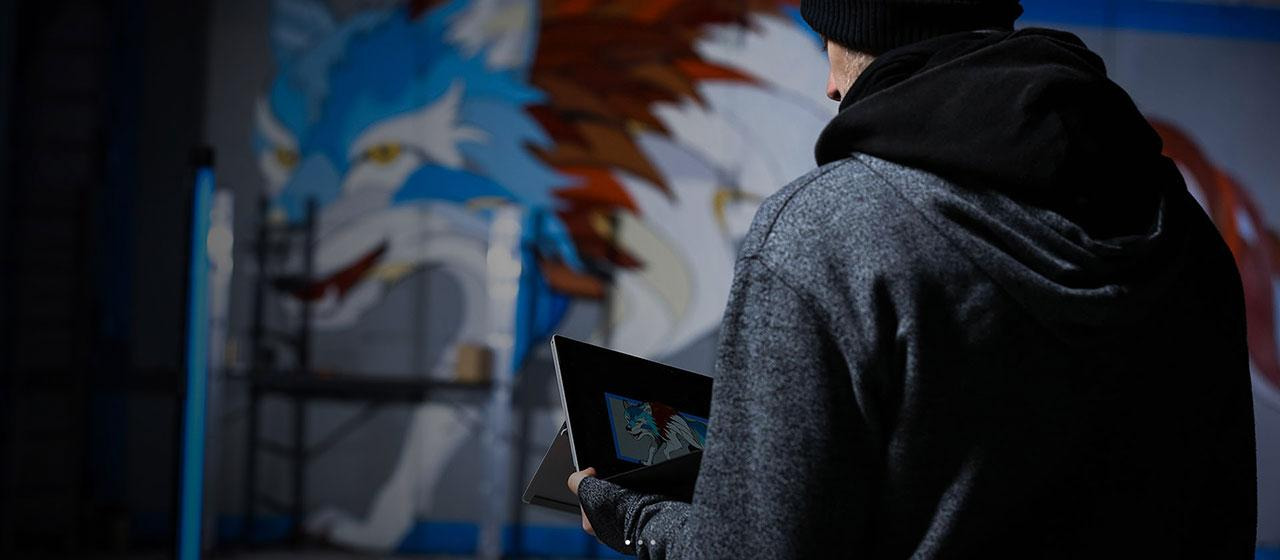 Staying Connected, Safely
One of the biggest obstacles to creative agency mobility is the need for a stable high-speed internet connection. If a designer's access to the internet is intermittent or plagued with slow upload/download speeds, it will affect their ability to work efficiently. However, not every employee will have high-speed internet at home – or they may have to work from remote locations, such as a coffee shop or a rent-a-desk.
The Microsoft Surface with LTE helps solve this problem by using radio frequency communications (similar to how cellphones work) to connect to an LTE network tower. This allows remote employees using Microsoft business on the go tools, such as the Surface Pro 7, to access the internet (and thus any cloud-based apps needed for their work) from anywhere they can get a cellphone signal. By allowing employees to connect to mission-critical business apps and databases from virtually anywhere with a cell signal, work in whichever mode (laptop or tablet) is the most comfortable to them, and providing secure access to the internet, Microsoft's Surface with LTE makes remote workers more productive and easy to manage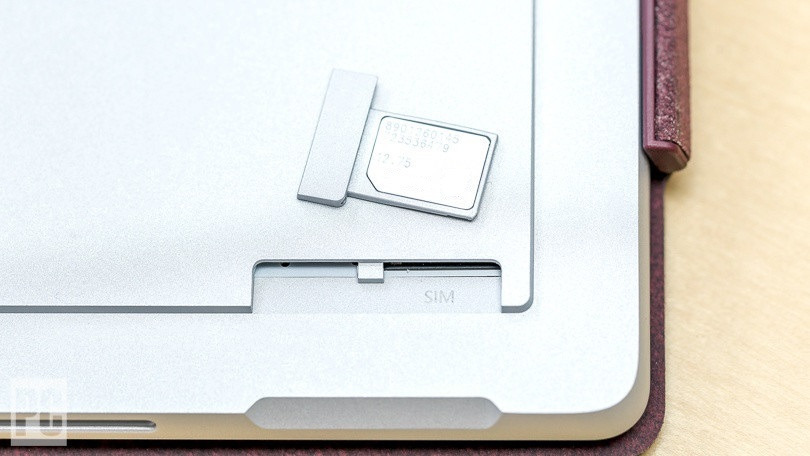 Integrating With IT
As workers increasingly interact with workplace applications using mobile devices, tablets, or other mobile form factors, organisations face higher risks of these devices being lost, stolen, or temporarily misplaced.
Surface devices can better protect their devices and data against attacks or accidents. With security capabilities built into the firmware, operating system, and Microsoft 365, Microsoft has taken a comprehensive chip-to-cloud approach to help organisations deliver more protection for employees using Surface devices with Microsoft 365.
In addition to the ways that Surface with Microsoft 365 can help keep frontline devices secure, with cloud management and Windows Autopilot, Surface devices can also be shipped directly to a worker's location without IT ever touching the device, saving time and effort. As frontline workers increasingly use devices in public spaces, the need to protect sensitive information at the front line has never been more important.
Do more with less – less resources, less complexity, less associated risk. Improve IT efficiency and reduce costs with remote Surface device deployment and management. Realise cost and time savings with a device portfolio that optimises Microsoft software in the environments your apps are deployed.