Larger businesses need reliable workstations to get the job done. Microsoft Surface solutions are ideal for the difficulties these large-scale entities face when it comes to functionality, mobility and security. In this article, we take a look at what these entities need to function, and how Surface can solve these problems.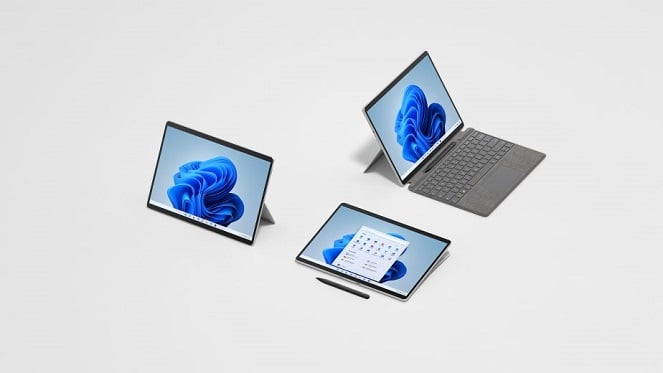 Businesses that operate at such a large scale face a number of challenges that are specific to large-scale operations, often related to managing multiple branches that have to respond to decisions and policies that are decided upon by a central office, or "headquarters".
To add to the complexities mentioned, the global shift to remote or hybrid working arrangements triggered by the COVID-19 pandemic made such working arrangements necessary and encouraged companies, both macro and micro, to radically scale up their ITC infrastructure to accommodate staff working from home, allowing work to continue even during lockdown conditions. Such remote or hybrid ways of working brought with it the realisation that it is indeed often a better way to work, with benefits such as employees being able to log in to meetings without having to sit in traffic to physically be present. Many workers found that remote and hybrid arrangements made their lives easier, more productive, and less stressful.
From a business point of view, however, it demanded adjustments to how the continuity of work is managed, urging businesses of all sizes to invest in remote access to centralised networks that are secure, protect confidential information and facilitate collaboration and teamwork done by people in several different locations. Microsoft Surface solutions for macro entities meet all these requirements and more.
The three challenges faced by macro-sized enterprises that will be focused on in this article will therefore relate to: (a) managing or possibly even acquiring the infrastructure necessary to facilitate remote or hybrid work; (b) making sure that remote access to centralised networks, as well as the confidentiality of a vast amount of information being exchanged online from several different locations, is highly protected and secured; and (c) enabling business continuity by making it possible for the individuals who form part of teams that collaborate on certain projects not only to continue with group discussions but also to share documents and other media securely with each other.
Covered In This Article
Microsoft Surface Solutions For Remote & Hybrid Work
Protection Of Information
Microsoft Surface Solutions For Macro Entities
Microsoft Surface Solutions For Macro Entities Facilitates: Remote & Hybrid Work

This need to keep multiple teams of people operating with the same goals in mind and according to the policies that apply to all business activities means that different branches need to communicate with a centrally administered headquarters as well as with each other securely with the threat of external interference – in business activities and information that has to remain confidential – must be reduced to an absolute minimum, requiring access control within the company as a whole as well as any external parties. When it comes to macro-sized enterprises these issues are permanent, not only needed during lockdown conditions, as these enterprises operate in multiple locations, and often in multiple countries.
The range of Surface devices makes office-bound, remote, and hybrid work possible by allowing for the reliable, secure, and remotely accessible storage and tracking of real-time processes – from information updates by individual branches or business nodes to executive decision-making and communication from a centralised entity, from individual transactions and operational issues at the ground level, and every other business process in between, there is a Microsoft Surface solution for businesses of all sizes.
In the context of business, the importance of having the right tools and technologies that people can access and learn to use to their full potential is the best way to unlock the innovation and efficiency of the enterprise's greatest asset – its people. This is where innovative technologies – from devices to applications – come into the picture, offering solutions to the problems faced by macro enterprises on a permanent basis, not only during lockdown conditions. No matter what is required by an enterprise or its employees, the Surface family of devices and applications offer solutions that unlock productivity, collaboration, participation, and innovation that drive businesses to greater gains in their competitive advantage in the respective markets they engage in, no matter how widely scattered their respective branches are from each other and from a centralised headquarters.
With the multi-functional, highly adaptable, and user-enabling features that are standard to the Surface family of devices and applications, business leaders can transform their teams – and the ultimate success of the business – by encouraging creativity and innovation, building and communicating common goals, and making working activities and tasks as flexible and dynamic as the lives of employees.
Beginning in 2019, Microsoft has been introducing a rather extensive range of new devices in the Surface family, built for flexibility, portability, connectivity, and ease of group communications to meet the needs of the changing landscape of business and the rapidly unfolding shift to the knowledge economy and the 4th Industrial Revolution. The Surface range was designed with these individual characteristics before the lockdown conditions due to the global pandemic became necessary. Microsoft Surface solutions for macro entities are particularly suitable to macro-sized enterprises who require these characteristics and functionality from their ICT infrastructure on a permanent basis, regardless of situations such as those experienced by the world between 2020 and 2022. The range originally consisted of the Surface Laptop Go, released in October 2020, the Surface Laptop 4, released in April 2021, and the Surface Hub 2S, released in 2019.
Launched in 2021 was a variety of new devices which can be viewed on Microsoft's website. These include the Surface Pro 7+, Surface Go 2, Surface Laptop 4, Surface Hub 2S, Surface Laptop Go, and the Surface Book 3,as devices that are adaptable enough to fit with practically any business activity in any sector. With so many options to choose from across the Surface range, it might seem tricky to find the right ones for use by the many employees working on a vast variety of tasks in a macro-enterprise. An enterprise of such a scale would necessarily have many employees with many different skills and functions within the organisation. For someone in the position of making the decisions on the acquisition of ITC infrastructure, it would be wise to speak to a sales consultant at Microsoft and to view the many pages of descriptions, articles, and research studies on the Microsoft website. Whether someone works as an accountant, is involved in research and development, works on-site or in remote locations, from top leadership positions to administrative and secretarial duties, Microsoft Surface solutions for macro entities offer a device that will suit the needs of that employee.
Protection Of Information For Remote & Hybrid Communications

Even as the world starts returning to normal, with restrictions being eased and no more lockdowns being likely, the remote and hybrid work model in practically every sector is here to stay. Businesses that fail to grasp that the environment within which business is being conducted has shifted to being almost exclusively online and decentralised will not be able to keep up with the new evolutionary path laid out for them. To remain in business, stay competitive, increase productivity, establish, and maintain the enterprise's relevance and accessibility to its target market requires new ways of doing to remain in operation and develop or evolve in tandem with technological advancements going into the future. Microsoft Surface solutions for macro entities have taken this trend into consideration in the design of the Surface range.
The ICT specifications of highest priority in the macro-business environment are:
Portability
Connectivity
Increased processing speeds
Independence of location-based network, internet, security, or storage capacity
Security systems that effectively protect data that is in essence moving more freely, and from a variety of locations. Traditionally, ICT security would be handled by a centralised network security system which may include reference to firewalls, systems to detect intrusions or the theft of information, mechanisms to stop malware from disabling the functionality of critical processes, and anti-virus software to detect and neutralise malicious code that destroys or corrupts essential data
Extended battery life for remote or field-based tasks that cannot be centralised
Factory-Enabled Advanced Windows Security
For a detailed description of the various security measures implemented by Microsoft mentioned here, please refer to articles on the Microsoft website here and here.
The most recent research in cyber security indicates that as manufacturers build more protections into the OS and its connected services, other ways of exploiting device vulnerabilities are emerging at an alarming rate, with firmware emerging as a top target.
Because device firmware mostly involves third-party providers, keeping track of the integrity of firmware is becoming incredibly complicated. Since firmware is essentially embedded software that provides a low level of control for a device's specific hardware – a standard set of coded instructions that tells the device what to do, used for all kinds of consumer electronics to computers themselves – they are an ideal entry-point to a device's actual hardware for any attacker.
Since 2015, Microsoft has been using a unified approach to firmware protection and device security through complete end-to-end ownership of both the hardware design and firmware development, which is done in-house. No third parties are involved in the supply of firmware for Microsoft devices, and this approach has proven to be highly effective in minimising the risk of firmware vulnerability. For the Microsoft Surface For Science and ICT, Microsoft's Unified Extensible Firmware Interface (UEFI) is maintained in-house, regularly updated through Windows Update, and seamlessly deployed for management through Windows Autopilot.
To summarise, Microsoft's approach to security for its Surface range includes:
Microsoft designed and built components
Factory level security protocols and inspection
No third-party BIOS vendors are involved in the development or production
Virtualisation-based security, or VBS
Hypervisor-enforced code integrity (HVCI)
Secure boot and boot guard
Malware protection
Dynamic Root of Trust Measurements (DRTM) in AMD devices
Remote device management control.
If you are in the market for a trustworthy computing solution that runs on the Windows ecosystem you know and trust then look no further than Microsoft Surface for Science and ICT.
Microsoft Surface Solutions For Macro Entities: Cloud-Based Data Platform
Microsoft Azure hybrid cloud strategies are designed for secure online transactions and communications. When data is spread across multiple locations, management can become complex. Selecting the best location for your data is made possible by a hybrid cloud approach. Microsoft Azure Arc enabled data services to deliver a data management experience that is consistent and reliable – wherever your data lives. Microsoft Azure Arc simplifies deployment, integration, and management of the Microsoft data platform, including SQL Server, for better service delivery and business innovation. Whether you are on-premise or in the field, this hybrid cloud platform delivers a consistent Azure cloud experience.
Microsoft Surface Solutions For Macro Entities

The Microsoft Surface family of devices has succeeded in combining the technological need for precision in any kind of business practice with the increasing trend of remote and hybrid working situations.
The huge increases in the demand for remote access to everything, from consumer goods and services, to work and/or social gatherings, as well as essentially social, medical, and security services have challenged the ICT sector to make computers that can handle more information, can remember greater amounts of data, can juggle multiple tasks with ease, and can connect more easily with more devices than ever before. Apart from the ability to collect and store information – as the traditional or original function of computers – remote working conditions have placed increased demands on the security of data, the ability of people to connect and collaborate, the sharing of information seamlessly, securely, and rapidly, and the ability to access all of this functionality from anywhere.
Today's workforce relies on PCs and accessories to get work done anytime and from anywhere. Fully configured PCs that are ready to go must be deliverable to users wherever they may be. The technology experience employees have in the workplace has become a priority for organisations to attract and retain the best talent and stay competitive in their respective industries.
The issue of secure input, access, and shareability of information is at the core of the functioning of remote and hybrid work teams, and these studies and others provide ample evidence that the security of organisational and personal data, often of a highly sensitive and strategic nature, are provided effectively by the wide range of Microsoft devices and applications.