The Microsoft Surface for distance work offers capabilities ideally suited for employees out in the field, with devices that are compact in design, support connectivity, and have extended battery life to keep remote workers in the field able to complete off-site tasks without the need to recharge every couple of hours. Many businesses, large and small, have employees working in the field or on-site, such as construction companies, engineering businesses, and even government departments involved in the building and maintenance of crucial service delivery infrastructure. If your organisation has business activities that require off-site work, often in remote places, the Surface collection of devices has a solution that would suit any type of business activity, including those mentioned. The Microsoft Surface range is increasingly also being used in education, allowing learners to examine and experience any subject up close and in its natural habitat.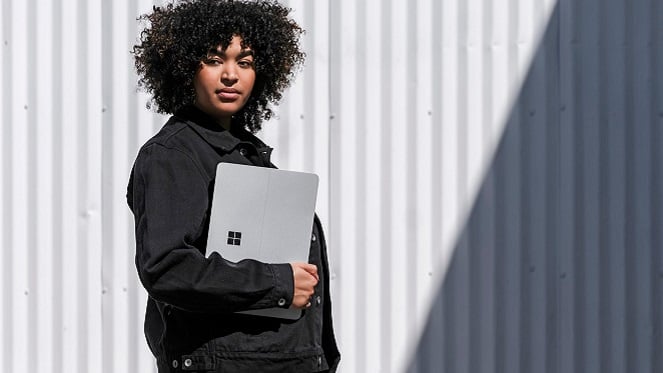 By broadening the range of technology that businesses use, Surface for distance work promotes an interface that reaches not only users who mainly work in offices, but also users who work in far-flung mining or construction sites, to sites such as production floors – above and beyond those employees who work from home. In the case of remote and hybrid work environments, especially work conducted off-site, pandemic, or no pandemic, nothing short of this word will do. Businesses have recognised the need to develop and nurture new organisational capabilities to meet a rapidly changing world, as well as the need to make working on-site or in the field easier and with more computing capabilities. Businesses need to support their collaborative working practices with tools that their staff can use from any location.
Covered In This Article:
Surface for distance work Brings the Office to Wherever You Are
The Many Remote Activities Made Possible by Surface Devices
Surface for distance work Secures LTE enabled Communications Between On-site Employees and Centralised Offices
Surface For Distance Work Brings The Office To Wherever You Are
While certain employees do all or most of their work at a central location, many functions need to be carried out remotely by mobile workers who need the portability of the ultra-thin and light Surface devices, combined with their powerful applications and LTE-enabled connectivity to effectively perform their duties remotely.
Experience with Surface for distance work has shown that the Surface Go, Surface Pro 7+, Surface Book 3, and the Surface Laptop 4 are among the most favoured devices for use by employees in remote, on-site, or hybrid working arrangements as the entire range of Surface mobile devices offers secure access to centralised information, long battery life, and LTE connectivity for collaboration and coordination essential to people working in the field.
One of the biggest benefits offered by the Surface range is therefore their LTE ability to connect with colleagues working in the office, making it possible for those based in the office to see and hear what is happening on-site directly without the need to call or to rely on what is reported by the on-site colleague. In addition, Surface for distance work is creating new and innovative work practices, allowing companies that rely on work conducted in the field to free themselves from previous work tools, which were outmoded and costly.
The range of Surface devices makes office-bound, remote, on-site, and hybrid work possible by allowing for the reliable, secure, and remotely accessible storage and tracking of real-time processes – from information updates by employees working on-site to executive decision-making, from tracking and storing individual observations, necessary building and maintenance activities, storage and inventory – and every business process in between. Whether a worker works in the office or not, there is a Microsoft Surface solution for any activity employees engages in.
Apart from the Surface range of devices, powerful and sophisticated applications that empower users have been a part of the Microsoft product offering for decades. With all Surface devices enabled to run Windows 365, Windows 10, and Windows 11, the workforce of an enterprise that requires significant out-of-office work has access to the whole range of well-known Windows applications, as well as innovative new applications such as Microsoft Teams, SharePoint, OneDrive, and Azure.
No matter what is required by an enterprise or its employees, Surface for distance work devices and applications offer solutions that unlock productivity, collaboration, participation, and innovation that drive businesses to greater gains in their competitive advantage in the respective markets they engage in.
The Many Remote Activities Made Possible By Surface Devices
One of the greatest achievements of Microsoft in the development of the Surface range is that it combines the portability of lightweight devices such as laptops and tablets with the computing power and storage capacity of the traditional large desktop PC. In addition, the capacity of many of the Surface devices to transform from laptop to tablet depending on the needs of the user was instrumental in keeping a wide range of societal sectors – from businesses that require off-site work, government programs, the provision of healthcare and essential services, as well as transforming education from the classroom to outside activities – functioning during the rapid decentralisation triggered by the global pandemic in 2020.
Microsoft has commissioned several studies related to network security, modernising and securing endpoints, securing access to and use of cloud applications, and the regulatory compliance and threat intelligence of the widely used Microsoft 365 Office suite of applications. One of these studies is referred to as the TEI study and can be read by interested consumers here.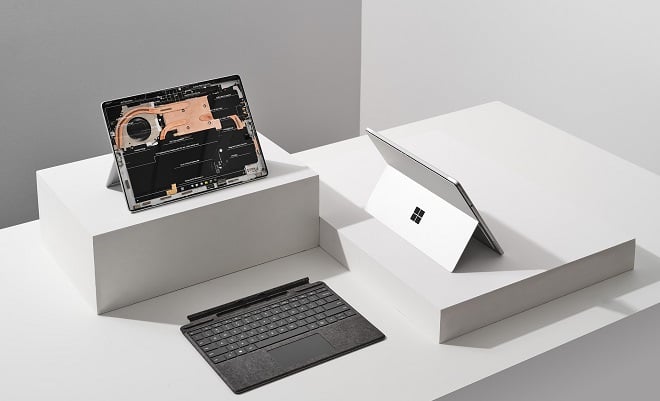 The issue of secure input, access, and shareability of information is at the core of the functioning of remote and hybrid work teams, these studies and others provide ample evidence of the security of organisational and personal data, often of a highly sensitive and strategic nature. The information gathered in these studies proves the effectiveness of security measures implemented by Microsoft in all its devices and applications.
In addition, Microsoft takes extraordinary measures to ensure that their devices, such as the Surface range, are secure against external threats. Read about these factory-enabled measures on the Microsoft website.
Surface For Distance Work Secures LTE Enabled Communications Between On-site Employees & Centralised Offices
The same security issues mentioned above also apply to the Surface devices used by off-site employees that are enabled through the LTE capabilities of their Surface devices to communicate with "headquarters" as it were. Not only is the information that is exchanged protected from chip to cloud, but the Windows Biometric sign-in application such as the Hello application, Surface ProSignature Keyboard, and fingerprint ID also makes it nearly impossible for any user other than the owner of the device to gain entry to the information stored there.
With all these security features, connectivity, lightweight design, multi-functional, and long battery life of all Surface devices – and more – make working in the field with Microsoft Surface devices, whichever one suits an employee working on-site and out of the office, easy, secure, and in-touch with the office wherever they may be working.