The first Microsoft Surface device was released in 2012. The goal was to bridge the gap between the usability of a laptop computer and the portability of a tablet. The Surface name soon evolved into a versatile machine that is anything but ordinary.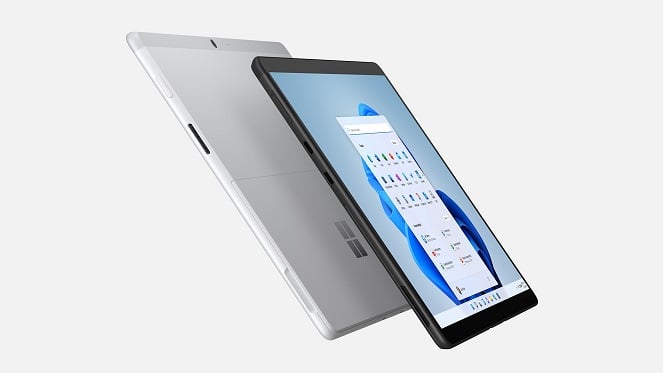 As a hybrid tablet computer, Microsoft built this Surface for people who need the performance and graphics processing power to work, create, and game from anywhere. Now, anyone who needs desktop-class power, from designers, developers, and engineers to scientists, artists, and gamers, can have the freedom and flexibility of a laptop and tablet.
Covered In This Article
Surface Embraces The Windows Ecosystem
Surface Laptop 4 Beats Its Competitors
There Is A Surface For You
Microsoft Surface Makes IT & Security A Breeze
Secure From Cloud To Chip
Microsoft Surface Embraces The Windows Ecosystem

Save time and money with streamlined deployment, modern device management, and built-in, cloud-powered security with connected experiences from Surface and Microsoft 365.
Cloud-First Deployment and Management: Deploy and manage down to the firmware layer through the cloud with Microsoft Endpoint Manager13 and DFCI.6 Reduce IT complexity with Windows Autopilot.
Windows Virtual Desktop: Meet complex business and security requirements with broad device redirection support, endpoint protection and Microsoft 365 virtualised in Azure.
OneDrive for Business: Access and protect your business and school work with this intelligent files app. Share and collaborate from anywhere, on any device.
Collaborate with Teams: Work better together. New integrations allow you to create shareable links, grant expiring access and follow configured policies.
Microsoft Surface Laptop 4 Beats Its Competitors

Microsoft's hardware legacy stretches back more than four decades, to the early days of personal computing. As Windows built and inspired new computing experiences, new Microsoft hardware accessories helped people interact with them. At this intersection of hardware and software, magical experiences are possible. This core belief is at the heart of every product we build at Microsoft, and it's especially true of our Surface products. For almost a decade, Surface has pioneered breakthrough experiences that immerse people in their creative flow, eliminating friction that often exists between people and technology. Surface allows people to adapt to new ways of working and creating through innovative and versatile devices that offer premium design and performance, quality typing and trackpads, exceptional cameras and mics, and immersive touchscreen display technologies. From the student learning on their Surface Go or Surface Laptop Go, to the knowledge worker on their Surface Pro 7+, to the creative professional working on a Surface Book 3, these products now serve as a lifeline to connections, content and work. It's inspiring to consider all that can be achieved on a Surface.
For years, the Surface Laptop has stood apart from the crowd with craftsmanship unlike any other. We've spoken about how much we believe the details matter – and that conviction is rewarded when we see Surface Laptop consistently hold the highest customer satisfaction rating in its class.[1] When we explore what customers like most, we hear a unique mix of product capabilities and fine details. For some, it's all about the satisfying typing experience and Alcantara finishes. For others, it's the immersive capabilities of touch, video quality, our 3:2 displays and reliable app compatibility. We, too, believe that a device's performance goes beyond what can be measured in specifications. We hear from customers that Surface Laptop's performance stands out not only because of what it can do but also because of how it speaks to the senses and inspires people. We have been hard at work, continuing to innovate while preserving the elements customers love most about this product. We're pleased to introduce the Surface Laptop 4.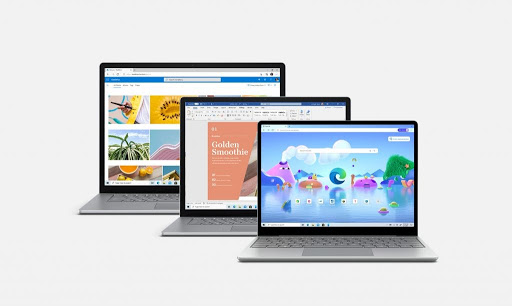 There Is A Microsoft Surface For You

The world is more connected than ever before. This has led to branches of business needing to rely on top technology to get the job done. Microsoft Surface offers a wide range of work solutions, no matter the industry. From crystal-clear video calls to a responsive touchscreen display for easy and accurate input, Microsoft's ultra-light and versatile 2-in-1 business laptop adapt to the ways you work. Surface devices run all Windows-friendly desktop software including full versions of Microsoft Office plus Windows 10 apps.
Government
Governments are tasked with providing vital services and security for their citizens. Technology plays an increasingly important role in helping modern governments fulfil these responsibilities. Surface delivers the power of a desktop, the mobility of an ultra-thin laptop, and the convenience of note-taking with paper and pen, helping government employees become more efficient and effective.
Government employees are responsible for making decisions requiring diverse information sources in real time. Surface allows on-the-go inspectors, investigators, and case managers to take shareable notes, authorise and provide services on-location, and run programs wherever their work takes them.
Education
Microsoft aims to advance learning and the development of essential life skills by offering teachers the tools to nurture students' passions. Microsoft Surface enables students and teachers to create and share in unique ways, allowing them to invent, design, and build with technology.
Surface brings all the best tools for teaching and learning together in one device. With best-in-class digital inking capabilities, Surface can replace pen and paper in the classroom.
Design & Creative
Bring your biggest ideas to life with a performance that fuels demanding software. Edit stunning photographs. Run circles around renders. Create rich 3D graphics for every reality. Complete your creative workspace with a clean, modern design. One hand can tilt the display weightlessly from upright to the perfect drafting table angle.
Microsoft's tablet computer is also becoming an option for artists whose digital mark-making follows the process of traditional drawing and painting – artists who would currently be drawn to Apple's iPad and apps such as Procreate – though this has less to do with the upgraded hardware that Adobe has released a Windows version of its new painting app, Fresco, that's only available for Surface tablets and Wacom's MobileStudio Pro.
Administrative
Using Surface, paperwork can be significantly reduced, procedural meetings can be properly documented, and time efficiencies realised. Do away with paper, the Surface Pen opens OneNote for immediate note-taking and brainstorming in a single location.
Facilitate real connections between departments, from secure digital boardrooms to collaborating together on complex projects, with hardware and software designed to bring people together. The Surface Hub is a brand of interactive whiteboard developed and marketed by Microsoft, as part of the Microsoft Surface family. The Surface Hub is a wall-mounted or roller-stand-mounted device, with either a 55-inch 1080p or an 84-inch 4K 120 Hz touchscreen.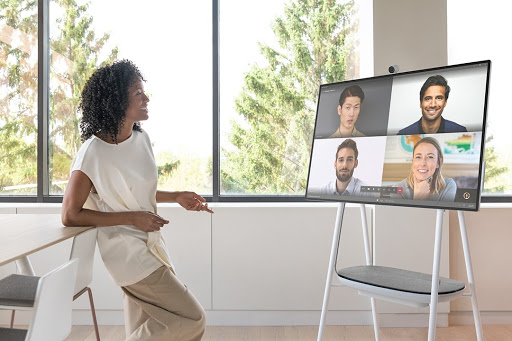 Microsoft Surface Makes IT & Security A Breeze

2020 shaped up to be one of the most challenging years for digital transformation and the shift in how we do business. Many organisations accelerated their plans by leveraging the cloud while introducing new technologies and strategies. This has led to an increase in cyberattacks on remote workers, leaving companies even more exposed than ever before.
Microsoft Surface security features include a built-in firewall, an anti-malware solution, and automatic updates. This means your business will have access to the newest Teams and Office 365 security features on their Surface devices – as soon as they are rolled out.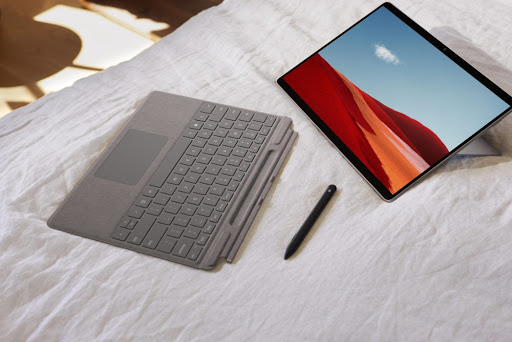 Microsoft Surface Is Secure From Cloud To Chip

Not only does your Microsoft device security need to be robust – the software you're using on it needs to have strong security as well. That is why Surface devices were specifically designed to pair with Office 365 software. The benefit of having a subscription-based, continuously-updated software like Office 365 Business Premium is that, as long as you can connect to the subscription-based business enterprise software's server, you will always have the latest security patch for the software.
Surface UEFI management
Be reassured that updates are pushed out automatically to your organisation. The UEFI on Surface devices is developed and maintained proactively by Microsoft.
The ability to manage devices from the cloud has dramatically simplified IT deployment and provisioning across the lifecycle. With Device Firmware Configuration Interface (DFCI) profiles built into Microsoft Intune, Surface UEFI management extends the modern management stack down to the UEFI hardware level. DFCI supports zero-touch provisioning, eliminates BIOS passwords, provides control of security settings including boot options and built-in peripherals, and lays the groundwork for advanced security scenarios in the future.
DFCI vs SEMM
Previously, managing firmware required enrolling devices into Surface Enterprise Management Mode (SEMM) with the overhead of ongoing manual IT-intensive tasks. As an example, SEMM requires IT staff to physically access each PC to enter a two-digit pin as part of the certificate management process. Although SEMM remains a good solution for organisations in a strictly on-premises environment, its complexity and IT-intensive requirements make it costly to use.
With integrated UEFI firmware management capabilities in Microsoft Intune, the ability to lock down hardware is simplified and easier to use with new features for provisioning, security, and streamlined updating all in a single console, now unified as Microsoft Endpoint Manager.
To combat the risk of becoming a victim of one of these ATO attacks if you use Office 365, your business should deploy technology that leverages machine learning applications to analyse communication patterns in order to spot abnormalities that are possible indicators of an attack.
Additionally, multi-factor authentication should be used to provide another layer of security to usernames and passwords that can be so easily compromised, which is included in the Business Premium version of the software. This tier also includes phishing email protection in the Outlook tools. Therefore, to have more enhanced security measures for your Surface devices, your business should strongly consider upgrading to a higher tier of Office 365 software if you are currently on a lower-tier plan.