From choosing a screen size to digging into curved displays, we answer the internet's most asked questions about computer monitors for the home and office.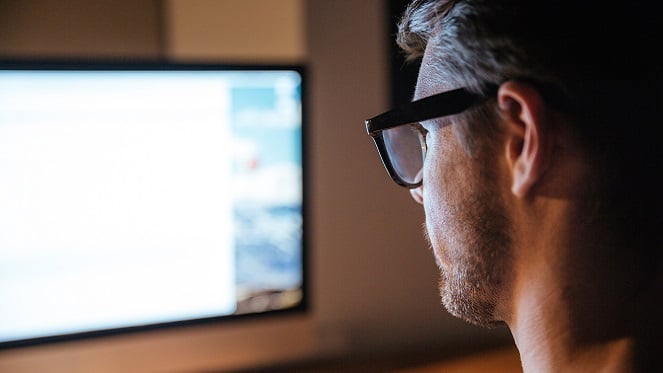 Covered In This Article
How Do I Choose Displays For The Office?
Can I Use A TV As A Computer Monitor?
Is 4K Displays Worth It For Office Work?
Are Curved Displays Better?
How Do I Choose A Monitor Size?
Which Is Better For The Eyes, LCD Or LED Displays?
What Is An IPS Monitor?
What are sRGB and HDR?
What Are Energy Saving Features In Monitors?
What Display Solutions Does Tarsus Distribution Offer?
How Do I Choose Displays For The Office?

Monitors are an essential tool for an effective work-from-home environment—they can improve your employee's work experience, boost productivity and be a smart health investment. As the global leader in PC monitors for seven years running, we are offering some tips for selecting the right monitor for your remote work needs. For more information about enterprise display solutions, click here.
Screen Size and Resolution
The typical screen size for most office work, including emails, internet browsing and Microsoft Office documents, is between 22 and 32 inches.
Ergonomics And Well-Being
Squinting at a screen or slouching over your monitor can lead to poor posture, back issues and eye strain. To help with these issues, it's important to choose a versatile monitor with height and tilt adjustability to ensure correct posture and viewing alignment.
Connectivity
If you have other accessories that you would like to connect to your monitor – such as a keyboard and mouse, webcam, headset or charging cellphones – make sure you pick a monitor with multiple USB ports. Dell, HP, Asus, and Philips monitors typically provide four USB ports, allowing you to connect to more devices. Common ports on laptops today include HDMI, USB-C, and Thunderbolt 3. You can reduce cable clutter and opt for a clean desk setup with a USB-C monitor, which allows users to charge their laptops and transfer data, audio, and video signals all in one single cable.
Can I Use A TV As A Computer Monitor?

If you wish your computer had a bigger screen, it is possible to hook it up to a TV and use that as your monitor. Newer TVs can easily connect to most modern computers with an HDMI (High-Definition Multimedia Interface) cable or a DP (display port) cable. If you are using your computer for regular tasks, you should probably use a monitor instead of a TV. However, if you are mainly using your computer for entertainment purposes, you can use a TV as your monitor. Keep in mind that sitting too close to a TV monitor may be detrimental to your eyes and can cause strain.
Is 4K Displays Worth It For Office Work?

The term "4K" refers to the next generational leap in display resolution beyond HD (also known as 1080p). While HD content is 1920 x 1080 pixels in size, 4K delivers four times as many pixels at 3840 x 2160. Four times the pixels means four times the screen real estate, so the first big benefit of a 4K over a true HD display is space. You'll have more room for windows, tabs, applications, and anything else you're working on. There's just one caveat, though, and that's display scaling. A 4K resolution at 24 inches is very different from a 4K at 32 inches or greater. Without display scaling, larger sizes have a lower pixel density but provide an, arguably, more "usable" experience. At the same time, a high-pixel density makes it difficult to see individual pixels with the naked eye. This makes for a very pleasing, sharp image.
And as a side note, full HD is the standard resolution for Blu-Ray, digital television, and most HD videos found online, like those on YouTube, Hulu, and Vimeo. Below Full HD sits standard high definition or 720p – a high definition image resolution that is lower than full 1080p.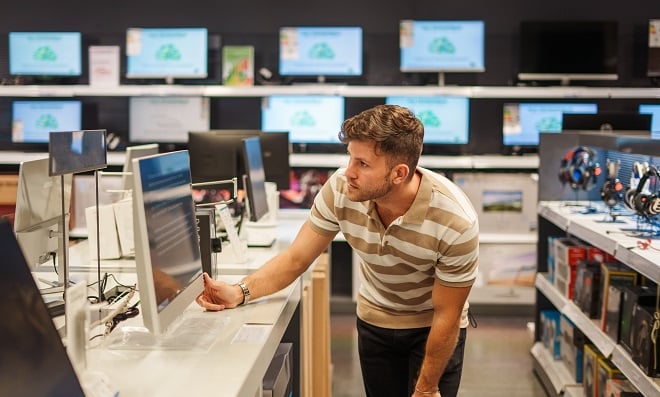 Are Curved Displays Better?

Curved monitors are relatively new technology, but they are quickly overtaking flat monitors among discerning users. Why make the upgrade? There are a number of benefits to curved monitors unique to their design, including reduced eye strain and better field of view. The biggest reason curved displays are popular is that they fill up more of your peripheral vision, which allows you to focus on your work instead of being distracted by what's happening around you. If you're watching or playing a game, this engrossing experience can be hard to beat.
How Do I Choose A Monitor Size?

Not all people who shop for a new monitor will be looking for the same thing. Some will be more concerned with the quality of the display rather than anything else, while others will have the monitor's features and connectivity at the forefront. And, of course, some will put the size of the monitor higher on the list of priorities than any of those things.
The resolution of your monitor is important. Higher-resolution types such as Full HD (1920 x 1080) or UHD, aka 4K (3840 x 2160), provide much more detail than lower resolution and so the benefit of having a bigger screen is obvious. The more detail that is there in the image then the better the viewing experience. But the ideal size for a monitor mainly depends on its resolution and how far you're sitting from the screen. Most people find that 1920 × 1080 is appropriate for monitors up to 25-inch; 1440p is ideal for 27-inch, and 4K is perfect for 30-inch and above, depending on preference.
Which Is Better For The Eyes, LCD Or LED Displays?

Unfortunately, there is no easy way to declare either display type as the victor when it comes to reducing eye fatigue and eye strain, and this does include some of the top-rated curved monitors, too. This is due to the fact that eye strain and fatigue have different causes for different people. Each monitor type, however, does excel in certain scenarios, such as when you are comparing LCD vs CRT computer monitors.
Digital eye strain can be caused by repeated exposure to blurry images. If you are susceptible to the kind of eye fatigue brought on by blurriness, go for an LCD screen with a refresh rate of 120Hz or above. This blazing-fast refresh rate will minimize blurring and, as such, any eye fatigue that accompanies it. Be sure to check which kinds of ports are available before making a monitor purchase, such as comparing monitors with DisplayPort vs HDMI, as some older connection types may not excel with high refresh rates.
What Is An IPS Monitor?

IPS stands for in-plane switching, a type of LED (a form of LCD) display panel technology. IPS panels are characterized as having the best colour and viewing angles among the other main types of display panels, TN (twisted nematic) and VA (vertical alignment). When choosing a PC monitor, you may opt for an IPS panel because of its great image quality. Their best use case is professional (art, graphics et cetera) work. On the other hand, gaming monitor manufacturers tend to opt for TN panels because they're the fastest of the three main LED panel types and are speedy. In fact, for a while, it was rare to find an IPS panel with a refresh rate high enough for acceptable gaming (at least 75 Hz, although most gaming monitors offer at least 144 Hz). This is changing, but, again, comes at a premium in terms of price.
A lot of top monitor manufacturers currently offer a low blue light/eye-care mode, including those stocked by Tarsus Distribution. For more information about this, click here.
What are sRGB and HDR?
sRGB
Adobe RGB is a wider gamut than sRGB and is the de facto standard in the industry. A professional display ought to be able to exactly reproduce at least 90% (preferably more) of the colours in this space. Most of the newer Philips monitors, for example, are equipped with technologies allowing them to deliver between 85% NTSC (122.9% sRGB) and 104% NTSC (130% sRGB).
HDR
HDR stands for High Dynamic Range, a colour technology that enables a monitor to display a broader spectrum of colours and contrasts. As visual technology continues to chase the human vision, High Dynamic Range (HDR) has mastered the grey area. With even more contrast between black and white, it pushes visual content passed defined limitations and builds images from a wider gamut of colour and brightness. With darker darks and even brighter brights, the HDR display delivers next-generation clarity and luminance that is even closer to reality.
What Are Energy Saving Features In Monitors?

An energy-saving monitor draws a lot less power during "sleep" and "off" modes, and the energy-saving sleep mode kicks in automatically after a certain period of inactivity. One of the easiest ways to cut your monitor's electricity consumption is to upgrade to one of these monitors.
For example, Philips has PowerSensor, a built-in 'people sensor' that transmits and receives harmless infrared signals to determine if you are present and then automatically reduces monitor brightness when then you step away from the desk, cutting energy costs by up to 80% and prolonging monitor life.
What Display Solutions Does Tarsus Distribution Offer?

Computer displays have become thinner, lighter, and much more crisper and pristine. With this in mind, Tarsus Distribution has partnered with world-leading Display Solutions partners, bringing you a clearer picture than ever before. For more information about display solutions, click here.