Desktop monitors have come a long way since their cathode-ray introduction in the early 1970s. Now computer displays have become thinner, lighter, and much crisper and pristine. With this in mind, Tarsus Distribution has partnered with world-leading Display Solutions partners, bringing you a clearer picture than ever before.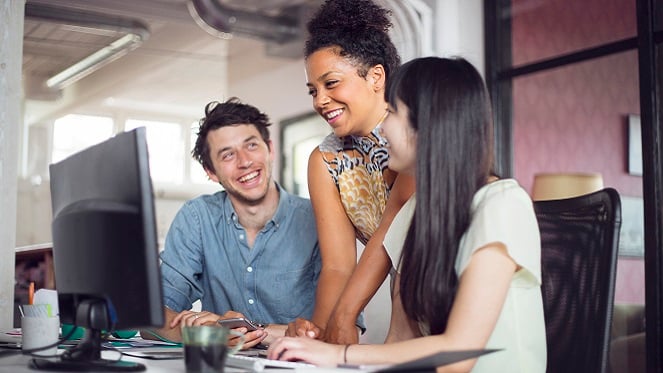 Covered In This Article
What Is Display Solutions?
Dell Technologies
HP
Philips
Asus
Enterprise Display Solutions For Your Business
What Is Display Solutions?

Also called monitors, computer displays work by showing information processed by the computer's video card. The result of the processing displayed by the monitor is called output. The output provides instant feedback by showing you text and graphic images as you work or play. Have a burning question about Display Solutions at Tarsus Distribution? then click here to read our answers to the internet's most asked questions about computer display solutions.
Dell Display Solutions

Innovative, award-winning Dell monitors offer a broad selection to fit your needs and budget, with key features to help boost productivity, unsurpassed reliability, and the industry's most advanced monitor technologies. Dell has designed varying sized panels, offering Dell customers options for building collaboration spaces suited for their budget and business. Dell Collaboration Monitors come with a 3-year Advanced Exchange Service so that if a replacement is necessary, it will be shipped to you during the Limited Hardware Warranty. And, if you want longer-term coverage, you can extend the Limited Hardware Warranty up to five years for additional support.
Productive
Dell monitors are designed to help enhance your productivity with numerous adjustability and panel mounting features, and a wide range of convenient connectivity ports. Simply focus on your work and give your productivity a boost.
High-Performance
Expect a thoroughly engaging visual experience with Dell monitors, thanks to their vivid colours, wide viewing angles, brilliant screen resolution, and impressive colour accuracy and consistency.
Award-Winning
The multiple awards and positive reviews for our monitors from around the globe – from leading computing magazines, online portals, and consumers alike – vouch for the quality, performance, and usability of these monitors.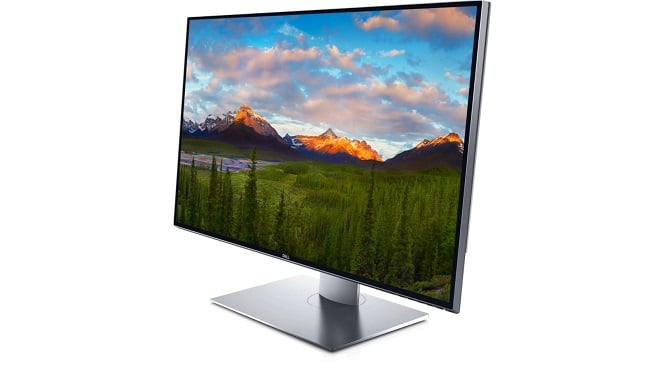 HP Display Solutions

As work-life blends with personal life, HP designs business displays to meet your workstyle with high resolution, unique features, leading ergonomics or a portable monitor to help you stay productive, comfortable, and connected. HP has a longstanding tradition of quality and a long history of designing displays. Every HP display is put through rigorous, extensive testing. Plus, HP has a Pixel Policy and uses high-grade components to ensure you have an outstanding experience for years to come.
Features
Filter blue light emission and shift colours to a warmer spectrum for more comfortable viewing with HP Low Blue Light mode. Adjust tilt for your best view.
Receive 5 years of next business day onsite repair from an HP-qualified technician for your computing device, if the issue cannot be solved remotely.
Create an expanded multi-screen workspace by easily connecting your HP notebook to monitors. Employees are 6% to 35% faster while completing computer-based tasks on a multi-monitor set-up.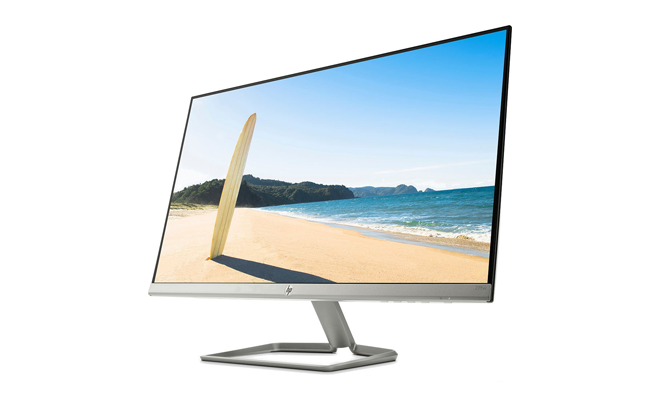 Philips Display Innovations

High-performance monitors from Philips offer smart innovations and combine excellent picture quality with intelligent features that help you achieve more.
The flexibility of USB-C docking
USB-C docking is a powerful, practical solution designed to boost productivity for today's multi-tasking, polyvalent professionals. Featuring a slim, reversible USB-C connector for easy, one-cable docking, this connectivity solution enables users to transfer data quickly and securely, recharge their notebooks, and plug their peripherals directly into the monitor to share files, watch videos, and much more
The call for green and sustainable products
Philips Monitors has a record number of 64 monitors on the market recently TCO Certified, generation 9. As vouched for by TCO Certified, generation 9, Philips monitors are produced responsibly with the environment and safety in mind, and they feature an array of power-saving, innovative and ecologically friendly technologies, which are manufactured in a supply chain where sustainability and ethical issues are a priority. For example, the PowerSensor and the LightSensor are two of the essential green features that most Philips monitors are equipped with.
Pop-up webcam/ Windows Hello™
The Pop-up webcam is a built-in web camera that pops up from your monitor when you need it and can be tucked away when you don't. It comes equipped with advanced sensors for Windows Hello™ facial recognition, which conveniently logs you into Windows devices in under two seconds.
Philips monitors support all major market verticals, such as corporate, education, retail and gaming. To discover the latest Philips monitors "click here"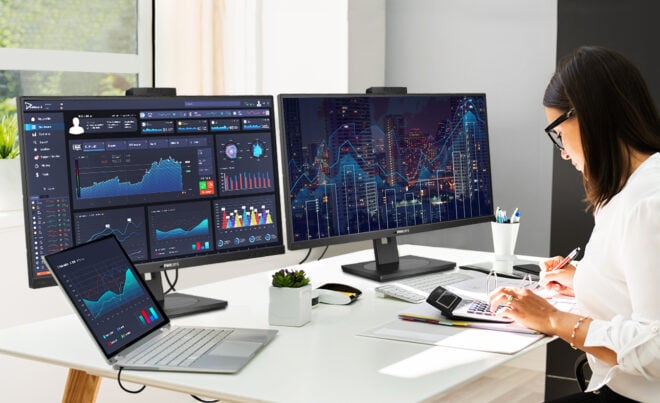 Asus

ASUS is passionate about technology and driven by innovation and strives to create an effortless and joyful digital life for everyone. Asus is always in search of incredible ideas and experiences.
Monitors for business
Designed to keep you productive, wherever you are the Asus ZenScreen series is the world's first portable monitor with a hybrid-signal solution, which means that it only needs a single USB connector cable to be fully compatible with almost any laptop.
Gaming Monitors
Welcome to the Republic of Gamers. With a high refresh rate, ASUS ROG monitors can be used not just for gaming but also for jobs that require monitors with higher refresh rates, such as for game designers and developers.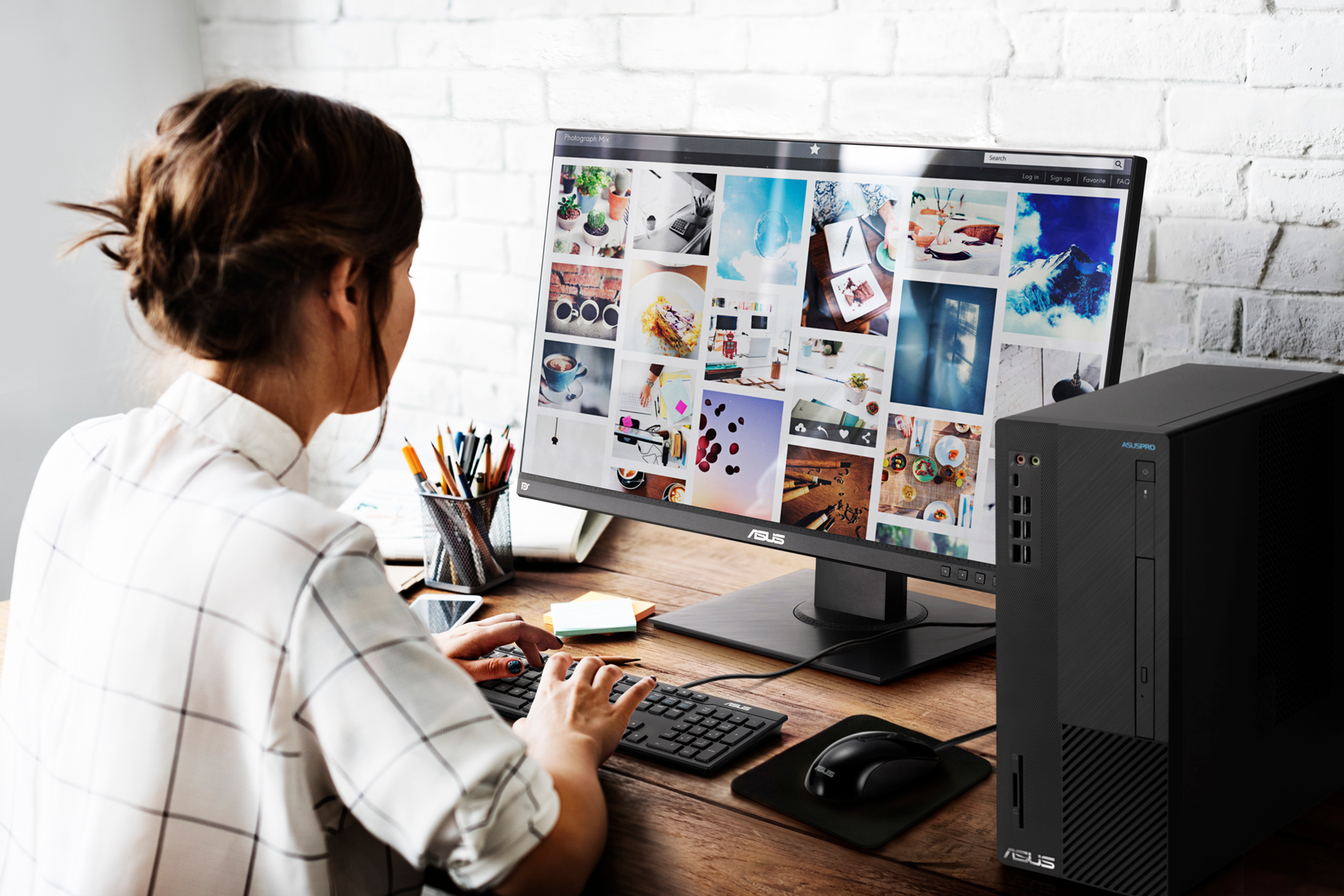 Enterprise Display Solutions For Your Business

According to a recent study, 62% of workers cite more immersive, better resolution monitors as the top driver for improving their productivity. Employees' expectations will vary based on their work habits or job description — choose the right display monitor to match employee needs. Click here to read more about enterprise display solutions.