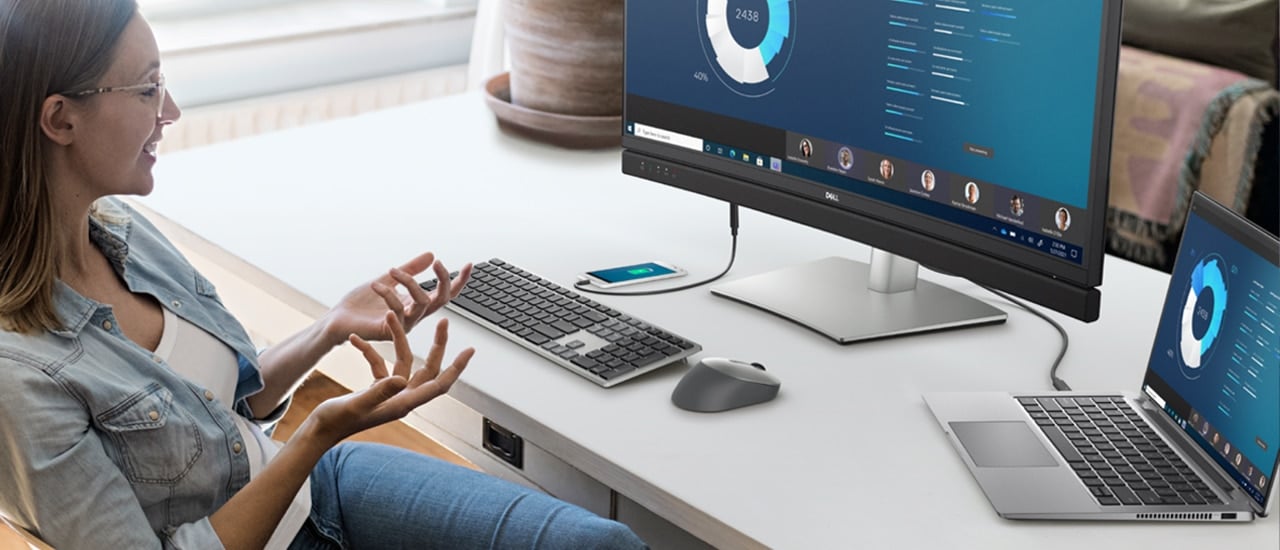 In the aftermath of the pandemic, many businesses have adopted a hybrid working model, enabling employees to work from home and other alternative workplaces, which has not only changed where we work but how we work too. Employees now work from a range of environments, forcing IT heads to find the right solutions to ensure their workforces remain productive and collaborative wherever they are. Luckily, today's hybrid working has been made possible through a slew of technologies, tools, and accessories that have made the transition seamless and easy.
This is why there has never been a better time for people to upgrade their home offices and technologies. However, they need to do this without having to spend a fortune, while still getting top-quality solutions to get the job done. It's important to remember that any home office needs to provide a similar level of support as the traditional workplace does, and this starts with having the right laptop with enough processing power. In addition, they need good quality monitors with crisp graphics and fast refresh rates and routers that are capable of handling broad bandwidth demands. They also need docking stations for easy and convenient charging, user-friendly and intuitive keyboards, and more.
After all, it matters not whether an employee is collaborating with a colleague in the same building, or one in a different country - remote technology is still needed to get the job done. It is crucial for remote workers to have the tools they need to be efficient and effective from home, which includes specific equipment such as a second full monitor, a full keyboard and mouse, and even a headset in some cases.
And for businesses and workers alike, a key consideration for most home offices is affordability. Even though the company might be paying for all the equipment needed, it always pays to spend wisely, and cost-efficient solutions are not necessarily inferior, particularly if you opt for a trusted and well-established brand.
The three things that matter most when it comes to a home office are quality, comfort, and value for money, so the first step in setting up a space is having a look at the solutions that are needed to do your job, and then building the home office around those. This is a lot easier than most people think, once they realise that the latest, greatest, and most expensive solutions are not necessarily the way to go. Finding solutions that are affordable and do the job is key, and many top vendors, such as Dell, have fantastic offers on end-of-range devices that are still top-quality while being both ideal and affordable.
Take a look at which features and devices are available in your price range and compare different options to see what you are getting for your money. It can be surprising what great deals you can find on laptops, monitors, and other accessories if you assess what you really need and exclude features that simply aren't necessary. For example, is a huge SSD really necessary if most of your files reside in the cloud? Scrutinise what you need and what you don't need and cut costs wherever possible.
Decide which are the core basics and look for the deals where you can get them at the most reasonable price. Start with the essentials such as a PC and monitor, or a laptop, and then a mouse, keyboard, webcam, and suchlike. Choose a brand that is known for longevity and one that promises productivity and efficiency. Without the proper tools, it is impossible to get the job done as quickly and effectively. A reasonable price, with the maximum value, is needed here.
Much in the world of technology is driven by planned obsolescence, so don't be too driven by brands, and get stuck with solutions that cost more than they should. Look at the individual products that are known for value and reliability. Remember, that the brand new, latest, and greatest model had a predecessor, most likely at a much more compelling price point. It doesn't matter if it's one model behind if it does the job you need it to and will last for many years to come.
The bottom line? Do not compromise on essential home office equipment, but don't spend more than you need to. There is a range of excellent options that offer functionality at a good price point. Choose products that work well, and don't cost a fortune, and look after them.
One thing is clear, and that is that investing in affordable and reliable home office solutions today will enable a future of hybrid workforces, telecommuting, as well as digital connectivity. Fortunately, Dell has all the solutions your teams need to remain productive, regardless of where they are working from.
Delving into the specific solutions, a good place to start is with a monitor. Dell's 24"/27"/32" P Series Monitors are jam-packed with productivity features that can accomplish any task. They feature ComfortView Plus for enhanced comfort and more accurate colour. When collaboration is key, Dell C Series Video Conferencing Monitors enable users to stay connected and always ready for that video call, with 27" and 24" FHD solutions that feature an integrated IR camera and innovative multitasking features. The Dell 14 Portable Monitor is convenient, compact, and flexible, enabling users to experience dual-screen productivity from anywhere.
Users who need more power are also accommodated, and staff members who specialise in design, creative, and graphical or computational complex applications, require ultra-premium innovation in intelligent designs, so Dell offers the UltraSharp 32 4K Video Conferencing Monitor which is also Microsoft Teams-certified for video conferencing and boasts groundbreaking IPS Black Technology and an intelligent 4K webcam that provides automatic focus and enhanced visual clarity.
Finally, Dell's Ultrasharp 40 Curved WUHD Monitor redefines productivity and creativity, featuring wide colour coverage, integrated dual 9W speakers and built-in low blue light ComfortView Plus.
Next, Dell's Wireless Keyboard and Mouse are a powerful combination with long-lasting battery life, and the keyboard is both spill-resistant and features anti-fade keys. Next, Dell Dual Charge Dock comes with an upright, wireless stand for Qi-enabled smartphones and earbuds, as well as multiple USB sockets.
For crystal-clear conference calls, Dell Speakerphone is known as the world's most
intelligent Microsoft Teams-certified speakerphone on the market. Dell Universal Dock enables users to connect up to three 4K displays and charge a USB-C laptop up to 65W at the same time, which is fast and convenient. When it comes to webcams, Dell's UltraSharp Webcam is the most intelligent 4K webcam on the market, featuring AI auto framing, crystal-clear video, and the highest image quality in its class.
The Dell Premier Rechargeable Active Pen allows workers to draw and write on screen with total precision using this active pen that has a staggering battery life of up to 40 days on a single charge. In addition, the 4,096 levels of pressure sensitivity makes this pen a natural extension of the user's hand.
Also in the lineup, the Dell Premier Wireless ANC Headset is Teams certified, and offers active noise cancellation and smart sensors that automatically mute and unmute the user's call. The company's Speakerphone with Multiport Adapter allows employees to benefit from an all-in-one conference and connectivity solution with the world's first speakerphone that features an integrated USB-C multiport adapter. Also, the Dell Dual Monitor Arm is a comprehensive monitor and system mounting solution, that was tailor-made to optimise everyday productivity and declutter the user's desk.
For employees who are on the go and need greater mobility, Dell has a wide variety of solutions too. Its USB-C Mobile Adapter is a compact multiport seven-in-one device that offers video, network, data connectivity, and up to 90W power pass-through for a laptop. The Dell EcoLoop Pro Backpack was also designed for mobility, with spacious compartments and protection on the go.
For more information or guidance on choosing the right Dell products for your office setup, contact us today.