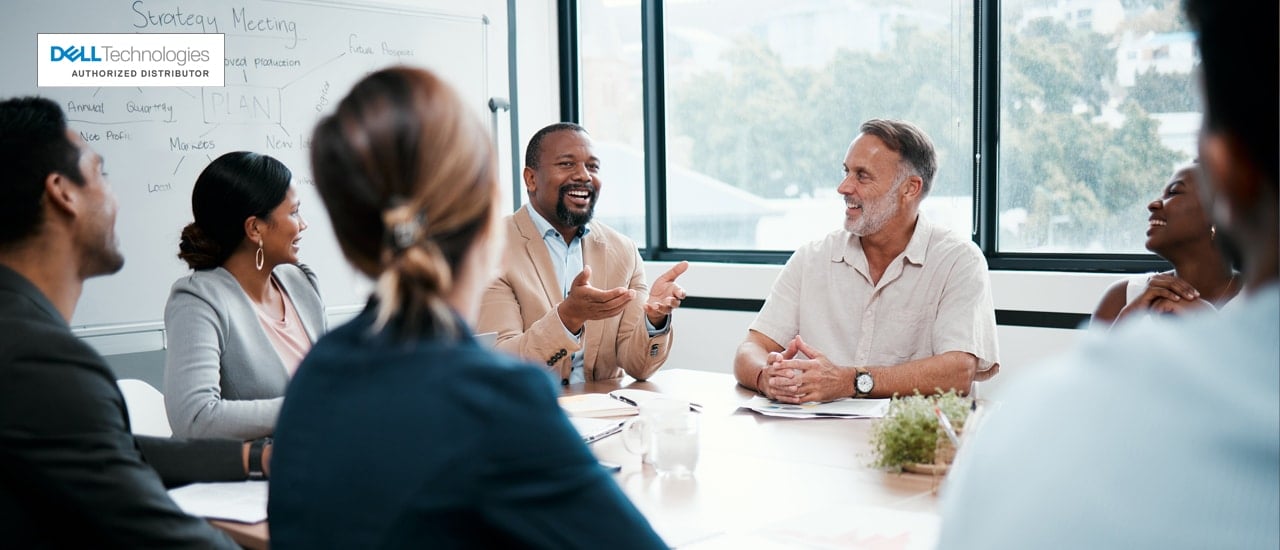 Emerging from the Covid19 pandemic, small to medium businesses (SMBs) have had to take stock and think deeply not only about their cloud infrastructure, security, POPIA compliance and cost optimisation, but also the diverse array of user needs across multiple departments and platforms.
These were some of the key thoughts and considerations at a recent Dell/Tarsus Distribution roundtable, featuring some of South Africa's foremost SMBs across the education, agriculture, broadcast and tourism industries.
The event formed part of the strong 2022 support programme where Tarsus worked closely with SMBs across the country to manage the juggling act of utilising technology to improve their clients' lives, while managing the multiple technology demands faced by modern businesses.
SMB leaders attending the event discussed examples of projects in the pipeline as well as others nearing roll out, each relevant to their various sectors, such as:
transforming accommodation check-ins from a long process chain to the simple click-of-a-button on a smartphone;
connecting farmers to markets that are equipped to sell their goods online;
optimising digital OTT (Over the Top) services across broadband connections.
While enjoying the positive energy of these growth projects, SMB leaders also voiced the challenging factors they consistently face in their attempt to deliver world class services to their clients. To mention a few:
collaborating with a distributed workforce;
needing new processes and technology to keep their businesses competitive;
Managing outdated, overloaded or poorly planned infrastructure.
Covered in this article
Digital transformation
Building the right culture
Data
The world is an oyster

Digital transformation
Fortunately for SMBs, Tarsus Distribution understands the fundamental challenges associated with digitising businesses and how to avoid common pitfalls.
Tarsus Distribution and Dell representatives were thus able to provide valuable key insights and advice surrounding the challenges raised, such as the use of hyper scaling cloud services and everything-as-an-online-service.
The importance of managing budgetary requirements, in the light of business deliverables faced by SMBs, was also discussed, with the roundtable agreeing that trust relationships between SMBs and vendors remains key to balancing the cost of technology vs. its practical application within a business.
With technology spend often featuring high within SMB budgets, Tarsus pointed out that technology executives present key considerations when demonstrating how cloud solutions can impact their businesses in a meaningful way. These include delivering value over and above SMBs current technology, removing capex requirements around premises-based technology and building trust relationships to deliver the best possible solutions that meet the clients' needs.
South Africa's global rise in the call centre industry over the past four years, and its clever use of the Rand to provide cost effective education solutions reaching learners across the world, were just some of the examples cited, illustrating how businesses are using cloud technology to help the country punch above its weight in an internationally.

Building the right culture
SMB leaders attending the event also expressed the importance of sound strategy, careful planning with outsourced partners and ensuring the correct skills are set in place. Tarsus added that the right partnerships are integral to implementing technology in a way that achieves successful business outcomes without overcomplicating or over-engineering business processes.
Digital transformation programmes were raised as significantly important. SMB delegates emphasised inculcating digital fluency into the culture of employees and customers alike, so that everyone, from executives to new graduates, follow a shared set of digital values and behaviours.

Data
The importance of data was unanimously agreed as integral to future business growth and success. Using data more effectively to gain business insight and customer relevance, a given. Drilling down into specific verticals, some SMBs expressed that the understanding of geospatial data was crucial to the agricultural, educational, and business sectors.
Others suggested that, given the challenges within the transport sector, the growing penetration rates of fixed line and high-speed mobile broadband within informal settlements opened opportunities for service delivery to these communities.
SMBs within the education sector expressed the common goal of delivering more affordable educational services to lower-income communities. These communities could ultimately be helped through outsourcing opportunities as well as remote working options.

The world is an oyster
Perhaps somewhat surprising, popular opinion held that shared learnings and coopetition between companies from the same industries (as opposed to straight competition) were seen as vital for SMBs to grow into a thriving future.
SMB representatives voiced how they were not as extensively equipped as their corporate counterparts in terms of in-house skills and large outsourcing budgets. Information sharing, expertise and solutions brought through partnerships, were seen as valuable factors for solving common business problems faced.
Tarsus Distribution, Dell and SMB leaders ended on the positive note, that connecting to and being competitive within the global digital economy, as well as providing technological solutions all the way through the business value chain, remain critical pathways to local job creation. This requires the digital empowerment and upskilling of individuals, so they can utilise technological support effectively. It is underpinned by strong associations, promoting the joint problem solving of key imperatives, where vendors, distributors and SMBs can knowledge-share spanning various industries and services alike.