IT projects, big or small, can be challenging with a lot of components to think about. Power management may not be at the forefront of your mind or something you deal with on a daily basis, so you need to ensure you have a team of superheroes to help you through this process.

With a wealth of experience and quality, reliable products, the Eaton Toy Force is here to save your day. You can trust this tech team to support you and your customers when it comes to choosing the right solutions for your power infrastructure requirements.
Eaton's mission is to improve the quality of life and the environment of your hardware through the use of power management technologies and services. Eaton provides sustainable solutions that help customers effectively manage electrical and mechanical power – more safely, more efficiently, and more reliably.
Covered In This Article:
Meet The Eaton Toy Force Power Management Team
Satisfying Your Data Centre Needs With Power Management
tSolving Your Energy Problems With Power Managemen
Cybersecurity Done Right
Meet The Eaton Toy Force Power Management Team
Don't be fooled by Eaton's adorable team of toy figurines. This squad of modern-day superheroes have transformed into something far more powerful: the Eaton Toy Force. These six desktop double-agents can help you deliver the high-quality, reliable, value-for-money electrical products your business needs, and empower you to drive and overcome any and all power related challenges you may face.
Electricity demands are set to shift as time moves forward, and the big and bulky Bigs is here to protect every type of installation against power outages. Connectivity and security is the driving force behind Bigs' strength.
Upgrade your power distribution with:
Eaton ePDU G3: Enhance reliability of your IT installations, discover Eaton's Rack PDU G3+ and its improvement to give a better user experience, secure the power distribution, reduce risk and add new accessories. On top of that, Eaton's Automatic Transfer Switches are designed to provide power supply redundancy for single connection equipment. With ATS (Automatic Transfer Switch), power from two independent sources can be supplied to IT equipment, which have only one input power supply.
Eaton 9PX UPS:proven as the best-in-class online UPS, the Eaton 9PX UPS features ABM technology which extends battery service life by up to 50%.
Eaton Gigabit Network Card:With faster speed and enhanced cyber security, the Gigabit Network Card improves power system reliability by providing warnings of pending issues to administrators and helps to perform orderly shutdown of servers and storage, curbing abrupt outages.

Dino is always working with the entire Toy Force team, but her biggest task is to ensure that all of Eaton's power monitoring and distribution solutions are powered, reliable and secured to the nines. This is why she wants to expand your solution offering with these three best-in-class products:
RA/RX Racks: Designed for fast and easy set-up, the RA Series has features IT specialists need in an affordable ready-to-go rack system.
ePDU: Eaton ePDU G3 platform features Eaton's third-generation (G3) technology, providing best-in-class power distribution with a full line of Basic, Metered Input, Metered Outlet and Managed models.
ATS: The Eaton ATS offers an affordable solution for customers willing to add power redundancy to networking equipment like switches and routers.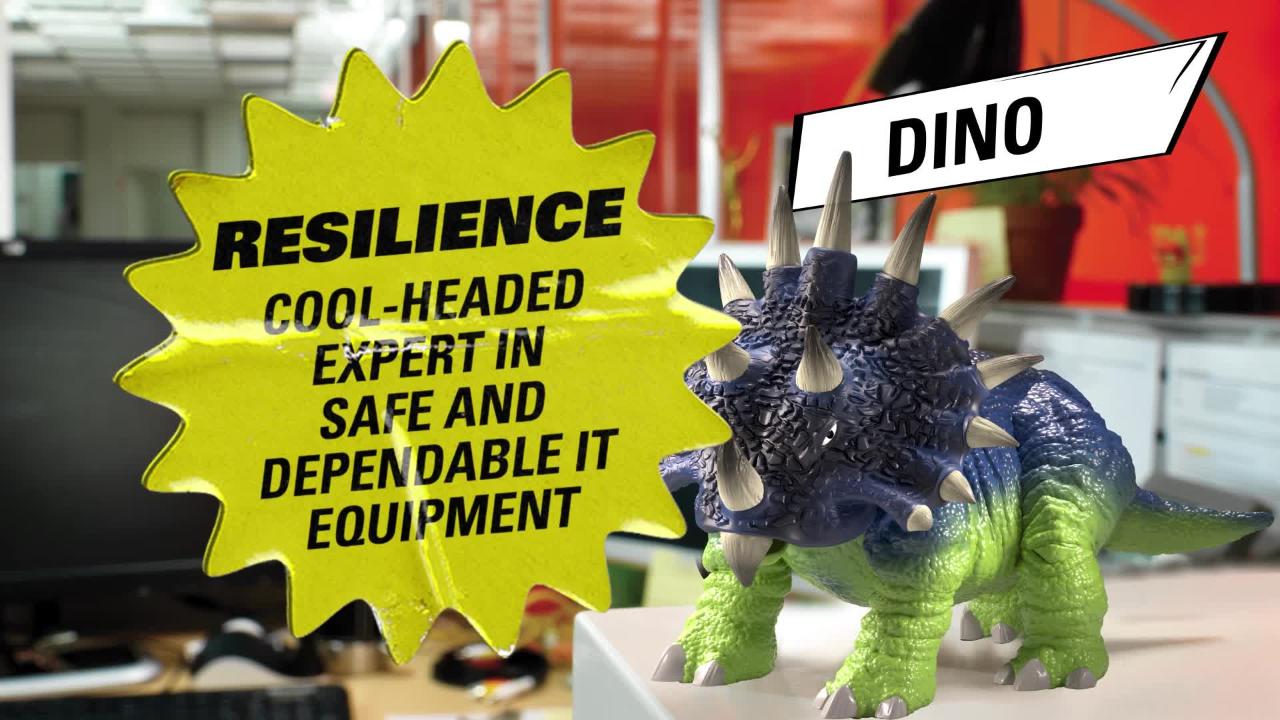 Power Problems? Let The Eaton Toy Force Save The Day!
As the leader of the Eaton Toy Force, Hans is responsible for keeping it all together. Hans is also in charge of Eaton's Power Advantage Partner Programme and acts as an extra pair of hands whenever you need it. Hans thrives on your success and wants you to unlock the potential of new revenue, acquire new customers and close larger deals, while you gain greater margins.
The Eaton Booster Bundle offers you the advantage that you can flexibly put together a product package of your choice and benefit from 5% off already from purchasing products from two different product lines.

With sharp eyes, Buster's attention to detail ensures that Eaton's distributed services solutions provide resilience, compliance and the greatest flexibility for you or your customer. And if that wasn't enough, Eaton's distributed services solutions give you that extra win of complete and total peace of mind when you need it most.
Bursting with excitement, Buster can't wait to show you the wide range of services and resources designed to help your customers transform their environments into performance-busting, optimised environments with state-of-the-art equipment.
Whether you purchased a plug and play or hardwired UPS, proper servicing is critical in ensuring optimal performance from your UPS while minimising the risk of downtime. Choose a proper service for your UPS and enjoy your piece of mind for many years. Not sure what to choose? No worries, Buster to the rescue!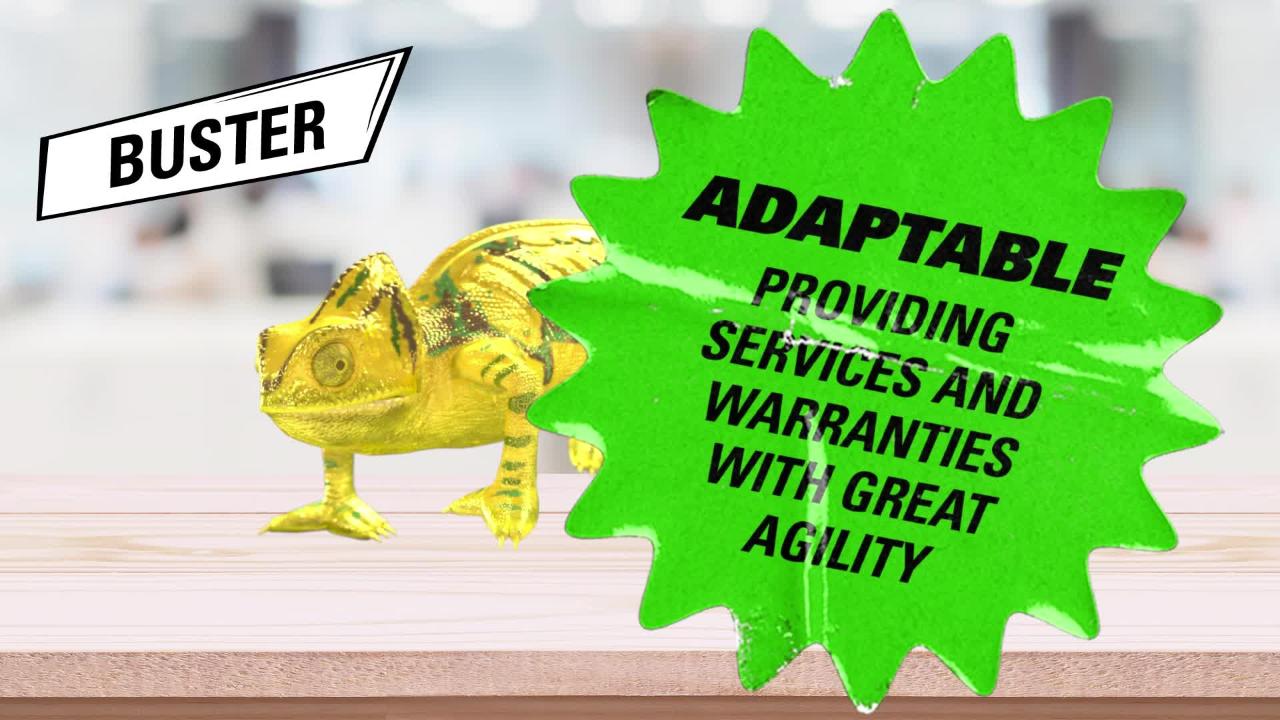 Don't Let Cyber Threats Ruin Your Productivity — Let The Eaton Toy Force Save The Day!
We have to face some cyber security challenges in the rapidly evolving landscape of malware, phishing and hackers. In the face of these threats, traditional security approaches are no longer sufficient to protect the enterprise – whether on-premises or in the cloud. The Eaton Toy Force's very own mega-mind genius, Doc, can integrate systems in the smartest possible way and help you with clever monitoring and alerts that will not only protect your infrastructure but curb invaluable downtime.
Many IT administrators simply follow the "don't fix it if it's not broken" model, this approach leads to increased risk, which leaves the enterprise vulnerable and results in a significant financial burden.
With input from the rest of the Toy Force, Doc has honed his craft and specialises in:
Cloud-based Cyber secured Remote Monitoring: Eaton stands ready to offer support in the form of cloud-based Cyber secured Remote Monitoring. Help your customers into critical electrical infrastructure to receive the assistance they deserve.
Eaton Cyber Security Perspectives: Discover Eaton Cyber Security Perspectives, the global forum and educational program showcasing the advanced tools and resources needed to expand your cyber security skill set.
Gigabit Network Card: With faster speed and enhanced cyber security, the Gigabit Network Card improves power system reliability by providing warnings of pending issues to administra­tors and helping to perform orderly graceful shutdown of servers and storage.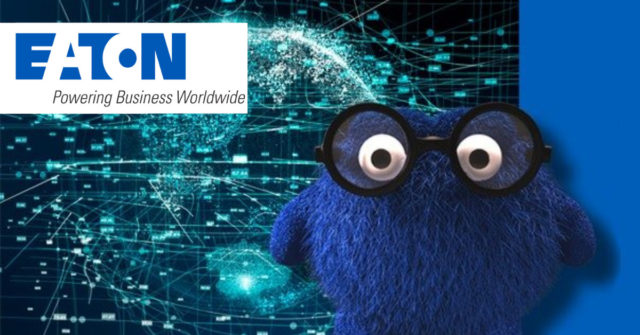 Packing a big bite, Jaws takes care of the centre infrastructure and is the jawbone of the Eaton Toy Force. Whether you need to kit out a small data centre or upgrade a massive server room, Jaws has the solution you are looking for.
Network Closets and IT Closets: Zero downtime for on-premise and off-premise networks, that gives you peace of mind with accessible data wherever and whenever you need it.
Server Rooms: Solutions for power distribution, battery back-up, racking and management for all server room sizes.
Small and Medium Data Centres: Reliable, secure, resilient and easy-to-configure solution for IT equipment in 'Edge-of-Cloud' applications.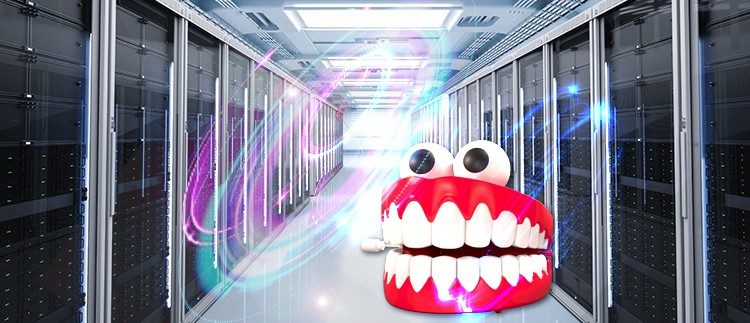 Satisfying Your Data Centre Needs With Power Management
Eaton's expertise enables you to transform your data centre and IT infrastructure and keeps you ahead of the curve with zero downtime, ensuring business continuity all year round for you and your clients. Eaton empowers its partners to transform their business, by fully supporting resiliency and collaboration via partner programs. Superb sales, marketing, technical and customer support are some of the key benefits of partnering with Eaton to stand out, increase market demand and grow your business.
Whatever your IT infrastructure and data centre needs are, you can count on Eaton to provide you with products, tools and support. All Eaton's partners enjoy unrivalled packages and products with superior flexibility and unprecedented reliability as one of the key benefits of joining forces with Eaton. Innovation, quality and safety are at the heart of what we produce.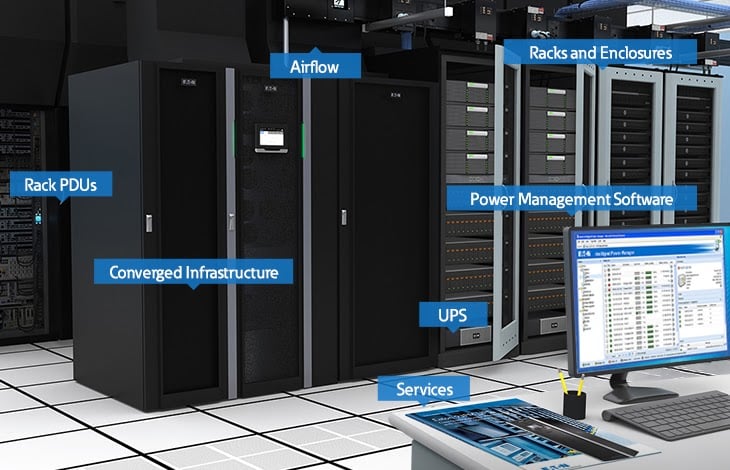 Solving Your Energy Problems With Power Management
Every day, all around the world, people depend on technology, transportation, energy and infrastructure to live, work and thrive. Eaton's power quality portfolio encompasses a comprehensive suite of power management solutions, including uninterruptible power supplies (UPSs), surge protective devices, power distribution units (PDUs), remote monitoring, software, power factor correction, airflow management, rack enclosures and services.
Eaton strives for continued success in leveraging technical innovation to develop next-generation solutions:
Outlet switching: Remotely control devices by powering on or off individual outlets. Save time and operating costs by rebooting machines from your control centre without costly site visits.
Sequential start-up: Make sure your servers start sequentially to avoid inrush current and start your database before the application.
Turn off unused outlets: Control unauthorised use.
Eaton is a leading provider of quality backup power UPS and Uninterruptible Power Supply. Eaton UPSs are designed to deliver high quality backup power from desktop PCs to large data centres.
Cybersecurity Done Right With Power Management
The right solution to connect your device without any compromise to security and availability. It runs on a secured cloud and allows enabling services such as Remote Monitoring, Health Reports and early anomaly detection that help to mitigate downtime risk associated with the critical components (battery, capacitors, FANs).
Eaton Cyber Secured Monitoring runs in any supported Eaton UPS equipped with the gigabit network card or the industrial gateway card. Wireless options are available. Eaton Cyber Secured Monitoring can be purchased separately or with one of the Eaton service plans.