We all know that the Microsoft Surface family of devices is designed to get the job done from anywhere. Whether it be remote working or even on-site and in the field, these machines are powerful and versatile enough that you don't have to drag an entire PC case around with you. But how does it fare in a traditional office setting? In this article, we explore just that.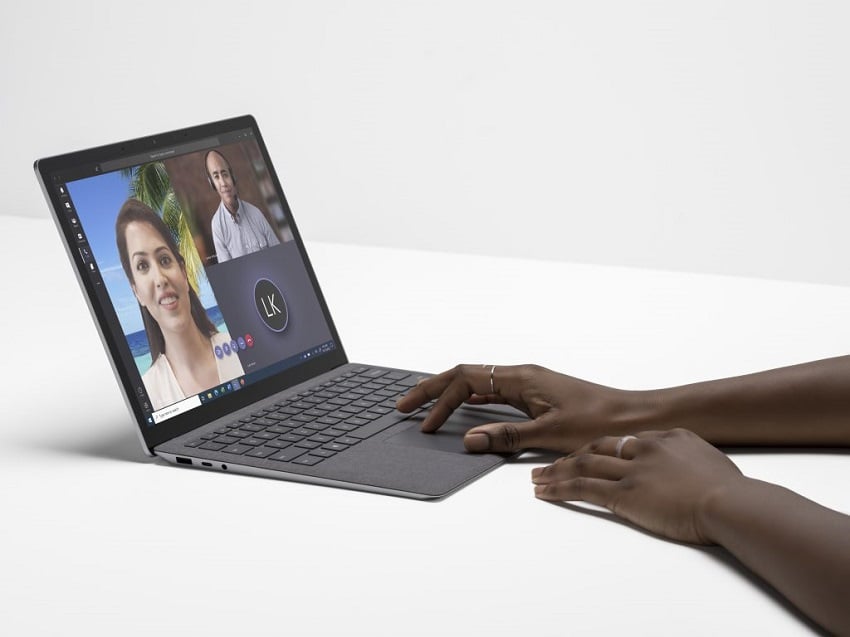 Covered In This Article:
A Tough Desk Jockey
Choosing The Right Microsoft Surface Device
Breaking Down Communication Barriers
Microsoft Surface And Cybersecurity
A Tough Desk Jockey
As Windows built and inspired new computing experiences, new Microsoft hardware accessories helped people interact with them. Microsoft has reached an exciting crossroads where intelligent software is combined with powerful hardware to form magnificent devices. For nearly 10 years, Surface has pioneered breakthrough experiences that immerse people in their creative flow, eliminating friction that often exists between people and technology.
It is because of this that the Surface family of devices are made to get the job done. Surface allows people to adapt to new ways of working and creating through innovative and versatile devices that offer premium design and performance, quality typing and trackpads, exceptional cameras and mics, and immersive touchscreen display technologies. From the office administrator meeting deadlines to the designer rolling out CI, there truly is a Surface device for everyone in the office.
Choosing The Right Microsoft Surface Device
Best known for innovative, tablet-like designs, Microsoft has expanded its Surface line over the years and now offers a full family of computers, from a standard laptop to a giant desktop. Let's help you find the right Surface device for you.
Surface Pro 7+
Ready for business, the Surface Pro 7+ is a true hybrid device that offers the versatility of a tablet with the processing power of a laptop. Surface Pro 7+ offers the adaptability to dock into external displays and leverage the needed peripherals for a full workstation setup.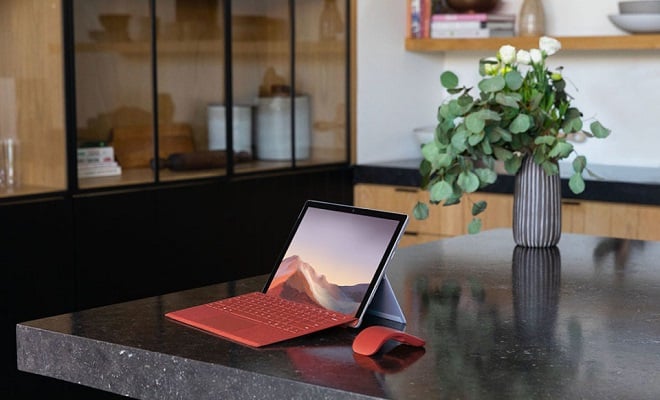 Surface Laptop 4
Surface Laptop 4 is, first and foremost, optimised for Microsoft experiences. With its signature 3:2 PixelSense touchscreen displays in 13.5" or 15" models, the Surface Laptop 4 offers a built-in HD front-facing camera with incredible low-light capability and a studio microphone array, making it the perfect office workstation.
Surface Laptop Go 2
Sleek and portable, Surface Laptop Go 2 features a 12.4" vibrant touchscreen and great typing experience, now with an improved HD camera, secure Windows Hello sign-in, and a performance boost– all in a premium design. Surface Laptop Go 2 weighs only 1124 grams and packs in the power of the Quad-core 11th Gen Intel® Core™ i5 processor. With all-day battery life and fast charging – Surface Laptop Go 2 is the perfect companion for class, the office, the coffee shop or wherever life takes you.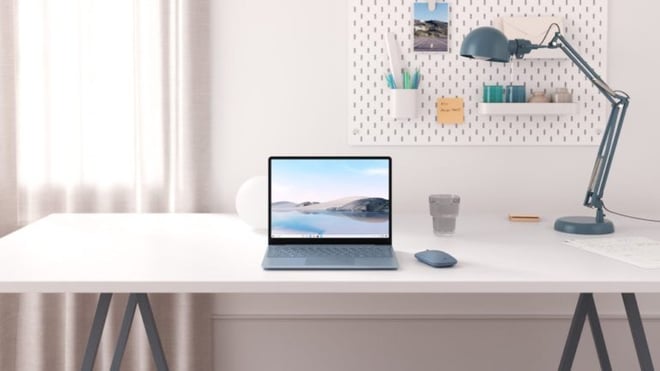 Service Hub 2S
Complete your meeting room with a powerful, smart whiteboard that runs on the Windows platform your office knows and loves. The Microsoft Surface Hub 2S comes in both 50 and 85-inch sizes and offers a crystal clear display and can easily and wirelessly connect to other Surface and Windows-based devices. Dissolve boundaries for hybrid teams so they can inclusively engage everyone's voices, faces and ideas. Surface Hub 2S is a powerful meeting platform for every team, wherever they meet, that's certified for Microsoft Teams.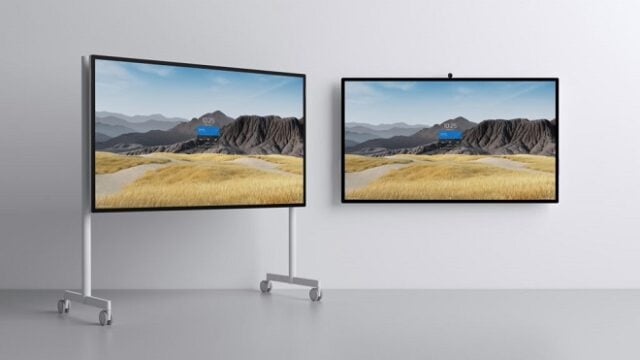 Breaking Down Communication Barriers
Surface devices optimise the software and cloud solutions businesses rely on every day by providing a scalable, secure, and innovative solution that empowers you to do more – so your business can thrive.
Microsoft Surface for the office offers employees to:
Stay connected and collaborative: Empower employees to accomplish more with always-available collaboration tools powered by Microsoft 365 running on Surface.
Modernise device management: Synchronise and deploy Surface firmware and driver updates with Microsoft Endpoint Configuration Manager within the Configuration Manager client.
Deploy with less complexity: Reduce IT complexity and streamline device management and deployment using Windows Autopilot zero-touch deployment and unified management.
Maintain security from chip to cloud: Manage devices in the cloud right down to the firmware level, and maintain secure control with a Device Firmware Configuration Interface (DFCI).
Fitting Form Factor
Mobility is a key function of the Surface family of devices. Whether you're on the move seeing clients, working in the break room or tackling tasks in the boardroom, Microsoft Surface tools adapt to your environment. Not only does Surface integrate seamlessly with other Microsoft products, but it can also fit into any situation. Part tablet, part laptop, fully hybrid. Surface can be whatever you need it to be.
Made For Windows
Surface devices enable your people to work however they work best, offering flexibility, power and style. Save time and money with streamlined deployment, modern device management, and built-in, cloud-powered security with connected experiences from Surface and Microsoft 365.
Cloud-First Deployment and Management: Deploy and manage down to the firmware layer through the cloud with Microsoft Endpoint Manager13 and DFCI.6 Reduce IT complexity with Windows Autopilot.
Windows Virtual Desktop: Meet complex business and security requirements with broad device redirection support, endpoint protection and Microsoft 365 virtualised in Azure.
OneDrive For Business: Access and protect your business and school work with this intelligent files app. Share and collaborate from anywhere, on any device.
Collaborate with Teams: Work better together. New integrations allow you to create shareable links, grant expiring access and follow configured policies.
Paired with Microsoft 365, Surface helps customers save time and money with streamlined deployment, modern management and enterprise-level security. Surface truly is anything but ordinary. Visit the Microsoft site for more information about which Surface devices support Windows 11.
Performance meets versatility when it comes to Surface. Whether sketching ideas and handwriting notes, sharing your view with others, or writing code, the range adapts to the endless ways you create and collaborate. A cutting-edge balance of performance, versatility, and mobility sets Surface apart from the rest.
Microsoft Surface & Cybersecurity
Security for business should be your top priority, especially in today's digitally-driven world where cyber threats and data breaches are incredibly commonplace. Your business can combat these security threats by leveraging the right Microsoft tools and technology, such as its family of Surface devices. Microsoft Surface security features are robust and incredibly valuable to your business – here is a breakdown of a few major ones.
Microsoft Surface security features include a built-in firewall, an anti-malware solution, and automatic updates. This means your business will have access to the newest Teams and Office 365 security features on their Surface devices – as soon as they are rolled out.
These Microsoft Surface security features can help to safeguard your business against cybersecurity threats and breaches, particularly when paired with other Microsoft software such as Teams and Office 365.
There's no need to sacrifice speed or productivity for security – your business can still experience enhanced productivity, collaboration, and communication while still being secure. Click here to read more about Microsoft Surface's security capabilities.
To learn more about Microsoft device security, or how your business can transform into a modern digital workplace built on an ecosystem of Microsoft Teams and the Microsoft 365 platform, contact Tarsus Distribution today.