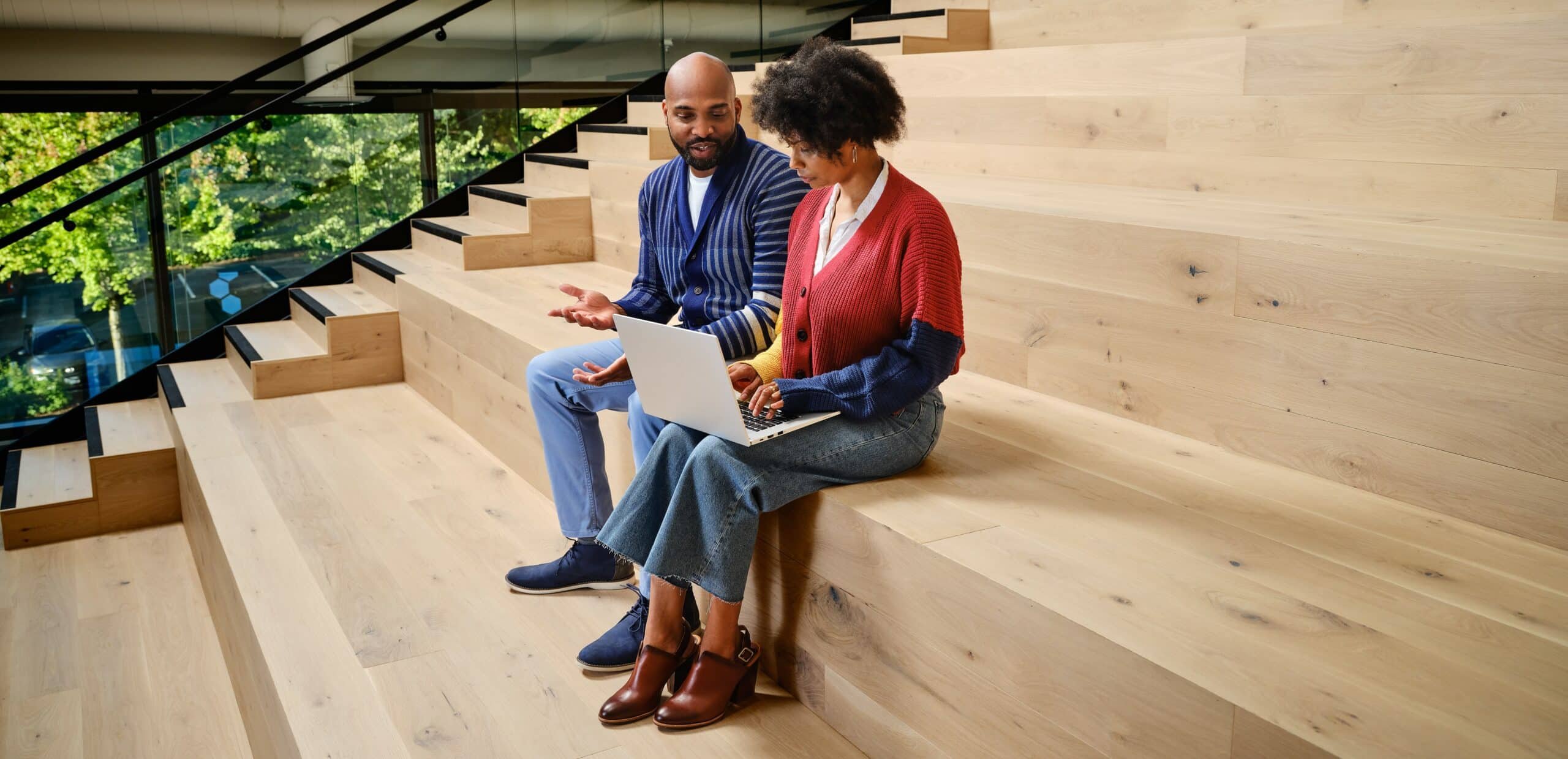 With the rapid pace of technological change, a demand for increased productivity, greater efficiencies, and getting products to market faster - have driven a need for speed and performance. Today's customers and users are used to accessing applications instantly, getting results on-demand, and expect their devices to keep up with this demand.
None of this can happen without high-performing, fast technology, which is where the Central Processing Unit (CPU) comes in, as it is one of the most critical elements to consider when buying a new PC.
The CPU can be likened to "the brain" of the device, or the piece of hardware that gives the instructions that multiple applications, programs, and processes require to do their jobs. The faster that can be done, the faster all of these work, which translates into increased productivity and efficiency.
Covered in this article
Highly flexible architecture
Breakthrough core technology
Empowering productivity, from anywhere
The Intel VPro Platform
Device choice is crucial
Doing their best work
Meeting the needs of today's workforce
All day support
Style and substance

Highly flexible architecture
For businesses who want to reap these gains, Intel's 12th Gen Core processors deliver incredibly flexible architecture and best-in-class overclocking tools for the ultimate in performance customisation.
Completely redefining x86 architecture performance, this range of industry-leading CPUs is the first to feature the chip giant's performance hybrid architecture, which combines Performance-cores with Efficient-cores to take productivity, streaming, gaming, and design to a whole new level. Moreover, these groundbreaking processors assist the operating system (OS) to intelligently characterise workloads to ensure that core placement happens at the optimal level for execution.
In addition, the 12th Generation Core processors are at the vanguard of future innovation in terms of processor design. Users can benefit from a wide range of the latest platform innovations, including the industry-first PCIe 5.0 readiness and Double Data Rate 5 (DDR5) memory.

Breakthrough core technology
Another area where the 12th Generation Core processors set themselves apart from their competitors is through breakthrough core technology. In an unprecedented advance for core performance, Intel's 12th Gen Core processors Performance-cores, or "P-cores", are optimised for single and lightly threaded performance. In addition, its Efficient-cores, or "E-cores", are optimised for scaling highly threaded workloads.
To help monitor and analyse performance data in real-time, and to place the right application thread on the right core, as well as optimise performance per watt, the processors have a new feature called Intel Thread Director. This enables gamers, creators, and professionals to benefit from intelligence and power to take the experiences that matter to them the most to the next level.

Empowering productivity, from anywhere
Furthermore, organisations these days are demanding more from their technology than ever before. And with hybrid or remote work now the norm, users need a computing experience that enables productivity regardless of where they are.
Technology decision-makers today, want platforms that facilitate these new workplace trends and ones that can also be deployed seamlessly and maintained with confidence.
The Intel vPro platform with 12th Gen Intel Core processors meets these technology needs, and more than that, offers a vast range of computing options to empower businesses of all sizes.

The Intel VPro Platform
For its 12th Gen Core processors, Intel is expanding the VPro platform portfolio as follows:
Intel vPro Enterprise for Windows is a full-featured commercial platform that focuses on large corporates and managed businesses. It comes packed with a comprehensive set of technologies to help companies stay ahead of security threats. Moreover, it enables full modern management capabilities and platform stability that are ideal for businesses with formal PC purchase practices.
Intel vPro Essentials extends security and device management capabilities previously targeting only large enterprises, to the small and medium business (SMB) segment too. Cybercriminals have SMBs in their sights too, and these entities need to protect devices, applications, and data. With this in mind, Intel vPro Essentials incorporates Intel Hardware Shield to help protect platforms based on the Windows operating system. In addition, Intel vPro Essentials supports partner-ready device management with Intel Standard Manageability.
Intel vPro Enterprise for Chrome creates a new class of Chromebooks for business environments with the performance, stability, and security technologies that today's enterprises need. This new platform also helps decision-makers to match the right device to the right user.
Intel vPro, An Evo Design device meets both the Intel vPro and Intel Evo design criteria, identifying notebooks that bring compelling user experiences to mobile business environments.
Device choice is crucial
There are many reasons to equip workforces with computers that come with Intel 12th Gen Core Processors, as well as Intel VPro, and Intel Evo design:
Device choice directly impacts a company's ability to attract and retain skills.
It empowers teams to do their best work, every day.
It's designed with the way we work today in mind.
Teams get all-day technical support, no matter where they are working from.
Style need not be sacrificed for substance.
It's widely known that the technology solutions used by workforces not only have a direct impact on their job satisfaction, but on customer experiences too. IDC research revealed that nearly three-quarters (72%) of enterprise IT decision-makers surveyed claimed that device choice is highly important when it comes to their ability to recruit and retain talent. Similarly, workers said their provisioned technology impacts their productivity as well as their desire to stay at an organisation for the long term.
It's clear then, that investing in employee experience will ultimately lead to better fiscal health. Also, with a direct link between the performance of the computers the workforce uses and the performance of the business, IT is under more pressures to keep everyone happy.
At the same time, technical teams need to manage increasingly dispersed infrastructures and secure an ever-widening attack surface. This means they need to invest in a complete device management solution that is easy to use, powerful, all-encompassing, reliable and focused on creating the experiences that today's workers need.

Doing their best work
This is why Intel worked with its PC ecosystem to create Evo devices. Laptops on Intel vPro, an Intel Evo design, were engineered to maximise company productivity and remove the many frustrations that interrupt their focus. Every design is thoroughly tested to provide industry-leading performance and responsiveness so that workforce can take on even the most demanding workloads and multitask easily.
Regardless of where they are working, employees can benefit from smooth multitasking, even during videoconferencing, performance-hungry tasks, or with big downloads and uploads running in the background.
These devices spring to life in less than a second and bring lightning-fast responsiveness and world-class performance on all the business-critical apps that today's organisations rely on. Moreover, they offer all-day battery life and charge extremely quickly to keep teams as productive as possible throughout the working day.
Furthermore, they have the ability to use enterprise applications seamlessly and come in a choice of laptop or two-in-one touchscreen functionality and advanced features for connecting to peripherals and displays, so teams can create their ideal work experience.

Meeting the needs of today's workforce
Intel launched the Evo platform a couple of years ago, with the aim of delivering the world's most advanced laptop experiences. Since then, the company has teamed up with more than 150 ecosystem partners to co-engineer the ultimate, premium thin, and light laptops on the market, and the reaction has been incredible.
In the third-edition specification this year, Intel added an additional key experience it dubbed Intelligent Collaboration. With more and more employees working remotely, from home or on the go, Intel is making sure they can connect, be seen, and be heard with confidence.
They feature key technologies such as artificial intelligence-based dynamic background noise suppression and better cameras, Intel Wi-Fi 6E (Gig+), and Intel Connectivity Performance Suite.
All designs are engineered and tested to perform at maximum capacity and in real-world conditions, with a wide range of applications open at once, even with heavy media use, and continual switching between programs.

All day support
Not only do laptops on Intel vPro based on Evo designs deliver the best possible laptop experience, but they are built for performance, security, manageability, and stability.
The remote-support capabilities that the Intel vPro platform offers can make sure that IT teams have got employees' backs no matter where they are working from. Devices built on Intel vPro, are built for what IT needs and what users want.

Style and substance
Intel's aim was to create a premium thin-and-light laptop experience for entities from the largest corporates to SMBs. Intel vPro is the future of work, offering top performance, and fast charging, and was designed for personal and business users who want to work hard while projecting style and confidence.
And while they support IT infrastructure, they can also adapt to the latest collaboration experiences. With Intel 12th Gen Core processors, its VPro platform, and Evo, users can enjoy business-class performance and comprehensive security in a sleek design with features to thrill every user.
To experience the powerful performance of Intel's 12th Generation Core Processors, get in touch with us today.