Computers can increase the speed and accuracy of many work processes, which improves overall worker efficiency. Documents can be written and edited much more quickly with the aid of a word processing program, and procedures, such as billing and accounting, can also occur more rapidly and with fewer errors. This is nothing new. But it should be stated that not all computers are created equal. In this article, we take a look at computing power with Dell CSG.
Computer use is prevalent in many workplaces, and some companies may find functioning without them virtually impossible. As a result, computers have become an important part of how companies conduct business as well as how workers perform their job tasks. Computers can even impact where employees do their jobs, as they can often work many miles from their official place of business. It is important for businesses, especially on an enterprise level, to use trusted brands and devices that are powerful enough to tackle the task at hand. To tick the necessary boxes we look to Dell Technologies' Client Solutions Group (CSG). Let's unpack this further.
A Seamless Work Experience With Dell CSG
Technology plays an even more critical role in hybrid work. That is why our teams have been working on several concept solutions that could help facilitate better communication, collaboration, and location equality for all.
Sustainable PC Design
The commitments Dell Technologies has made to deliver positive environmental impact span decades and involve its entire company. Their ambitious goals to accelerate the circular economy and achieve net-zero greenhouse gas emissions have never been more mission-critical.
Product design plays a big role in realising both of these goals. Dell's current circular design practices continue to drive leadership across its product portfolio in pursuit of these goals. In the last year alone we introduced closed-loop aluminum from out-of-use hard drives, bioplastics made from tree waste in the paper-making process, and scaled their use of reclaimed carbon fibre to over 540 000 kilograms.
Concept Luna
In 2020, Dell shared its vision for a parallel innovation workstream to accelerate circular design, and today they're sharing the first prototype from these efforts: Concept Luna. A proof-of-concept developed in collaboration with Intel, Concept Luna explores revolutionary design ideas to make components immediately accessible, replaceable and reusable – reducing resource use and keeping even more circular materials in the economy. It was created to test what could be possible, not to be manufactured and sold. But if all the design ideas in Concept Luna were realised, Dell could expect to see an estimated 50% reduction in overall product carbon footprint.
Choosing A Dell CSG Device
One popular approach to tech budgeting is to adopt different tiers of devices based on user needs. For example, it may be worth springing for luxury Dell machines for your C-suite execs and dev team, mid-range Dell laptops for your professional staff, and entry-level Dells for support staff.
When making a purchase decision, make sure to pay attention to the following PC components, ensuring that your purchase is correct:
CPU: Under the technical specs, you'll see the laptop's CPU (central processing unit, also just called the processor) listed. The CPU is the first thing you should look at when comparing laptop options. If your laptop were a car, the CPU would be the engine. As you can imagine, the quality of your laptop's processor has a huge impact on usability. make sure that the CPU clock speed matches the tasks you want to throw at it. Having too little processing power can make or break productivity.
RAM: The second most important factor to compare in workstations is their short-term memory. Computer random access memory (RAM) is one of the most important components in determining your system's performance. RAM (Random Access Memory) gives applications a place to store and access data on a short-term basis. It stores the information your computer is actively using so that it can be accessed quickly. The more RAM, the more short-term space there is to store data. This can speed up applications such as web browsers and other tools. 8GB of RAM has become the industry standard and will allow for enough space to complete day-to-day tasks in Google Chrome or Microsoft Office.
Storage: Long-term storage via hard drives or solid-state drives is a way to retain data without losing any of it in the absence of power. Ensure that the device(s) you choose has enough storage space.
Dell Laptops & Notebooks For Business
When it comes to selecting a business laptop, the sheer number of choices can be overwhelming. Every brand offers multiple product families, and every model offers a wide range of features and components. From processing power and storage to durability, choosing the best laptop or notebook for business comes down to determining how the device will be used and what components are essential. With clear requirements in mind, businesses can select the best laptop for every user, workload, and application. As an innovator in computers for the workplace, Dell's range of laptops is designed for a variety of work environments and provides the ability to customise devices for specific purposes and use cases.
Vostro
Vostro laptops are designed with the needs of small business users in mind. Delivering key productivity features, reliable security, and outstanding support, these laptops offer exceptional affordability for small businesses. State-of-the-art processors ensure faster performance, while anti-glare displays offer easy viewing. Multiple ports ensure easy connectivity, and a thin and light design makes these devices easily portable. Vostro devices are the perfect laptop for finance applications, productivity suites, and other common office software packages.
Features include:
Space-saving, professional designs
Commercial-grade security with hardware protection and storage for encryption keys
An array of ports to connect to both legacy and next-generation technology
Dell Mobile Connect technology for seamless wireless integration between PCs and Android or iOS smartphones
Exceptional support with optional 24/7 priority access to ProSupport or ProSupport Plus engineers
Tested and certified by leading industry software application providers
Dell ExpressCharge enables an empty battery to charge to 80% in about one hour when the system is turned off and to 100% in approximately two hours
Latitude
Latitude laptops are the world's most intelligent PCs with built-in AI. These small, light, and stylish devices are designed for mobility and productivity. With innovative designs, easy connectivity, untethered power, and smarter systems, Latitude laptops increase the speed of productivity while delivering industry-leading security. Available as standard laptops or 2-in-1 laptop tablets, Latitude devices are among Dell's best laptops for business and personal use.
Features include:
Longer battery life
Narrow border screens and advanced cooling solutions that let users work comfortably anywhere
A wide array of ports for remote office or conference room set up
SafeScreen and camera shutter options for greater privacy
The latest processors for peak business performance
Dell Optimiser, a built-in, AI-based optimisation software that learns and responds to the way you work
Tested and certified by leading industry software application providers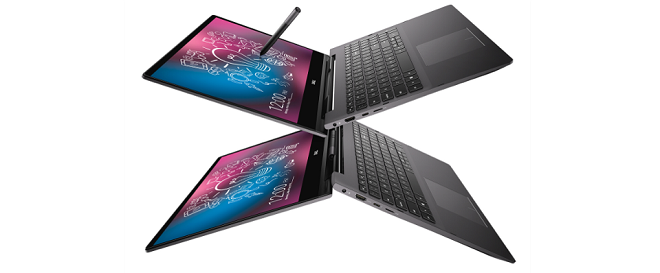 Dell Desktops For Business With Dell CSG
XPS Desktop
With heavy-hitter performance cloaked by an understated minimalist design, creators, gamers, and virtually anyone who wants to amplify their passions can now own a sophisticated PC with workhorse performance.
Dell's XPS customers have relentless spirits and are always ready to take on their next challenge. They're always learning, growing, and expanding their skill sets. That's why it's important to have a PC that is customisable, so the system can grow to meet increased performance demands over time. Using the tool-less entry chassis, you can easily upgrade the CPU, GPU, memory, storage, and more to keep pace with new technology as it becomes available. You're essentially investing in technology that can scale as your passion does.
Features include:
12th Gen Intel Core desktop processor (up to i9).
Impressive graphics options are available on the market with either NVIDIA® GeForce RTX™ 30 Series GPUs (up to a 3090) or AMD Radeon™ RX GPUs (up to a 6900 XT).
Next-generation DDR5 memory supporting up to 50% faster clock speed than DDR4 as well as PCIe Gen5 graphics ready.
Inspiron Desktop
Simple but respectable – that's the Inspiron Desktop. The Inspiron looks more upscale than its price would suggest; its black case is appropriate anywhere, and the cross-patterned front panel adds flair. As a microtower, the Inspiron is appreciably smaller than a mid-tower desktop at 12.8 by 6.1 by 11.5 inches (HWD).
Features include:
12th Gen Intel Core desktop processor.
Up to 64GB DDR4 memory.
Up to 2TB of storage.
Up to Intel® UHD Graphics 770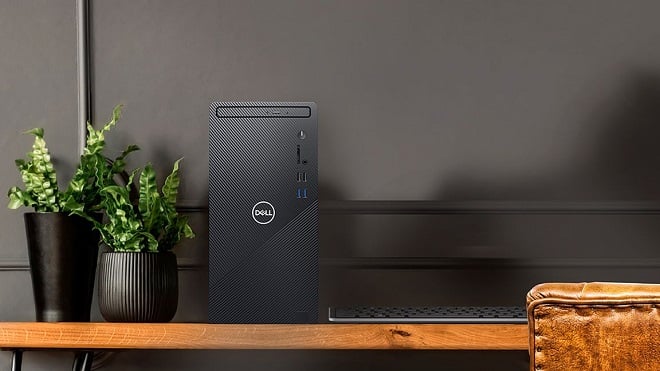 Staying Connected With Dell ProSupport For Dell CSG
With more employees now working from home, we are standing by to help you provide uninterrupted system productivity and a seamless end-user experience. Whether you need a little IT support or a lot. Support Technologies Services extend your IT team, enabling you to address issues before they impact your business. A strong foundation of artificial intelligence (AI), machine learning, and data analytics will change the way you look at saving time and increasing availability.
What Dell ProSupport does:
Support Services are built on a foundation of leader artificial intelligence (AI), machine learning, and data analytics.
Extend and enable your IT team, to address issues before an impact to your business.
Take the "break" out of "break-fix."