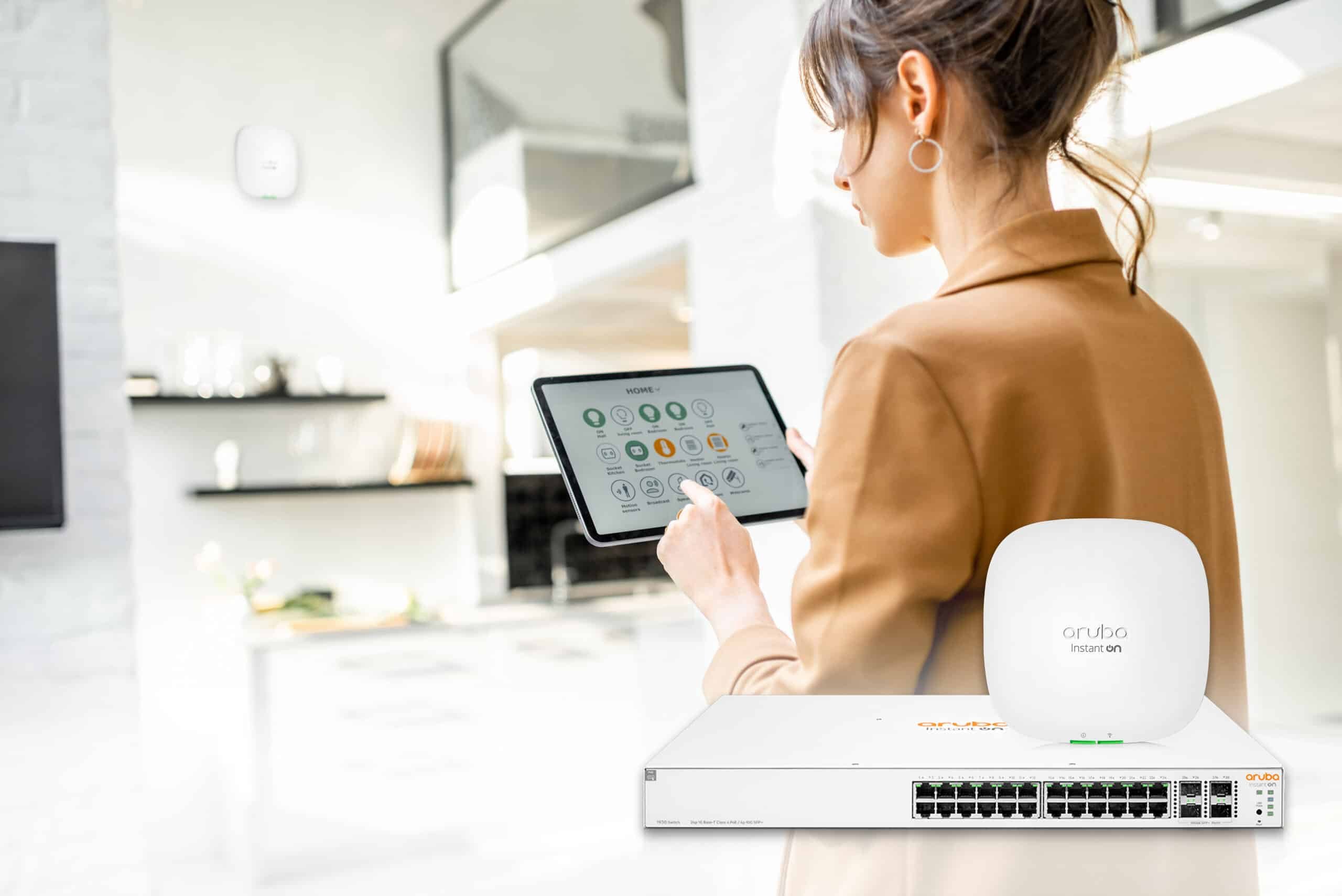 By Tarsus Distribution
The global COVID-19 pandemic fueled a rapid shift to working from home, and alongside it, a scramble to provide employees with the tools they needed to get their jobs done remotely.
One of the most crucial solutions that remote workers need is a reliable internet connection. However, anyone who has had a home WiFi connection understands only too well how these are not always what they're cracked up to be, with poor signal often hampering productivity.
This meant it is more important than ever to provide workforces with simpler, smarter networking solutions. Unfortunately, there's a huge misconception about Wi-Fi and how it works.
Many people think that if they have a dead spot in their homes, simply buying a range extender and plugging it in will solve the problem. In reality, nothing could be further from the truth. A range extender works with the signal in that area, so all it can do is pick up the bad signal and extend that bad signal to other areas in the home.
Covered in this article
Access points are the answer
Anyone can set it up
A single pane of glass
Easy, proactive troubleshooting
Safe and cyber wise

Access points are the answer
This is why access points are the answer, as they distribute quality signal from the ISP and distribute that same signal throughout the house and across all its connected devices.
It's also key to remember that not all access points are created equally. Luckily, Tarsus Distribution offers customers Aruba Instant On, a simple, fast, and secure solution designed for small businesses and home networks. It is an inexpensive, and easy-to-use solution that is perfect for smaller entities and home users with simple technology requirements and setups that do not have a team of IT staff on board.
Aruba Instant On brings the very latest WiFi and switching technologies, to ensure that smart homes and small businesses can enjoy a quick, reliable WiFi experience even with multiple devices connected.
Instant On offers the following benefits:
Mobile app and web-application-based rapid setup
Simplicity of use and packed full of features
Easy statistics to view network health and usage stats
The ability to monitor capabilities remotely
Readily available, easy troubleshooting
Anyone can set it up
In fact, Aruba Instant On was specifically designed so that anyone, even individuals who are not particularly tech-savvy, can set them up.
This is key, because the easier and quicker it is to set up, the faster time to revenue for the business. Partners can employ the Instant On mobile application to quickly set up wireless or wired networks at their customers' offices. It's as simple as following the steps that Aruba Instant On's intuitive installation wizard provides. The Instant On mobile app will also display a list of all the sites that are associated with the user's account.
Partners can then simply choose a site, establish a remote access connection, and manage their customer's network remotely, at the touch of a button. In this way, partners can support a wide range of customers, with little effort. Each site can have its own configuration, statistics, as well as access privileges.

A single pane of glass
Another major benefit is that partners can manage their customers' networks from a single pane of glass. In today's hybrid era, the ability to manage tech remotely is a real game changer.
With Aruba Instant On, customers' networks can be managed from anywhere and from any device. Partners benefit from eliminating the time needed to physically travel to customers' locations, saving money, and enabling skills to be diverted away from customers' offices to more value-added activities.
In addition, customers can manage their access points too, at no extra charge. Once they have purchased an access point, they can manage their usage, monitor their traffic, check their network status, and more, for life.

Easy, proactive troubleshooting
Moreover, Aruba Instant On users can keep informed via the solution's proactive notifications. These access points come with cloud management capabilities and automated notifications should anything be amiss, enabling partners to diagnose and even troubleshoot any network issues more quickly.
Instant On will automatically send email and text alerts to notify the relevant people should a connection issue arise, or should the device capacity be exceeded, or even if a software update is available.

Safe and cyber wise
Furthermore, with Aruba Instant On, partners can protect their clients' networks through security that is built in from the ground up. Home and small business users often fall into the trap of believing themselves to be unattractive targets to cyber criminals, but this is not the case.
There are several features of Instant On that take security to the next level:
Two-Factor Authentication (2FA): Users are able to add an additional layer of protection in their network security setup, including authentication apps, over and above a username and password. Through the Aruba Instant On solution, 2FA is available for verified accounts which users can activate from their account settings, the Instant On mobile app, or via the cloud-based web portal. If a password is hacked, guessed, phished, 2FA prevents any unauthorised access.
More private internet: Aruba Instant On's Cloudflare DNS integration, offers users enhanced security while improving the speed of their devices. The integration enables the browsing history to not only stay with the user only, it is not even shared with their ISP.
Keep open, non-password-protected networks secure: Strong authentication is achieved through OWE-Enhanced Open support. The solutions enforce the latest Wi-Fi Alliance's security standard for public networks, which enhances data encryption over Wi-Fi networks and protects data from sniffing in public areas.
Block intruders: Users are able to block and unblock unwanted clients from accessing your network at the touch of a button.
MAC authentication: Secure networks by authenticating devices based on their physical MAC addresses​. MAC authentication facilitates authentication for IoT devices as well as legacy devices, including cameras, smart door locks, lighting controllers, and printers.
Port Security – Allow List: Port security, which controls client access, can be configured on Instant On switches. By restricting the number of MAC addresses on a port, users can prevent client devices with unauthorised MAC addresses from connecting to their network.
Network Access Control: The Network Access option in the Instant On mobile app enables users to configure network access restrictions for wireless clients based on IP destination addresses.
All in all, Aruba Instant On is small business and smart home networking made simple. At Tarsus Distribution, we are committed to providing a reliable and excellent network experience to ensure partners can give their customers top value.