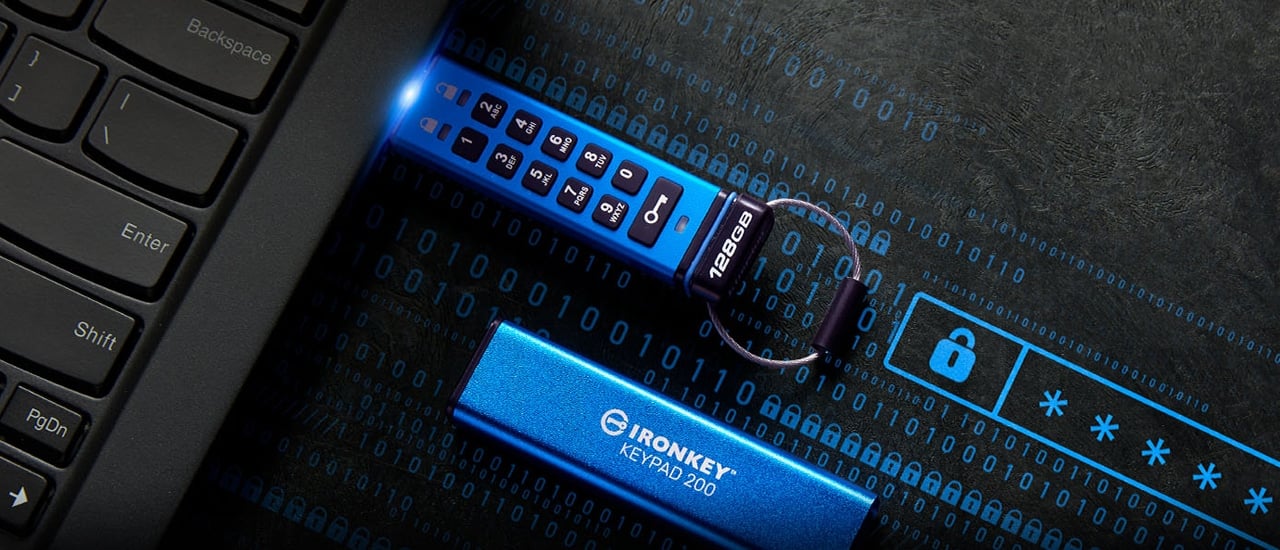 There's no denying the convenience of USB flash drives. They allow users to quickly store and transfer information between devices including laptops, cameras, cell phones and more. They make our lives easy, but they can be a security nightmare because of their portability and accessibility.
In many cases, users routinely transfer sensitive data to a USB drive without encryption as they are unaware of proper security controls. Because they are easily lost or stolen, this makes them prone to data leakage and theft. In addition, employees may bring infected USB drives from home, plug them into their work computers, and unintentionally upload malware to the company network.
Covered In This Article:
Data protection is key
USB encryption is a vital security layer
Choose from the latest encrypted USBs

Data protection is key
In today's world, data protection is a fundamental requirement for individuals, businesses and organisations. The human factor, data breaches, and hacking serve as constant reminders of the dangers and risks that exist everywhere.
Data breaches can result in exorbitant costs and exposures. To maintain a secure network, it is essential to manage access to portable devices, removable media, and USB storage. Reliable and effective memory and storage are required to meet the demands of improved cybersecurity and endpoint data loss (EDL) prevention solutions for data protection. This is where USB encryption comes in. The use of encryption, fast storage and memory combined with best practices, standards, and policies is a major advancement in data protection.
The easiest and most effective way to do this is by purchasing devices with robust encryption algorithms built in. Encrypted USB flash drives provide an important layer of protection against data breaches.

USB encryption is a vital security layer
To protect individuals and businesses from the risk of having sensitive information exposed through lost USB devices, Kingston IronKey drives offer risk mitigation tools to enhance your security strategy. Using encryption protects confidential information stored on portable devices, ensuring that the data in a flash drive or USB device remains safe in the event of theft or accidental loss.
Kingston offers a range of USB flash drives for personal, business and encrypted data needs. Kingston's IronKey USB flash drives provide on-the-go file storage for photos, music, video and more. They are available with encrypted security for personal and business use.
These encrypted USB drives use hardware-based encryption which is the ideal data protection security solution for sensitive data. They're designed to protect everything from classified to personal data, helping organisations meet a variety of security regulations.

Choose from the latest encrypted USBs:
Kingston IronKey Locker+ 50 USB Flash Drive
This provides consumer-grade security with AES hardware-encryption in XTS mode, including safeguards against BadUSB with digitally signed firmware and Brute Force password attacks.
Designed for convenience, the LP50 has a small metal casing and built-in key loop to take data anywhere. It features optional USBtoCloud backup to access data on the drive from your personal cloud storage. It's easy to setup and use, with no application installation required. All the software and security is already on the drive, and it works on both Windows and macOS so users can access files from multiple systems.
Kingston IronKey Vault Privacy 50 Series
For SMBs Kingston IronKey Vault Privacy 50 series are premium USB drives that provide business-grade security with FIPS 197 certified AES 256-bit hardware-encryption in XTS mode, including safeguards against BadUSB with digitally-signed firmware and against Brute Force password attacks. Because it is encrypted storage under the user's physical control, VP50 series are superior to using the internet and Cloud services to safeguard data.
Both the LP50 and the VP50 support multi-password options with Complex or Passphrase modes. Admin can enable a user password or reset the User password to restore access to data. To aid in password entry, the "eye" symbol can be enabled to reveal the typed in password, reducing typos leading to failed login attempts. Brute Force attack protection locks upon 10 invalid password entries in a row and crypto-erases the drive if the admin password is entered incorrectly 10 times in a row. A built-in virtual keyboard shields passwords from keyloggers or screen loggers.
Kingston IronKey Keypad 200 Hardware-encrypted USB Flash Drive
This is an OS-independent hardware-encrypted USB drive with an alphanumeric keypad for easy-to-use PIN access.
KP200 incorporates XTS-AES 256-bit hardware-based encryption. It is also FIPS 140-3 Level 3 (pending) certified for military-grade security. Its circuitry is covered by a layer of special epoxy that makes it virtually impossible to remove components without damaging them and stops attacks against the semiconductor components. It also incorporates Brute Force password attack protection, and BadUSB protection with digitally signed firmware. The alphanumeric keypad is coated with a layer of polymer that protects the keys and hides key usage through analysis of fingerprints on the keys.
KP200 uses a built-in rechargeable battery that can be used to unlock the drive first without using any software, and then plug it into any device that supports a USB type A mass storage device. This gives users flexibility across different platform types and operating systems.
With a Multi-PIN option (Admin/User), the keypad can be used to set up an easy-to-remember but hard-to guess alphanumeric PIN for Admin or User. Admin can restore a User PIN and provide access to the drive should the User PIN be forgotten, or if the drive is locked after reaching the maximum of 10 User login attempts. With both Admin and User PINs enabled, KP200 will lock the User PIN after 10 failed login attempts; if the Admin PIN is entered incorrectly 10 times in a row, Brute Force attack protection will crypto-erase the drive, destroy the data forever, and reset it.
Kingston IronKey Vault Privacy 80 External SSD
This is Kingston's first OS-independent hardware-encrypted external SSD with touchscreen for data protection. VP80ES safeguards against Brute Force attacks and BadUSB with digitally signed firmware. Attack protection crypto-erases the drive if the Admin and User passwords are entered incorrectly 15 times in a row. The drive is FIPS 197 certified with XTS-AES 256-bit encryption using a Common Criteria EAL5+ (CC EAL5+) certified secure microprocessor.
VP80ES is designed to protect data while being user-friendly. With an intuitive colour touchscreen and multi-password (Admin and User) option with numeric PIN or passphrase modes, Vault Privacy 80ES is superior to using the internet and Cloud services to safeguard data.
Whether it's important company information, client documents, or high-res images and videos, the drive is ideal for SMBs and users who need secured data and content out in the field or on-the-go to enable portable productivity and convenience.
For more information, visit: https://connect.tarsusdistribution.co.za/tarsus-technology-partner/kingston
Sources:
https://www.kingston.com/en/usb-flash-drives/ironkey-lp50-encrypted
https://www.techtarget.com/searchsecurity/definition/Advanced-Encryption-Standard
https://cryptopp.com/wiki/XTS_Mode
https://en.wikipedia.org/wiki/Brute-force_attack
https://www.kingston.com/en/usb-flash-drives/ironkey-vp50-encrypted
https://www.techtarget.com/whatis/definition/FIPS-Federal-Information-Processing-Standards#:~:text=FIPS%20(Federal%20Information%20Processing%20Standards)%20are%20a%20set%20of%20standards,Learn%20More
https://www.kingston.com/en/usb-flash-drives/ironkey-kp200-encrypted-usb-flash-drive
https://www.kingston.com/en/ssd/ironkey-vp80es-encrypted-external-ssd