The HP Neverstop laser printer offers an innovative new solution to small business owners and home-based workers. The work-from-anywhere culture that is becoming more and more widespread due to the new conditions imposed by the COVID-19 pandemic has created demands for new, compact and affordable solutions that maintain professional levels of quality. This is the niche the HP Neverstop is intended to fill. If you are looking for the ultimate in printing freedom, you will find your favourite new office assistant in this range. The innovative design of the Neverstop range provides exceptional value, quality and reliability at an ultra-low-cost.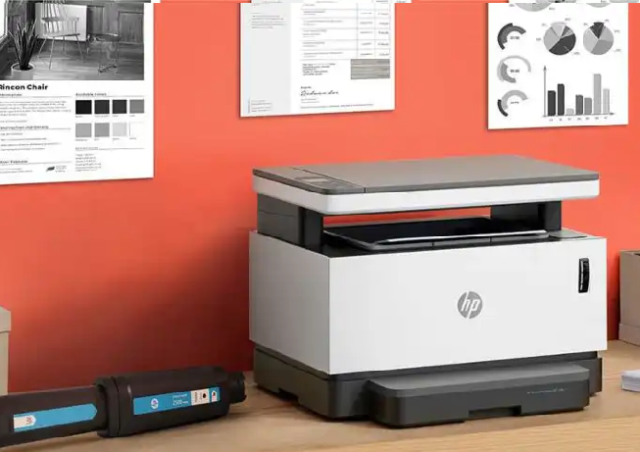 Covered In This Article:
Working From Home Or A Small Office, Is The HP Neverstop The Right Printer For You?
Engineered for high volume printing for big or small businesses
Power of a printer in the palm of your hand
Low cost, hassle-free printing with HP Neverstop printers

Working From Home Or A Small Office, Is The HP Neverstop The Right Printer For You?
Adapting to the new normal that we know as the "work-from-anywhere" culture makes two main demands on the freelance contractor, remote employee or business owner: the first is to reduce costs, the second is to maintain high levels of quality and efficiency. It is often difficult to do both at the same time, but technology is making this increasingly possible.
When it comes to printing, you need a device with a small enough footprint to sit comfortably in your working area without taking up too much space, you need high volumes of printing at reasonably high speeds, you need smooth operations and connectivity, you need professional quality – and you need all this at a reasonable price. This is a complicated order to fill, but the HP Neverstop succeeds on every one of these levels.
Whether you are printing documents that help you run your small business, working from home or managing your family's admin and records, you can count on HP Neverstop laser printers to give you reliable, seamless printing experiences. All HP Neverstop laser printers give you up to 20 pages per minute printing speed, multiple modes of connectivity and user-friendly display interfaces that help you increase your productivity. It also features an innovation in toner design, and it is primarily from this that the device takes its name. The feature is called the Toner Reload System, and it facilitates fast, easy and inexpensive toner refill that gets you printing again in seconds. The system minimises printing interruptions more than would be possible with a cartridge-based printer and allows for continuous, streamlined printing output.
With our trusted customer support specialists, quality manufacturing and innovative design, it is clear why HP Neverstop laser printers are a favourite in homes, small businesses and large offices all over South Africa and the world.

Engineered For High Volume Printing For Big Or Small Businesses
The line between work, home and play is becoming more blurred, making it even more important to stay connected and productive all the time, no matter where you find yourself. With the world's first cartridge-free laser printer, you will have value at your fingertips without having to sacrifice quality.
The revolutionary design gives you up to 5000 pages right out of the box before you have to top up the toner. You will get 10 times more pages out of the box than in-class HP laser printers with minimum interruptions so you can get on with your most important tasks. When you do eventually need to refill the toner, the Toner Reload System allows you to do so within seconds – getting you ready to produce another 5000 pages – at 20 pages per minute. So you are able to print thousands of laser-quality pages with minimal refilling and stoppage. No other printer model can offer this kind of quality and volume at such a low cost.
The 150-sheet paper tray lets you reload enough paper at a time, so you don't have to keep running back to reload more paper. You can even print documents directly from the control panel, making it an efficient addition to your business toolkit.
These features make the HP Neverstop attractive for home use and small businesses, but larger companies can reap their benefits too. With a larger organisation, you require high volumes of printing output at excellent levels of quality. HP Neverstop provides you with this while giving you a unique opportunity to reduce your printing costs. If you are not sure whether the Neverstop can give you the kind of output you need for your big business, rest assured it can. While it may have a lower print speed than some enterprise models, which can go up to 45 or even 52 pages per minute, the Neverstop makes up for this by offering the same levels of quality for black printing, in a more compact package that operates at a lower cost per page, and the lowest reload costs of any laser printer.
No matter the size of your organisation, HP Neverstop printers can fulfill your printing needs with fast, quality output and reduced costs. The HP Neverstop comes in two varieties to suit differing needs. The 1000 series is built purely for printing, with all the quality, speed and volume benefits already described. The MFP 1200 series is the multi-function option, with capacity for scanning and copying in addition to printing.

Power Of A Printer In The Palm Of Your Hand
The HP Neverstop range gives you even more ways to improve your productivity. It gives you the capability to print essential documents from anywhere. The secret to this enhanced functionality is the HP Smart app.
With this industry-leading mobile app, you can from your phone, scan and share to your preferred cloud storage, make copies on the go and connect your smart device directly to your printer without accessing a network. You can set up and manage your printer from anywhere, using your mobile device, you can print documents on the go. You can even adjust your documents prior to printing, crop or touch up images, and save documents to your chosen cloud storage account for later access – all without even being in the same building as your printer. It is even possible to connect your phone directly to your printer if you lose WiFi connection.
The HP Smart app allows you to quickly print signed documents from your phone, even when you are not at home. Gone are the days of panicked family members who forgot to get permission slips signed or lost important documents. The app even allows you to take a photograph on your family vacation, and print it from your destination, so your holiday pictures are waiting for you when you get back home.
HP Smart puts your HP Laser printer in the palm of your hand for maximum control, convenience and efficiency. It changes the face of printing from an office-bound activity to one that can be performed simply and efficiently from anywhere.

Low Cost, Hassle-Free Printing With HP Neverstop Printers
Nobody has time to struggle with messy printer cartridges amidst the busyness of everyday life. The HP Neverstop laser printers have a groundbreaking design that allows you to reload and restore toner levels and get back to printing in mere seconds. The HP Neverstop is the culmination of decades of printer design. For years, HP's engineers and designers have worked to streamline and perfect the printing experience, taking all factors, from connectivity to paper and toner refill, print speed and per-page cost, into account. The HP Neverstop, in particular, the Toner Reload System has provided an answer to all these questions.
The Neverstop Laser Toner Reload Kit is mess-free, simple to use and produces thousands of pages at exceptionally low cost without sacrificing the HP printer quality that you have come to rely on. How does this innovation actually work? Each Neverstop printer comes with a Reload Kit. On the side of the HP Laser printer is an easy-to-read toner level indicator. When the indicator shows that the toner is getting low, all you have to do is insert the Reload Kit into the toner, twist it 180 degrees to lock it in, and then press the plunger until the indicator shows that the toner is full. Once that is done, remove the reloader and get back to printing. This entire process takes a maximum of 15 seconds, and you only have to do it every 5000 pages. This provides a smart, clean, economical means of printing for both home and office.
If you are looking for exceptional quality, reliability and freedom to work and print from anywhere, look no further than the HP Neverstop laser printer range. Reduce your costs and your downtime, and get exceptional value with low-cost, mobile-enabled printing in a compact, economical device – the world's first ever cartridge-free laser printer. Contact us to find out about the best HP model and pricing options to suit your needs.