Making graphic design, video editing and web development a breeze, the Microsoft Surface product range offers Design and IT specialists fast and efficient technology and performance that's anything but ordinary. From sleek and ultra-light laptop designs to detachable and thin tablets, Microsoft Surface adapts to you and the way you work.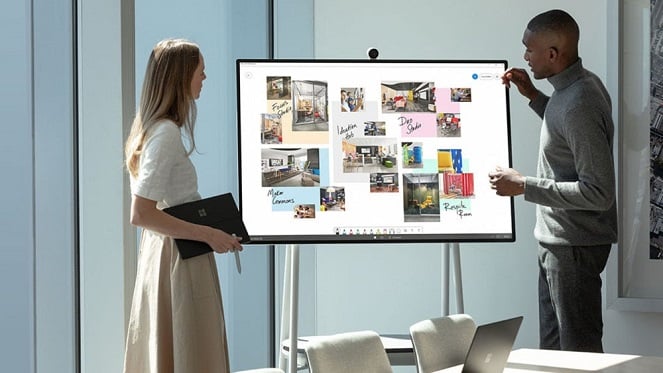 "Digital design is like painting, except the paint never dries." - Neville Brody
Design and IT go hand in hand. They're two diverse fields that complement each other rather well, combining both creativity and the latest technologies into one beautifully wrapped package. As the technology behind design and IT evolves, we're finding and learning new and exciting ways to implement these new developments into our skill sets and the way we work.
From bringing those ideas from mind to reality for the world to see to working more efficiently and quickly on all your design projects, you'll need something that's anything but ordinary when it comes to the tools, programs and hardware to get the task done. This is where the sleek and fresh Microsoft Surface product range steps in.
Offering a wide and diverse range of devices suited for all your technological needs, along with innovative features to enhance and improve the way you and your teamwork, you'll find yourself more productive and inspired than ever.
Inspiration sparks at an instant, be it in the office while browsing the web or while you're preparing dinner, so you'll want to ensure that you're ready to craft, share, and showcase your creations effortlessly and hassle-free in a flash. The Microsoft Surface Pro product line allows this and so much more. They're built for business, inspired by the ways you work.
Here are a few reasons why you need to consider investing in the Microsoft Surface for you and your employees, for all your tech and business needs. In today's new normal, why use yesterday's tools?
Covered In This Article
It's Ideal For Remote Work
Design At Great Speeds
Hi-Res Display For Crystal Clear Imagery
Stay Connected & Make Connections Everywhere You Go
Ideal For Design On The Move
Find the perfect fit that's anything but ordinary.
It's Ideal For Remote Work

It's hard to deny, that the structure and nature of the workplace have changed quite drastically over the last few months, allowing for us to work from many various locations and to be mobile. Basically, anywhere where we can grab a table, get comfortable, connect to the Wi-Fi and grab a coffee can be called our "office".
So, whether you're at headquarters, commuting to and from work, enjoying a change in scenery at a local café, or need to do some last-minute emails or tasks after hours at home, the ultra-light and versatile Microsoft Surface converts from a laptop to a tablet in one flip and has easy portability.
Surface is designed for remote work, allowing you to meet clients and your deadlines, no matter where you are. Get comfortable on your sofa and flip your Microsoft Surface into a tablet to work on designs in the comfort of your own home. Or create a makeshift workstation at your favourite café and set your Surface at the perfect angle with the built-in kickstand to do a few quick edits to your designs or tweak your web development task. From sleek laptop designs to detachable tablets, Microsoft Surface PCs adapt to you.
Microsoft Surface For Design Increases Productivity

With the laptop-class 11th Gen Intel® Core™ processor, you can switch between design applications and programmes effortlessly, allowing you to master the skill of multitasking and become more productive and time-efficient in your day-to-day tasks and projects.
Manage and switch between all your creative design projects using Adobe Creative Cloud, whether it's graphic design, video editing or web development, in an instant. You can expect smooth and uninterrupted performance, meaning that you have more time to spend on perfecting your projects and adding those finer details than waiting for your application to load.
And for a holistic and seamless experience like no other, the integration of Microsoft Windows. Office 365 suite allows you to create impressive presentations swiftly with PowerPoint, write persuasive and compelling briefs and documents using Word, and capture all your important data in Excel. Everything you could possibly need to get the job done is available at a double click of your mouse!
Also, the removable SSD not only contributes to the speed of your device's performance, but it offers plenty of space to save all your designs. No need for carrying external hard drives and additional storage devices, you'll be able to save everything all in one place, on your Microsoft Surface.
Hi-Res Display For Crystal Clear Imagery With Microsoft Surface For Design & IT

Need to showcase your designs and IT solutions to your colleagues or clients in a presentation? Or simply would like to enjoy the latest Netflix shows (after hours, of course)? Either way, the Microsoft Surface hi-res display touch screen allows you to work or binge in vivid 4K.
Expect crystal clear and sharp imagery that'll showcase every little detail of your designs, as well as the ability to write and draw naturally on the screen using the Surface Pen when it comes to edits, suggestions and notes. The Pen attaches to the side of the Surface magnetically, allowing for easy access and edits. Let's not forget to mention that you can also expect next-level video calls with Microsoft Teams!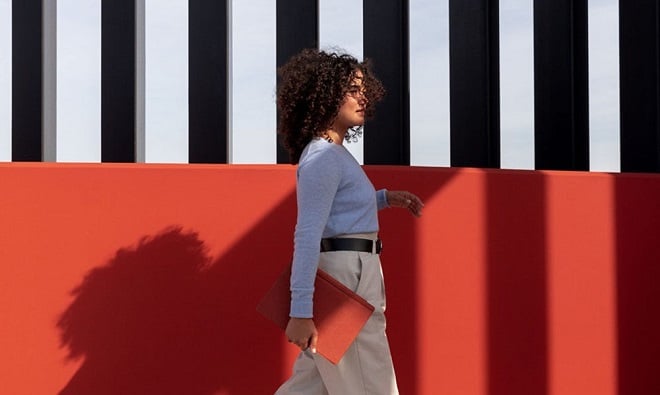 Stay Connected & Make Connections Everywhere You Go

No matter where you are or the places you'll go with your Microsoft Surface, you'll always be connected and making connections. Complete with display, docking station, USB-C® and USB-A ports, as well as ports where you can charge your phone, plug in your headphones to listen to music or seminars, or charge your smartwatch before you make a dash between meetings.
Microsoft Surface devices also deliver remote working solutions designed to bring people together no matter where they are, using Microsoft Teams for meetings and presentations, as well as OneDrive, Microsoft's online storage solution, to ensure that all your designs, documents, briefs and imagery are stored on the Cloud securely and are easily accessible, anywhere, on any device, at any given time.
Also, when your internet or Wi-Fi is unstable or unreliable while you're working remotely, stay connected anywhere with LTE Advanced, available on selected Microsoft Surface models. Surface Pro with LTE Advanced allows you to stay connected with a fast cellular connection, ensuring you don't miss out on any deadlines, meetings or important tasks and designs you need to complete.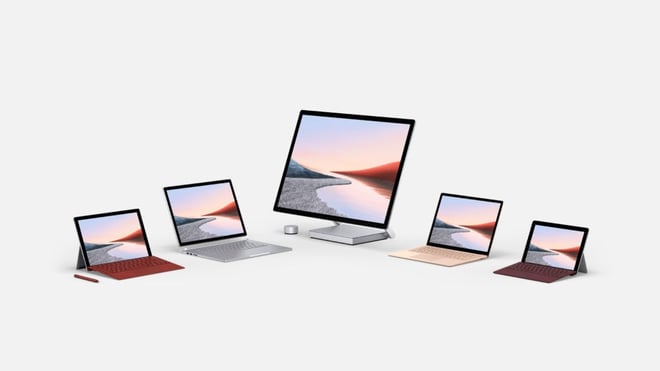 Microsoft Surface For Design Makes You Mobile

Created with all-day battery life (up to 17 hours) to keep up with you during the day, the Microsoft Surface devices won't let you down. You'll be able to complete a full day's work without having to recharge until the end of the day. You can expect your Surface device's battery to last this many hours:
The Surface Pro 7 – Up to 10.5 hours of battery life*

The Surface Laptop Go – Up to 13 hours*

The Surface Laptop 3 – Up to 11.5 hours*

The Surface Go 2 – Up to 10 hours*

The Surface Book 3 – Up to 17.5 hours*

The Surface Pro X – Up to 15 hours of battery life*
Please note Battery life is based on typical Surface device usage.
Also, with portability in mind, each of the Microsoft Surface devices, despite how powerful they are, are all lightweight and easy to carry. How lightweight, you might ask? Let's put it into perspective for you:
The Surface Pro 7 – 775 grams²

The Surface Laptop Go – 1,110 grams

The Surface Laptop 3 – 1,265 grams

The Surface Go 2 – 544 grams

The Surface Book 3 – 1,534 grams

The Surface Pro X – 774 g
Without a doubt, the Microsoft Surface product range offers ideal and high-performance devices for working on the go. Find the perfect Surface to fit in with the way you work and what you require to get your graphic and web designs done without a hitch.
Create designs that are anything but ordinary with Microsoft Surface.