Hewlett Packard Enterprises SimpliVity is an integrated, all-embracing system that has compute, storage, networking, and other data centre services, all in a hyperconverged stack.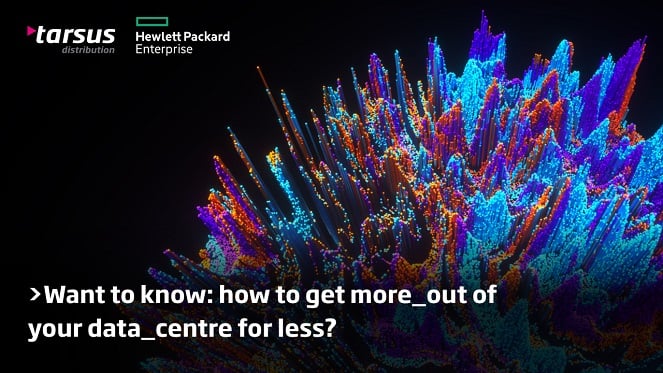 Data centre requirements are changing, and organisations are under constant pressure to keep up with the growing complexity of today's IT infrastructure. Legacy IT infrastructure is often ill-equipped to handle modern workloads and applications and can be composed of many siloed hardware and software components that make it a nightmare to manage effectively.
Whether storing or computing on-premise, on private or public clouds, or at the edge, organisations need infrastructure that is simple, scalable, efficient, cost-effective, secure, and readily available. Which is exactly what gave rise to hyperconverged infrastructure (HCI).
Covered In This Article:
IT infrastructure made simple
Secure and Efficient Backup and Storage
Empowering The Mobile Workforce With SimpliVity
App Modernisation With SimpliVity
The Power of Partnership
IT Infrastructure Made Simple

At its most basic level, HCI is an IT infrastructure that virtualises hardware environments such as servers or storage. It brings all the physical data centre resources and their software layers into a single administrative platform that is purely software-defined. This not only lowers the total cost of ownership for data centres but also eliminates traditional data centre inefficiencies by making everything easier to manage and optimise in an integrated virtual environment.
HPE SimpliVity is an all-in-one, edge-optimised solution that takes HCI one step further. It is not only software-defined but also AI-driven, delivering self-managing, self-optimising, and self-healing infrastructure. The benefits for businesses are significant. A Forrester report has shown that HPE SimpliVity reduced costs by as much as 69%. So, what exactly does HPE SimpliVity have to offer?
Secure & Efficient Backup & Storage

With the ever-growing amount of data organisations are using and generating, it has become clear that traditional backup systems were not designed to operate efficiently, flexibly, and at scale. HPE SimpliVity offers a comprehensive backup solution, built-in at no additional cost, that allows organisations to securely protect workloads across multiple sites and create backups directly to the cloud.
Organisations do not have to worry about managing their backup infrastructure, can avoid major hardware upgrades and maintenance, and can restore lost data without costly egress fees. With a consumption-based pricing model, you only pay for what you're using and can scale performance and capacity elastically to maximise savings. With the addition of efficient data mobility across any hybrid cloud, which avoids vendor lock-in, businesses can transform their backup data from an insurance policy to an asset.
Backing up and restoring also doesn't have to impact your production environment. With HPE SimpliVity, organisations can minimise costly downtimes by creating one terabyte of VM backup or restoring in less than 60 seconds. Compared to traditional solutions, SimpliVity's built-in VM-centric backup capability allows for capacity savings of 90% guaranteed across all storage and backups combined. And, because no third-party backup software is needed for any backup or storage requirements, businesses save even more.
As the number of cyberattacks has increased significantly since the start of the pandemic, protecting business data – from the edge to the cloud – has become more important than ever. HPE SimpliVity provides 256-bit encryption, data integrity checks, role-based access control, and various other enterprise-class security features to ensure that data is always protected from end-to-end. Targeted by a ransomware attack? With SimpliVity, you can simply restore workloads from the most recent backup in seconds.
Empowering The Mobile Workforce With SimpliVity

With more employees working from home, many organisations need to be able to empower them with a reliable, high-performing, and highly secure virtual desktop infrastructure (VDI) solution that's simple to deploy, manage, and scale. Wipro VirtuaDesk, running on HPE infrastructure, provides a complete desktop virtualisation offering that makes it easy to secure and provision applications and data for a collaborative and mobile workforce. Organisations can also lower costs per remote desktop by 50%.
App Modernisation With SimpliVity

Containers and micro-services have become standard practices for application development. They promote faster and more innovative development, provide more valuable data insights, enhance flexibility, and reduce development bottlenecks. But running containers on legacy infrastructure can be very limiting. On a modern infrastructure like HPE SimpliVity, organisations can accelerate their adoption of agile, cloud-native, containerised apps by running everything on a single platform – without the need for more infrastructure.
The Power of Partnership

Not every business has a team of IT professionals who have the time or expertise to manage every aspect of the IT infrastructure. HPE SimpliVity combines the entire IT stack into a single hyperconverged node, providing the agility and cost-efficiency of the cloud, enterprise-grade performance and data protection, and centralised management in a software-defined environment.
Tarsus Distribution, in partnership with HP, can help your businesses simplify today's complex data centre requirements and tailor a managed HCI solution that suits your business needs. HPE Proactive Care for HPE SimpliVity is also designed to support you in managing and improving your converged infrastructure so you can achieve your desired business outcomes.
If you would like to get more out of your IT infrastructure with HPE SimpliVity, book a one-on-one consultation with us today.